Milwaukee snow, winter storm warning; residents take added care
MILWAUKEE - Being prepared, having a game plan and taking your time are key when it comes to driving in a snowstorm.
On Milwaukee's lower east side, roads were slick Saturday night, Jan. 28. Drivers who spoke to FOX6 News said they made sure to have a full tank of gas and gear just in case.
"I was nervous about that, and I guess, like, don't want to get stranded on the way home. I live pretty close though," said Emma Smith. 
SIGN UP TODAY: Get daily headlines, breaking news emails from FOX6 News
Smith said just getting to the gas station had its challenges.
"(The roads) are very slippery. I'm seeing people fishtailing, all that sort of stuff," she said.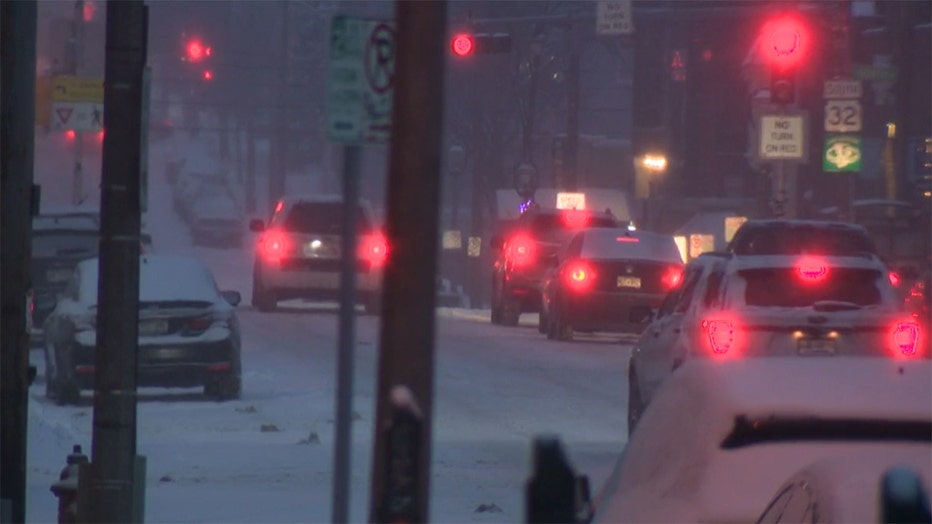 Drivers on Milwaukee's east side during Saturday, Jan. 28 winter storm warning
The Milwaukee Department of Public Works said, if you do have to go out, take your time and leave plenty of room for snowplows.
"Winter driving is definitely something you have to prepare for ahead of time," said John Grell, a University of Wisconsin-Milwaukee student. 
FREE DOWNLOAD: Get breaking news alerts in the FOX6 News app for iOS or Android.
Grell said his car is ready for the elements and keeps other items handy in case of an emergency.
"I got all-wheel drive and snow tires," he said. "I keep blankets, gloves and normal stuff like a first aid kit."
As for snow removal, the DPW asks residents to shovel their sidewalks within 24 hours after the snow. Pastor Geno Walt got a head start Saturday night. As he cleared a path, he said he is hoping his prep work will pay off.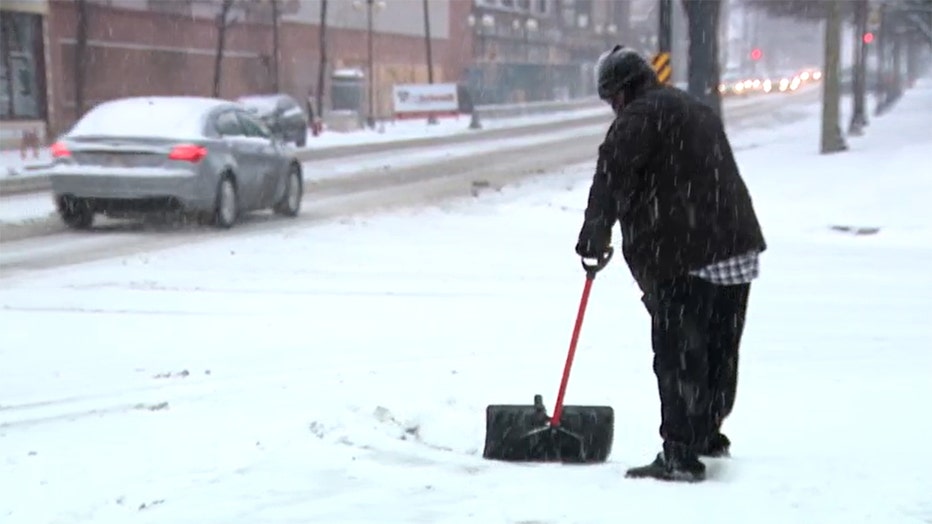 Pastor Geno Walt shovels snow during Saturday, Jan. 28 winter storm warning
"I'm just trying to get this ready for our parishioners here," Walt said. "We might still continue to worship God and make it a little safer for our elderly come on out.
"I'm praying that the snow will stop, so I can ask God for what's it called – a cease and desist?"
The DPW said, given the ongoing snow, salting is expected to continue through the overnight hours. If conditions get worse, officials plan to have more snowplows on the road.