Milwaukee Public Museum 'Time Travel' renderings revealed
MILWAUKEE - The Milwaukee Public Museum (MPM) and exhibit design partner Thinc Design on Tuesday, March 7 unveiled sketches of the new museum building's "Time Travel" gallery.
Time Travel will provide a glimpse of what it was like when dinosaurs and other creatures roamed Earth. It is the first of five permanent galleries to be revealed through the coming months. 
"Time Travel is our gallery that takes you back in time," said Dr. Ellen Censky, MPM president and CEO. "All the way back through the time of dinosaurs."
SIGN UP TODAY: Get daily headlines, breaking news emails from FOX6 News
Censky said Time Travel was the first reveal because the gallery includes some large, iconic specimens. The popular torosaur will be a focal point.
"People are just going to love the feeling of the rumbling, of these torosaurs fighting it out," said MPM senior designer Oronde Wright.
Time Travel gallery renderings (Courtesy: Milwaukee Public Museum, Thinc Design)
A new perspective of the iconic wooly mammoth will be on display, along with the Silurian Reef, which covered Milwaukee millions of years ago. The exhibit will also have fossils, including from the Cambrian Trackway that was discovered in central Wisconsin.
One giant slab of fossilized footprint – nearly 12 feet wide and 7 feet tall – has been hidden in MPM's basement. It will be on display at the new museum.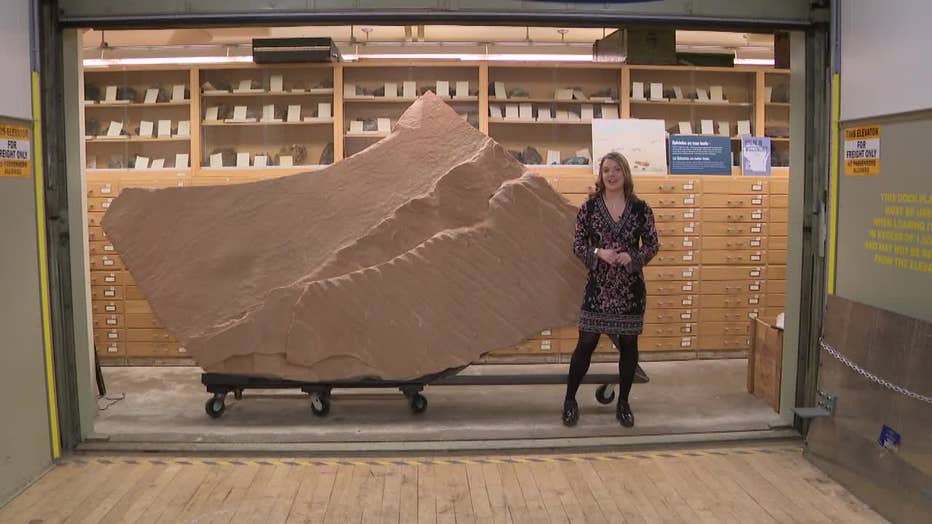 Milwaukee Public Museum fossilized footprint slab (Spencer Tracy for scale)
"It's what this community is about, it provides us with that's what we build out of," Censky said.
When it came to the new design, Censky said visitors had one request: "People have said adamantly they don't want screens and screens, and we are very much about creating this immersive environment."
FREE DOWNLOAD: Get breaking news alerts in the FOX6 News app for iOS or Android.
"It's something that is three-dimensional, that's a physical space,"said Wright.
Time Travel includes three different halls – one for each of the three geological chapters: the Paleozoic, Mesozoic, and Cenozoic eras, Censky noted. More details about those halls and what they'll include are available on the MPM website.
What's next?
MPM said each gallery, or group of related exhibits, will focus on a specific overarching theme. The remaining four gallery previews will be rolled out from now until May 23. Each announcement will provide an inside look at exhibits, collections items and features visitors can expect to encounter. 
March 23: Wisconsin Journey
April 14: Milwaukee Revealed
May 9: Living in a Dynamic World and Mixing Zones
May 23: Rainforest, Puelicher Butterfly Vivarium and the Bucyrus Rooftop Terrace
The new museum will break ground in 2023 and is scheduled to open in 2026.