Milwaukee fatal crash; van driver charged, faces multiple counts
MILWAUKEE - A Milwaukee woman now faces multiple charges in connection with a crash that killed five people at 60th and Fond du Lac on Mother's Day night. The accused is Anteyona Sandifer – and online court records show she faces the following criminal counts: 
Second-degree reckless homicide (five counts)
Knowingly operate without valid license-cause death (five counts)
Second-degree recklessly endangering safety
According to police, shortly before midnight, the other vehicle was headed south on 60th Street approaching the intersection with Fond du Lac when it collided with the van, which was going west on Fond du Lac and had a red light. Police said the driver was speeding, and several people were ejected from the van – including Mikayla Rattler, Sandifer's sister, and 21-month-old Aniya Robinson.
SIGN UP TODAY: Get daily headlines, breaking news emails from FOX6 News
"The mother of the child that we lost didn't provide a car seat," said Elizabeth Ellsworth-Kasch, Sandifer's defense attorney. 
The defense attorney said Sandifer was never given a car seat.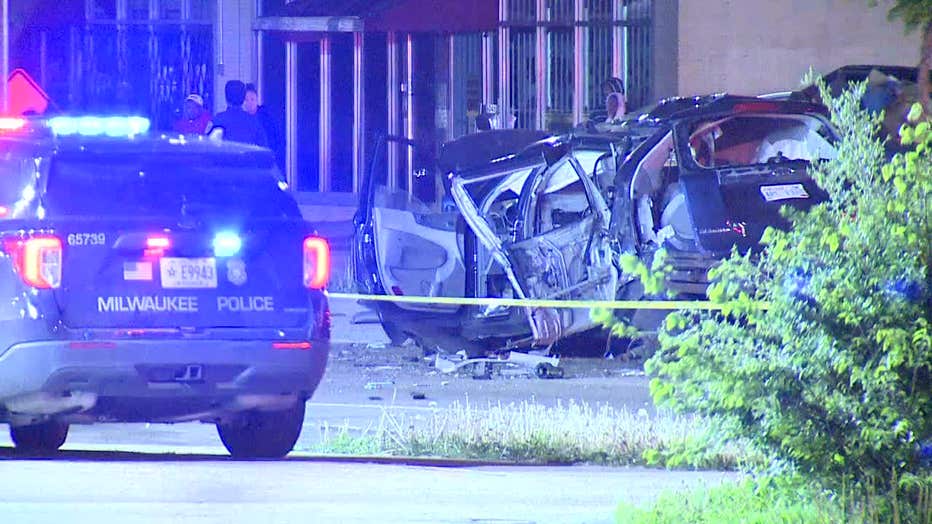 Crash near 60th and Fond du Lac, Milwaukee
"She was not aware of this minivan was set up at the time. She was busy paying attention to the road," Ellsworth-Kasch said. "I think the interest of every party involved who lost someone would be significantly advanced by allowing Anteyona to grieve, assist and be a family member, and experience this loss with the others that did too."
According to the criminal complaint, the 17-year-old girl who survived the wreck spoke with police. She indicated she was sitting in the second row behind the driver's seat and "the baby" was in the same row as her. The teen also identified the driver of the van as Sandifer.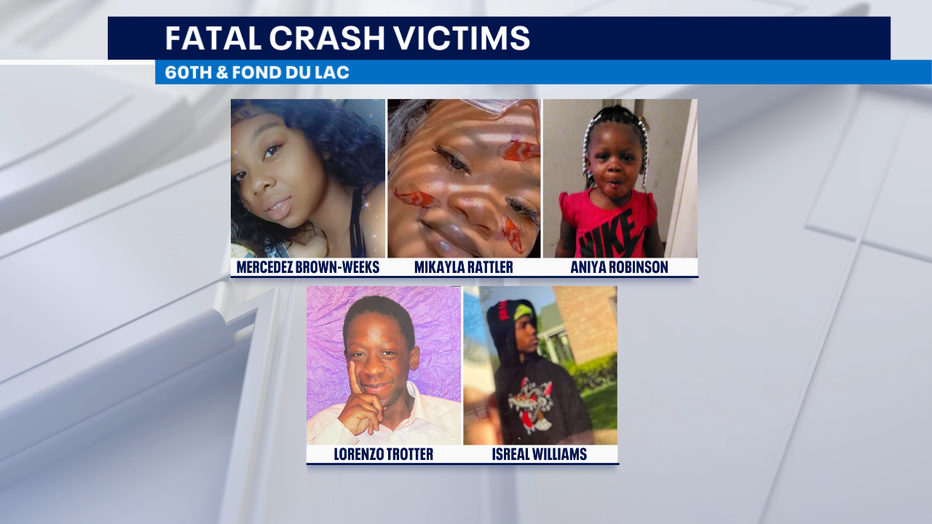 FREE DOWNLOAD: Get breaking news alerts in the FOX6 News app for iOS or Android
Investigators attempted to speak with Sandifer while she was being treated at Froedtert Hospital for a collapsed lung and broken ribs. The complaint says Sandifer "did not make a statement." When a detective told her she was under arrest for the dealt of the passenger in her vehicle, she "asked why she was being placed in custody when someone hit her," the complaint says. 
An officer with the Specialized Patrol Crash Reconstruction Unit reported in the complaint that the van was going southbound on N. 60th Street "at a high rate of speed, (when it) went through the red light, as it was traveling west on W. Fond du Lac Avenue." The "preliminary calculations had the defendant's vehicle going between 30 and 35 miles per hour over the posted speed limits on Fond du Lac Avenue," the complaint says. 
The complaint also stated a search of Wisconsin Department of Motor Vehicle Records showed "the defendant has never had a valid license in the State of Wisconsin. The defendant's license status is suspended, and she was previously found guilty of that offense on November 28, 2021."
Wreck captured on camera
Surveillance cameras captured the collision at 60th and Fond du Lac.
Sandifer was cited by the Milwaukee County Sheriff's Office a little more than a week before the crash – for hanging out of a car window while it was driving. City records show in 2019, Sandifer, then 16, was pulled over by Milwaukee police. Police said she was doing 53 in a 35 mile per hour zone in an unregistered vehicle. She was suspended from getting a license. 
Sandifer made her initial appearance in Milwaukee County court on Friday, May 19. Cash bond was set at $500,000.