COVID in Milwaukee County, leaders provide final weekly update
MILWAUKEE - Milwaukee County leaders delivered their last weekly COVID-19 briefing Tuesday, March 29 as cases, hospitalizations and deaths decline.
A lot has changed in the two years of the city and county COVID-19 briefings – spikes and declines in cases, hospitalizations and deaths, and a new mayor, new city health commissioner and, Tuesday, a new way of looking at how to address the pandemic.
"We're seeing a flattening of cases, positivity and hospitalizations, and even a flattening of deaths," said Dr. Ben Weston, Milwaukee County chief health policy advisor.
SIGN UP TODAY: Get daily headlines, breaking news emails from FOX6 News
There is still uncertainty, especially with the new BA.2 variant, so even while regular briefings will stop – the COVID-19 planning continues.
"I think we have the tools in place, if we can use them effectively, to keep cases relatively low," Weston said. "Most importantly, keep severe disease, hospitalizations and deaths fairly low – and that starts with vaccine."
As of Tuesday, four people in Milwaukee County have died from COVID-19 in the past week. There have been 33 new cases – down 10 from a week ago – with positive tests at a little more than 2%. Roughly 50 people have been hospitalized over the week.
"I think we just don't know. That has sort of been the message all along. This is a novel virus. We've learned more every day and every week. We don't know if there's going to be another variant or another surge," said Milwaukee Health Commissioner Kirsten Johnson.
FREE DOWNLOAD: Get breaking news alerts in the FOX6 News app for iOS or Android.
Milwaukee plans to prioritize targeted COVID-19 vaccination campaigns among vulnerable groups; 62% of county residents received one dose of the vaccine. Health officials are also pushing boosters, a second booster authoritized Tuesday for people 50 and older.
"(It's) important to remember we will not boost our way, or certainly not double boost our way, out of a pandemic," Weston said.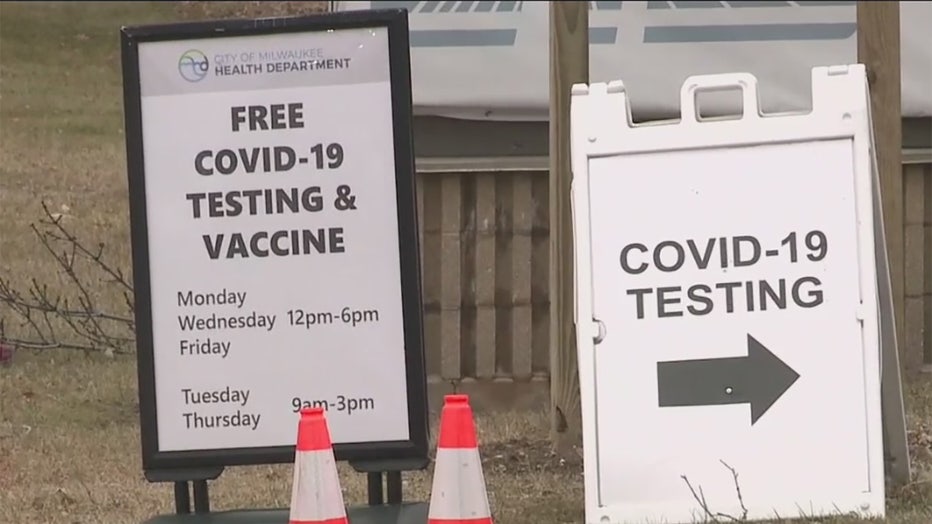 Milwaukee COVID-19 testing site
While signs of "normal" life may be returning, city and county health leaders said they are not ready to exhale just yet.
Milwaukee said COVID-19 testing and vaccination sites will remain open through at least June.
The plan is to turn the Northwest and Southside health centers into one-stop shops for childhood immunizations and blood-lead level testing starting March 25.