Michigan officials livid Ohio train derailment waste was shipped to Romulus
FOX 2 (WJBK) - Elected officials held a hastily called press conference furious about the shipment of hazardous material from the East Palestine train derailment to Michigan, saying they were never told on Friday.
Wayne County Executive Warren Evans, and a team of officials including US Rep. Debbie Dingell (D-Michigan) spoke about the Norfolk Southern decision to send five trucks carrying cancer-causing vinyl chloride to Romulus, where Republic Services has a deep injection well.
"They told us there were five trucks that came today from Ohio that they have 99 percent water and one percent the vinyl chloride. And that going forward all of it is on pause and another site is likely to be found," she said. "The EPA has a contract with Republic (for Romulus and Belleville/Van Buren Twp) ... The communities have contracts with these organizations."
Evans said that the solid waste from the derailment site would be sent to the Republic site in Van Buren Township - but it is unclear if any has been delivered yet.
"The fact that many of these trucks have come to Wayne County and Wayne County government not knowing that they were coming; which way they were coming, how safe the trucks are, that were coming; is something that has got us all very irritated," Evans said. "Nobody more irritated than me.
"It sounds in all intents and purposes that we were sandbagged. I don't know how you do that without contacting local officials."
Related: Some Ohio train derailment toxic materials were sent to Wayne County for disposal
According to the National Cancer Institute, vinyl chloride is a colorless gas that burns easily and is made industrially for commercial uses. Vinyl chloride is used primarily to make polyvinyl chloride (PVC), a hard plastic resin used in pipes, wire and cable coatings, and packaging materials. (PVC is not a known or suspected carcinogen.)
The NCI says vinyl chloride exposure is associated with an increased risk of a rare form of liver cancer, primary liver cancer, brain and lung cancers, lymphoma, and leukemia.
"To say that this is coming and it is going to be handled well by the EPA or those folks, belies that it should not be a secret," Evans said. "Number two the substance I am hearing is called vinyl chloride which is very volatile and is a serious carcinogen. I have health issues I am concerned about, I have concerns for environmental injustices in terms of what is going on there.
"I think that is something we should have heard about sooner, not be scurrying around 15 minutes before a press conference to try to have the facts to give to you all and the folks in Wayne County."
Dingell said that when the office of Ohio Governor Mike DeWine (R) posted the announcement of where train derailment waste was headed, it was not communicated to Michigan officials.
"We learned about it via the grapevine and then saw that Gov. DeWine had announced it on his site and did not call the governor (Whitmer) or give anybody a head's up," she said.
Dingell defended the Environmental Protection Agency, adding it now has control of the clean-up. She said although the EPA took over Tuesday the order was not signed until Friday.  
"So the EPA is now taking over the site, and has assured us that we will know everything that is happening going forward," she said.
State Sen. Darrin Camilleri (D) issued a statement calling for more transparency in the toxic waste transport, adding that he's urging Republic to reject it and keep it in Ohio.
"Residents of Romulus and Van Buren Township deserve to know what is happening in their communities, especially when it comes to hazardous materials coming in from out of state," he said.  The communities that have to take this toxic waste were just notified late this afternoon and told there is nothing they can do to stop it because Republic is a private company and can choose whether or not to take it—this is inexcusable."
Evans said he isn't sure why the shipments were stopping, but would like to know. He did add that state officials, once they caught word of what was happening, may have played a role in it.
"The players here are Norfolk Southern Railway, and the EPA," Evans said. "I am not here to say anybody was attempting to do anything nefarious. But I can say, that the outward effect of it looks like we're being sandbagged. And I don't say personally, because I represent 1.8M people. They are being sandbagged."
DeWine's office released a statement regarding the removal of the waste, saying that Michigan would be one of three locations including Ohio and Nevada, would be used.
"The process to remove the contaminated soil from the site of the Norfolk Southern derailment began today. Under the direction of the Ohio EPA, Norfolk Southern brought in large dump trucks to move contaminated soil to U.S. Ecology Wayne Disposal, a licensed hazardous waste disposal facility in Michigan. This will be a continuous effort to properly manage and safely dispose of the waste. 
"So far, 4,832 cubic yards of soil have been excavated from the ground and more may be removed as cleanup proceeds. When the process begins to dig up the tracks and remove the soil underneath, that soil will be hauled away immediately and taken to a proper disposal facility.
"A total of 1,715,433 gallons of contaminated liquid has also been removed from the immediate site of the derailment. Of this, 1,133,933 gallons have been hauled off-site, with most going to Texas Molecular, a hazardous waste disposal facility in Texas. A smaller amount of waste has been directed to Vickery Environmental in Vickery, Ohio. "
Dingell says that Whitmer and other state officials are on the case.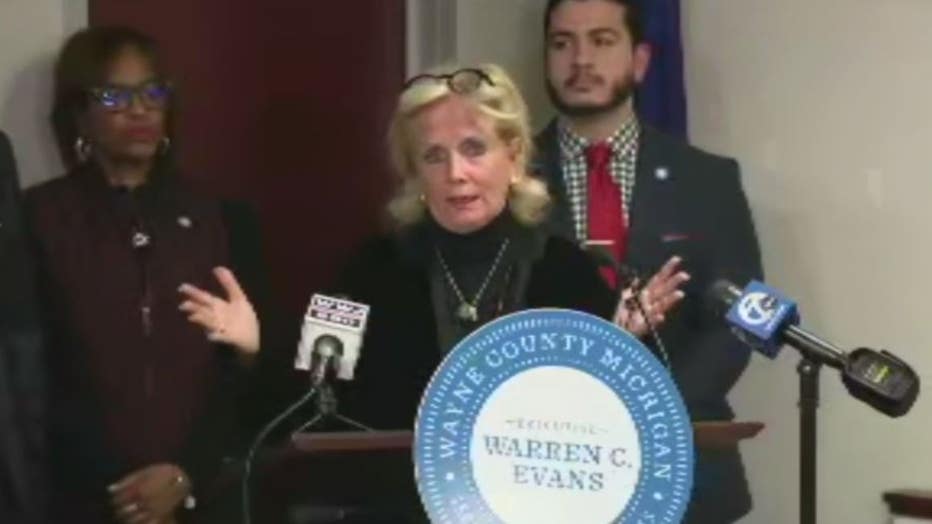 "Our job from the governor on down is to ensure that everyone is safe," she said. "And that no one ever again blindsides everybody the way they did on the delivery of this material."