Wisconsin Humane Society: Kentucky cats up for adoption
MILWAUKEE - The Wisconsin Humane Society announced on Tuesday, Dec. 21 it is now caring for 32 cats from Kentucky due to the devastating tornado in that region. 
The "Kentucky cats" are former shelter cats. Now, the work falls on the shelters here to try to find the animals' new homes.
"The Wisconsin Humane Society received 32 cats via a ASPCA transport on Monday afternoon, and all of these cats were transported from Kentucky," said Angela Speed with the Wisconsin Humane Society.
SIGN UP TODAY: Get daily headlines, breaking news emails from FOX6 News
Kentucky shelters had to give up the cats to make room for other, newly displaced animals.
"That area is absolutely struggling with a high intake of animals into the local sheltering systems," Speed said. "These 32 cats were brought to us to make more space for animals who were displaced by the tornado."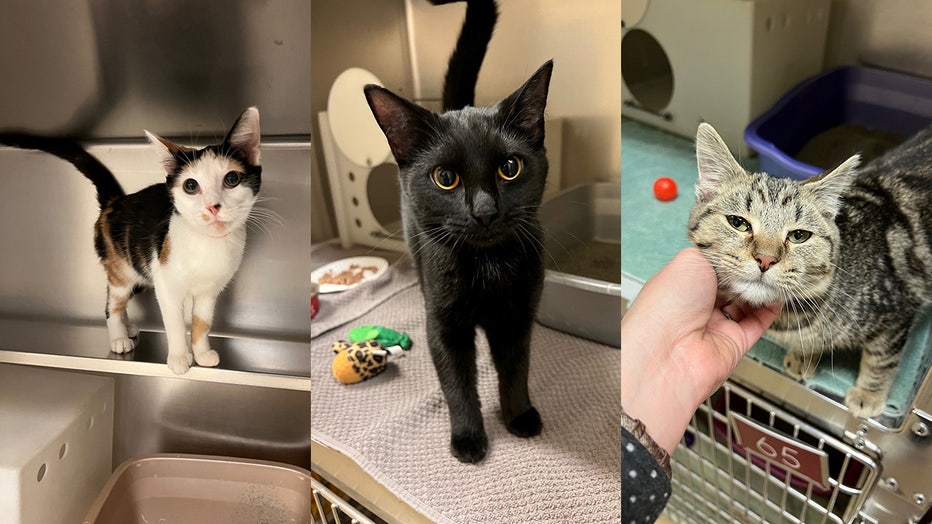 Despite having only arrived at the Wisconsin Humane Society this week, staff is optimistic that the cats will be adopted fast. Each will be spayed, neutered, vaccinated and microchipped.
"I can't say enough good things about these 32 cats who came to us. They're absolutely the most loving, affectionate, beautiful, healthy cats," said Speed. "There are a couple that need treatment, but in general they're young and looking for new homes."
FREE DOWNLOAD: Get breaking news alerts in the FOX6 News app for iOS or Android.
If anyone is looking for a memorable holiday gift, or searching for a new best friend, the Wisconsin Humane Society suggests giving the cats a look.
"Half of them are at our Milwaukee campus and the other half are at our Racine campus," Speed said. "They range in from about six months to two years, and they are absolutely wonderful."
How to help, adopt
For those wondering how they can help in the rescue effort, the Wisconsin Humane Society says there are three ways to make a huge impact:
Donate: By making a contribution of any size, you can help offset the costs for medical treatments, daily care, and any fostering expenses. To give, click the Donate button or visit the website.
Foster: By becoming a foster parent, you allow WHS to say "yes" when called to help in emergency situations. Applying online is quick and easy at wihumane.org/foster.
Adopt: By adopting a pet from WHS, you're making room for more animals who have nowhere else to turn. To find your new best friend and see adoption hours and processes, visit wihumane.org/adopt. If you'd like to meet one of the Kentucky cats, they will have an asterisk (*) after their name.