Jefferson County home explosion victim identified by family
TOWN OF ROME, Wis. - The family in the Town of Rome, Wisconsin whose house exploded has set up a GoFundMe.com account. They lost everything in the blast Tuesday, July 27, including a much-loved member of the community.
It was just before 2 p.m. Tuesday when 911 calls started coming in about the house explosion that left pieces of the home everywhere, even stuck up in trees.  Sadly, one man, who spent decades helping others in the community, died in the blast.
"It doesn't really seem like it's true," said Kevin Broedlow. "It seems like a bad dream. Then you get out and walk around and realize it's not a bad dream. It's reality."
Broedlow is the brother-in-law of the deceased, identified by family as Mike Revolinski.
FREE DOWNLOAD: Get breaking news alerts in the FOX6 News app for iOS or Android
"He would do anything for anybody," said Broedlow. "If anybody needed a hand, he was the first one to step up."
Investigators said Revolinski was found dead inside what's left of the home; the blast felt 10 miles away.
"It knocked stuff out of our kitchen cabinets," said Sarah Oceguera, neighbor.
Neighbors across the street had windows blown out, rattling the home. Oceguera was born in Rome and knew Revolinski and his widow, Sharon, since she was a baby.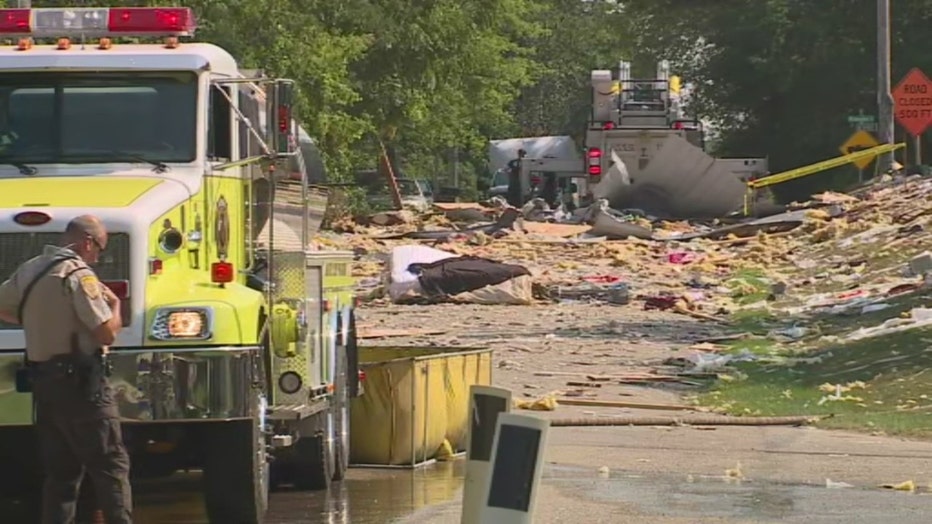 Crews at scene of home explosion in Rome, Jefferson County.
Mike was an awesome guy," said Oceguera. "They were together all the time."
Family members were in a race against time Tuesday, with hurricane-force winds possible in a Wednesday night storm.
"We talked about that already as a family, what can we do before the storm comes?" said Broedlow.
Revolinski is being remembered as a veteran and volunteer firefighter. Family members say he spent a decade as the chief of Rome's fire department, with the fire station just one block away. The department was closed Wednesday with its flag lowered in tribute as attention turns to what caused this.
"At this time, it's just speculation," said Broedlow. "We'll just wait to see the report from the State Fire Marshal's Office."
The investigation continues, but officials noted the smell of natural gas and flames coming from the debris upon arrival.  
Family members said there was no construction or remodeling taking place at the home, saying they, too, are baffled and saddened.