Jay-Z's Team ROC hosts rally for Alvin Cole at Hart Park
WAUWATOSA, Wis.  - Team ROC, part of Jay-Z's entertainment company Roc Nation dedicated to social justice, hosted a rally at Hart Park Thursday, Oct. 15 to demand justice for Alvin Cole.
Cole, 17, was fatally shot by Wauwatosa Police Officer Joseph Mensah in February. 
On Wednesday, Oct. 7, the Milwaukee County District Attorney's Office announced that no criminal charges would be filed against Mensah in the case.
On the stage in Wauwatosa was Travy Cole, Alvin's mother, who said enough is enough on racial injustice.
"I'm out here till the day God takes me home. I'm out here to get justice, not just for my son, but for the other people that's grieving," Cole said.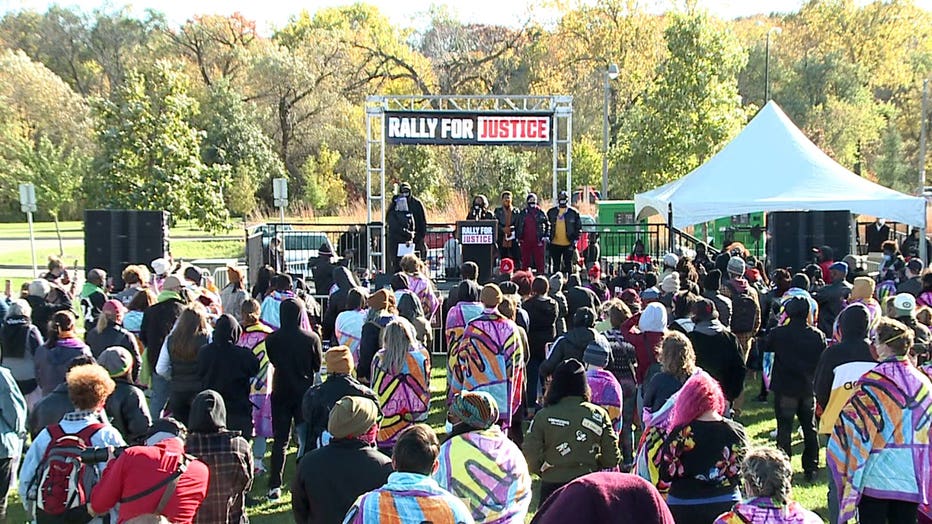 Jay-Z's Team ROC hosts a rally at Hart Park calling for justice in the fatal shooting of Alvin Cole by Wauwatosa Police Officer Joseph Mensah
Alvin Cole was one of three people fatally shot by Mensha during a five-year period. Mensah was not charged in any of the shootings.
The group in attendance at Thursday's rally demanded that the City of Wauwatosa fire Mensah, as suggested in an independent investigator's report.
The message was amplified by several speakers, including Jacob Blake Sr. whose son was shot seven times in the back in August by a Kenosha police officer.
"When I watched that man put seven shots in my son's back, I no longer had the choice of being quiet," Blake Sr. said.
Just as has happened over the week since the decision not to charge Mensah, the group marched from Hart Park to Wauwatosa City Hall and back. Unlike other nights, though, they were not met with force by law enforcement -- an item that was another point of criticism during the rally.
"The only people that have been hostile are the officers of the Wauwatosa Police Department, who continue to use force, violence and brutality to terrorize citizens and protesters throughout this city," said Brian Anderson with The Peoples Revolution.
A big message from those who gathered Thursday in both the protest and the rally was to turn words into action -- something they plan to do in a number of ways.
First, they said they intend to file a civil rights lawsuit in the death of Alvin cole. Second, vote on Nov. 3.
FREE DOWNLOAD: Get breaking news alerts in the FOX6 News app for iOS or Android
Caron Butler, a former Milwaukee Bucks player who was raised in Wisconsin, will be working with Team ROC, the organization announced. Butler has also offered to cover funds that will pay for Cole's headstone.