Impersonating officer in Kenosha County, 19-year-old man accused
KENSOHA, Wis. - A Union Grove man made an initial appearance before a Kenosha County court commissioner Wednesday on charges that he allegedly impersonated a law enforcement officer – including trying to pull over an off-duty Kenosha police officer earlier this week.
Sam Sergei Knuth, 19, appeared before Commissioner Loren Keating Wednesday, June 23, on one misdemeanor count of impersonating a peace officer, as well as several traffic charges. Knuth entered a not guilty plea, and Keating set a $2,500 signature bond in the cases.
"You're not to have, except in a professional context, have no contact with (Kenosha Police Officer Pep) Moretti, you may not unlawfully operate a siren or horn, or lights in any vehicle," Keating told Knuth. "I'm not going to order you to remove those items, because if there are — in fact lawful uses for those, that's fine —you may not operate those, if you will the sirens, the horn, the lights in an unlawful manner."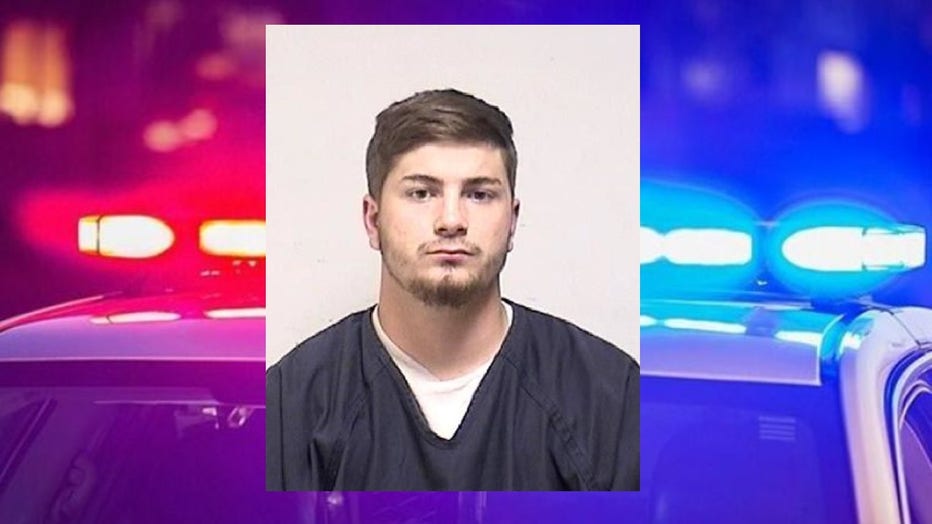 Court filings say Officer Moretti was heading home at around 10 p.m. Monday night he saw a gray Jeep driving fast with white and amber-colored roof lights activated, pull up to cars and turn on a siren. Moretti told a responding Kenosha County sheriff's deputy that when Knuth allegedly did that, the car in front would pull over and Knuth would pull behind them for a few seconds before speeding off.
Moretti told investigators he saw Knuth do this to numerous cars, including his own.
The criminal complaint says as Moretti tried to pull alongside the vehicle to get its license plate and take a look at the driver, Knuth allegedly slowed down, pulled behind Moretti and activated the siren. Moretti says he pulled over and let Knuth speed past him, and then followed him – where Knuth allegedly ran two red lights with the lights and siren activated.
"He works three jobs, in addition to working full-time," said assistant state public defender Hillary Edwards. "Uses lights for safety, while he is at work, it would be required if he were using one of those vehicles for safety purposes, to have certain lights on any vehicles he was operating that require those kind of lights."
Court filings say Knuth told the deputy he bought the siren from Amazon "because he has always wanted a siren," that he has the lights, siren and a public address system for work, and initially denied pulling people over. When asked if Knuth was trying to "act like a cop," Knuth allegedly nodded his head, saying "he was not actually trying to be a cop, just that he has always liked police officers and has always wanted to be one."
However, Knuth's history with law enforcement has been more so on the other side of the law, according to Kenosha and Racine County court records.
"Defendant was on probation at the time that these offenses were alleged to have occurred," said Olivia Simmons of the Kenosha County District Attorney's Office.
Knuth was charged in January 2020 in Racine County with five counts of fourth-degree sexual assault, and two counts each of misdemeanor victim intimidation and disorderly conduct. A classmate at Union Grove High School reported that Knuth allegedly repeatedly touched them, despite asking for Knuth to stop. Court records show Knuth was sentenced in March 2020 to 18 months probation. The sexual assault charges were dismissed but read in during sentencing, where Knuth pleaded no contest to the victim intimidation charges and one count of disorderly conduct. The other disorderly conduct charge was also dismissed, but read-in. 
However, that probation was revoked in November, and Knuth was ordered to spend 6-9 months in the Racine County Jail.
In August of that same year, Knuth was charged with breaking into a vehicle, misdemeanor theft, and criminal property damage; accused of breaking into and stealing the emergency lights and siren from a Union Grover firefighter's truck. The man reported the theft on April 22, 2020. Six days later some of the stolen items were returned wet and inoperable. Knuth pleaded guilty to the criminal property damage charge and was sentenced this past April to one year of probation.
Knuth has not yet been released from the Kenosha County jail. His next court hearing is in August.
FREE DOWNLOAD: Get breaking news alerts in the FOX6 News app for iOS or Android.