Glendale police chase: 14-year-old driver arrested after crash
GLENDALE, Wis. - Video shows a reckless driver taking police on a dangerous pursuit through Glendale on Aug. 18; the driver not even old enough for a permit.
"We're still southbound, approaching Bender. He missed the sticks," an officer says in the video. "He just crashed! He just crashed!"
With speeds reaching at least 89 miles per hour the chaotic police pursuit in Glendale ended when the driver lost control.
"He spun out, spun out!" said an officer.
Glendale police pursuit captured by dashcam
Around 7:30 p.m. on Wednesday, Aug. 18, Glendale police were called to Lupient Kia on Green Bay Avenue near Florist for a possible vehicle theft in progress. Police said two teens showed up in a red Kia stolen from another dealership on a previous day. A 13-year-old suspect was out of the car when the 14-year-old driver spotted police approaching.
"Dispatch, he's taken off. Wisconsin 899WUF. It's a red Kia. There's one subject still in the Kia dealership," said an officer.
The teen took officers on a wild chase, where stop sticks were deployed.
"He's going to be losing a driver's side rear tire and a passenger front tire," said an officer.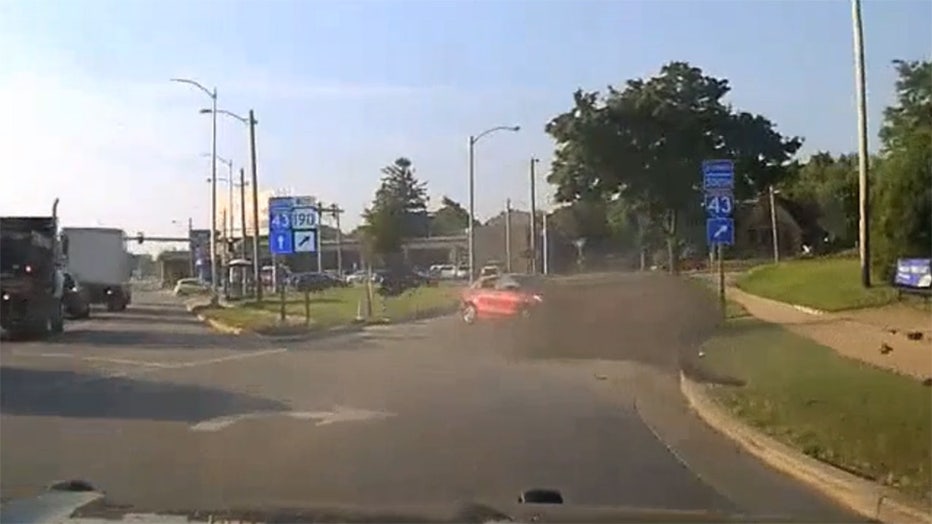 Glendale police pursuit captured by dashcam
Eventually, squads were planning to terminate the chase when the driver spun out and crashed near Green Bay Avenue and Capitol Drive. Both teens were arrested.
FOX6 News spoke with the general manager of Lupient Kia over the phone who said the damaged car was towed to his lot over the weekend, and on Monday, that very same Kia was stolen again. While details about Monday's theft haven't been released, the car has since been recovered for the second time.