Fire destroys Pewaukee landmark, Michael's House of Prime
PEWAUKEE, Wis. - A landmark in Pewaukee was destroyed by fire on Wednesday, Dec. 9. Firefighters were dispatched to Michael's House of Prime around 4 a.m. The loss of the business will be felt throughout the community.
"Kind of hard to watch," said Alex Walby. "I still don't think it's real. I still think I'm going to go to work tonight."
Walby worked at Michael's House of Prime before the flames tore through the restaurant early Wednesday.
"In my brain, I'm seeing everything that was there," Walby said.
The building was a landmark -- one that has been around for 90 years.
"It's a great restaurant. Been around forever," said Brian Bruckmoser, who lives nearby.
"I moved here in 1999. My first dinner in Pewaukee was at Michael's House of Prime," said Patrick, another neighbor of the business.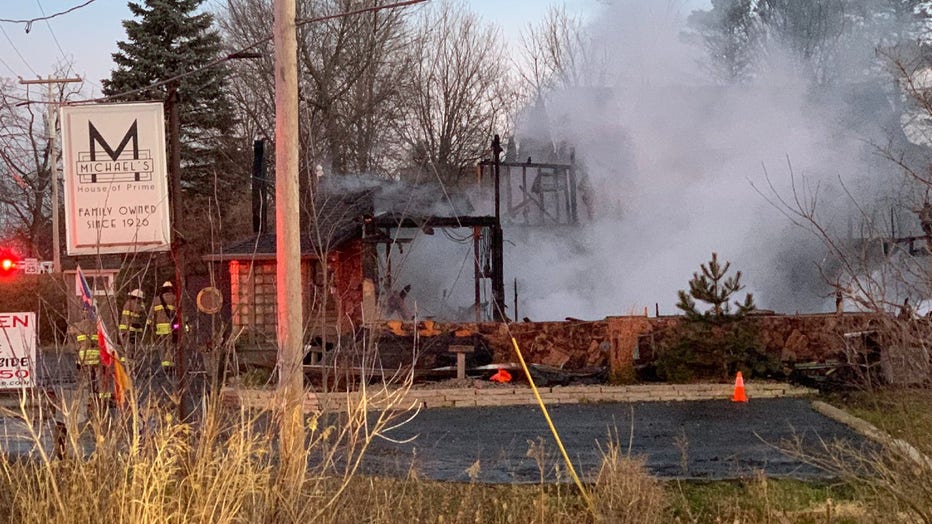 For much of the morning, crews worked to save what they could. Investigators focused on figuring out the case of the fire. 
"An old building is a tinder box. It burned fast and quick," Patrick said. 
FREE DOWNLOAD: Get breaking news alerts in the FOX6 News app for iOS or Android
The building may be gone, but the memories are not. 
"I went here for my mom's birthday. I ate here for Thanksgiving," Walby said. "Hopefully we can rebuild it. If that's the case, I know we would all come back. The employees. Because we're honestly a family."
The building owners were not ready to talk about the loss. Everyone is thankful nobody was hurt.
The fire is under investigation by the Waukesha County Sheriff's Office and Wisconsin DCI.
The following fire departments responded to assist: Cities of Brookfield, New Berlin, and Waukesha, Villages of Big Bend, Vernon, Sussex and North Prairie, Towns of Brookfield, Delafield, Merton, Lisbon, and Waukesha, as well as Lake Country, Wales/Genesee and Western Lakes.