Fight over trading cards outside Brookfield Target
BROOKFIELD, Wis. - Brookfield police responded to a reported fight outside of the Target near 127th and Bluemound on Friday morning, May 7.
Witnesses said several people were fighting outside of the store entrance – and one person was armed with a gun. It all unfolded over trading cards.
The demand for trading cards is so high now that just in the last couple of weeks Targeted implemented new rules – MLB, NFL, NBA and Pokemon trading care are limited to one item per customer per day. Cards are also only sold at 8 a.m. on Fridays. Only 20 minutes after sales began on May 7, things got physical.
"I have a Charizard of this, I just can't find it right now," said 8-year-old Mason. He likes collecting cards, but his mom has trouble finding them.
"It's kind of sad that there are a lot of kids who enjoy opening the packs and seeing what you get, but they can't even really do that because you can't find them," said shopper Sheri Rowell.
Rowell was at the Target not looking for cards, but looking for baby clothes when everyone started running.
"I'm like, what happened? What happened? They're like we don't know, just get away from the window, let's go," Rowell said.
Rowell said customers and employees hid in the woods behind the store, hearing something about a fight and a gun.
"I was shook up for a while, I was shaking. My body was just kind of trembling because I was so freaked out," said Rowell.
FREE DOWNLOAD: Get breaking news alerts in the FOX6 News app for iOS or Android
Police said a 35-year-old man was physically assaulted by four other men in the parking lot after an argument over sports trading cards. The victim pulled out the gun he was legally carrying and the four attackers then ran away. No shots were fired. The victim sustained minor injuries.
All four attackers – ranging in age from 23-25 – were later arrested, found near the store. Formal charges are pending. A fifth man was identified at the scene, but not arrested.
"It's kind of ridiculous," Rowell said. "It's just kind of sad for the kids I feel like. It just sounds kind of ridiculous that adults got into a fight in the parking lot about trading cards."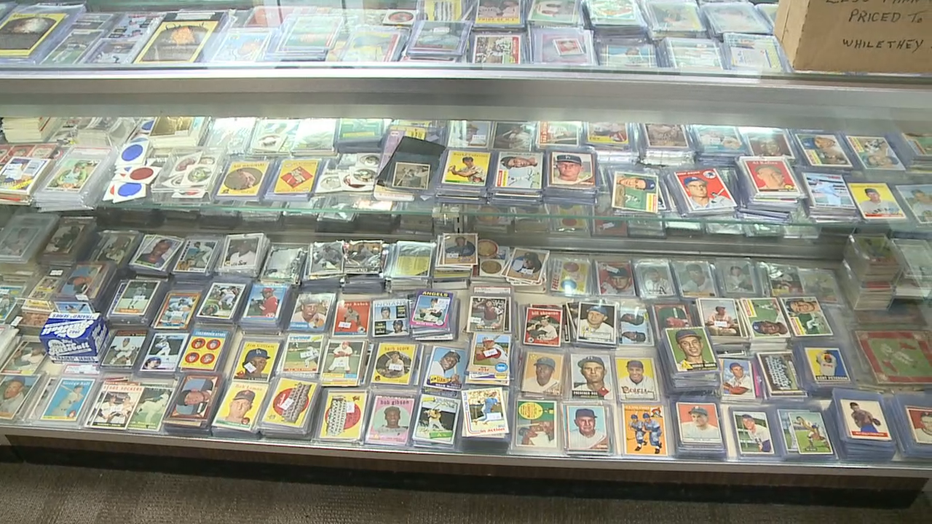 Jeff Lemieux at Jeff's Sports said the craze all started with the pandemic.
"When COVID hit, I think people were just bored, didn't have anything to do," said Lemieux.
Lemieux has limited how many cards people can buy at his store – wanting them to go to collectors and not the people simply looking for a quick buck online.
"We don't want one guy coming in and wiping us out so other people can't get it," Lemieux said.
He hopes the industry is known more for people like 8-year-old Mason and not like the ones in the Target parking lot. 
In a statement, a Target spokesperson said: 
"We always want to create a safe and positive experience for our guests and team members. This morning, the team at our Brookfield, Wisconsin store acted immediately to ensure the safety of guests and team members and contacted local law enforcement. While our store was temporarily closed this morning, the team has resumed normal business hours and operations. Please reach out to the City of Brookfield Police Department for more information, as their investigation is ongoing.
"Given the significant interest in trading cards, we recently began limiting MLB, NBA, NFL and Pokémon purchases to one item per guest, per day, and asking guests not to lineup overnight. We're continuing to evaluate the protocols we have in place to ensure safety at our stores related to this category."