Explosives thrown at Milwaukee officers, 5 charged
MILWAUKEE - Five men are facing explosives-related charges stemming from the investigation into the incident that injured two Milwaukee police officers after a firework was thrown in their direction while on duty on Water Street in the early morning hours of July 5.
The two officers were standing in the median in near Water and Juneau when, shortly after midnight, a firework was thrown towards the two men and exploded. The blast injuring the two officers and deployed one of the nearby squad car's airbags, according to court filings.
Three men are charged in connection to throwing the explosive device.
Derek M. Smith, 19, was charged Saturday, July 10, with two counts of first-degree recklessly endangering safety, use of a dangerous weapon – party to a crime, one count of possession of explosives for an unlawful purpose – party to a crime, and one count of property damage by explosives.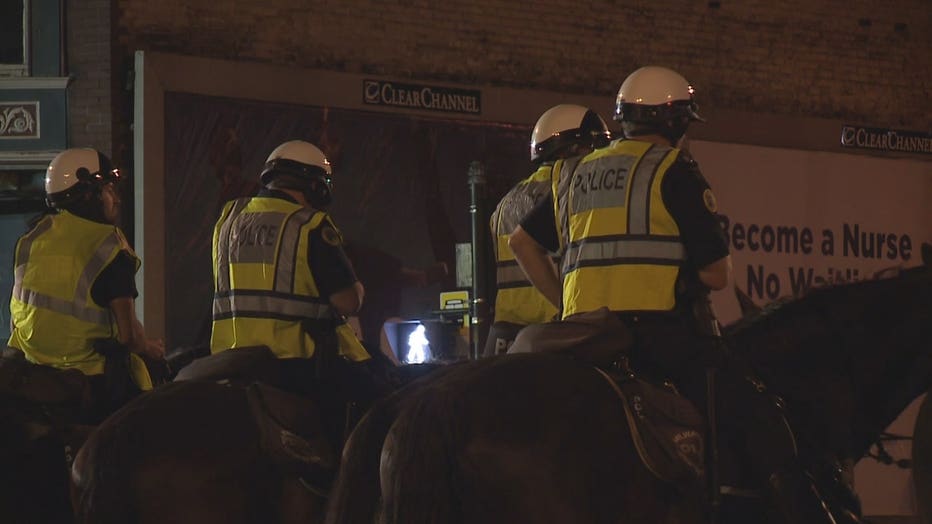 Javaier D. Thompson, 18, and Gerrell Bufford, 20, are both charged with two counts of first-degree recklessly endangering safety, use of a dangerous weapon – party to a crime, and one count of possession of explosives for an unlawful purpose.
According to the criminal complaint, the officer closest to the blast said he saw something thrown less than two feet away from where he was standing, and before he could react, it exploded. The officer said he felt immediate pain to his face, eyes and ears; was confused, lost balance and had to prop himself up on his squad car from falling over.
The other officer, whose back was to the explosion, said he heard a loud bang and felt the concussion from the explosion, which disoriented him, he had trouble hearing and suffered a minor loss of balance.
The officers, a 45-year-old man and a 40-year-old man, were treated and released from the hospital and recovering at home.
Bufford's brother, Lawrence Turner, 27, was charged with one count of possession of an improvised explosive device after being seen on video allegedly setting off what court documents say amounted to a pipe bomb near 24th and Fond du Lac hours earlier.
Another man, Demetrius Powell, was charged with five counts of possession of an improvised explosive device in connection to allegedly selling the pipe bomb to Turner.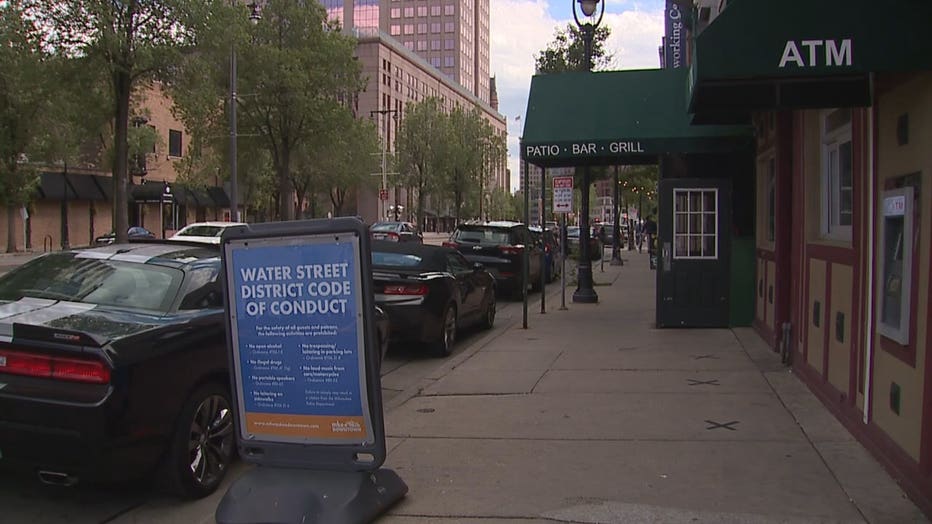 Filings say officers saw and heard a number of several explosive devices thrown into the crowds of tavern patrons each time a Ford 500 was seen in the area. The officers say, according to court documents, that a firework was seen thrown from the Ford 500 towards the officers, and the vehicle continued northbound on Water Street. An officer was able to get a license plate number and later found that it was registered to Smith.
Police found the vehicle parked outside of Smith's north side home about an hour after the explosion downtown and had it towed. Smith later showed up to District 3 headquarters to inquire about the towing of his vehicle when he was taken into custody.
Court filings say Smith admitted he, Thompson and Bufford were driving around, setting off fireworks throughout the city, and that Smith had bought them from someone at a gas station off of Fond du Lac Avenue and that going downtown and setting off fireworks was his idea of "all fun and games."
During a consented search of Smith's cell phone, filings say police found a voice to text message from Smith saying he had bought about 12 "pipe bombs," waited until night when Water Street would be busy and decided to throw the last unlit explosive on a police car or near officers.
During a search of the phone, police also found two videos from July 4 of a man – later identified as Turner – holding and throwing a PVC pipe with caps and a fuse in the middle into the street that later explodes.
According to court documents, Turner admitted he was the one in the video and that he threw the pipe bomb near 24th and Fond du Lac. Turner, however, was not involved in the incident on Water Street.
Filings say Turner provided police a contact for who he purchased the explosive from, later identified as Powell. Detectives later set up a buy with Powell to purchase more explosives near Washington Park on July 6.
Powell was arrested about a block south of 40th and Lisbon. During a search of Powell's vehicle, filings say detectives found 90 M-80s, four M-1000s (also often called a quarter-stick) and one PVC pipe bomb with plastic end caps and a green fuse. Police also found an additional 60 M-80s during a search of Powell's home.
Powell said he doesn't make the devices, "just sells them as a middleman to make some money" and buys them from someone else, according to the complaint.
"Fireworks is just like drugs, you know what I'm saying. Middleman selling them, I made a few dollars off the m------------."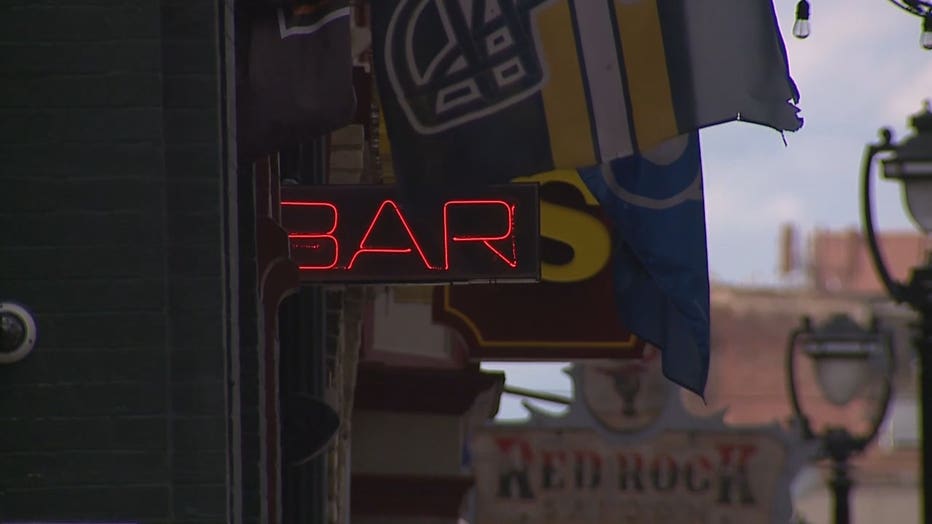 Thompson and Turner appeared before a Milwaukee County court commissioner Saturday. Thompson and Turner were both released on signature bonds, $5,000 and $2,500, respectively.
Bufford, Smith and Powell made initial appearances on the charges Sunday. Bufford was released on a $5,000 signature bond. Both Smith and Powell had their bond set at $2,500 cash.
If convicted, Bufford and Thompson could face more than 47 years in prison and fines up to $75,000; Smith faces a maximum of more than 87 years in prison and $175,000 in fines. Powell could face up to 30 years in prison and $50,000 in fines, if convicted. Turner faces up to 10 years in prison and fines of up to $10,000.
FREE DOWNLOAD: Get breaking news alerts in the FOX6 News app for iOS or Android