Milwaukee crime, governor's race: Dems want more gun laws, GOP more officers
MILWAUKEE - After an especially violent weekend in Milwaukee, Republican candidates for governor shared their plans for more cops while Democrats say tougher gun laws are needed.
On Friday, 21 people were shot in a roughly two-hour span following the Bucks' Game 6 – 17 of them in one of three downtown Milwaukee incidents.
Republican Tim Michels wants 50% more cops in the state's most dangerous neighborhoods. His new plan calls for incentives to attract new officers. He says he wants a new law that felons caught with guns should serve a minimum of two years for that offense.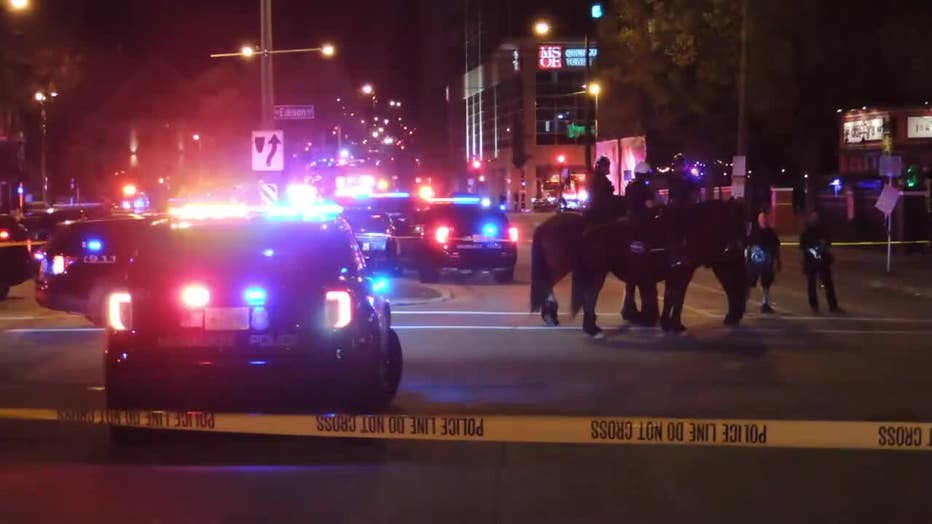 Shooting scene near Water and Juneau, Milwaukee
While police representives say they are burning out and need more resources.
"We had as many officers down here as we could, but obviously, the criminals that were involved in this, they obviously had no regard for human life and just opened fire probably in a crowd of 300-500 people," said said Alex Ayala, VP of the Milwaukee Police Association.
"Our streets are a war zone," said Mark Sette, VP of Wisconsin Fraternal Order of Police.
The Milwaukee Police Association and the Wisconsin Fraternal Order of Police stood outside Fiserv Forum Monday as the person they're backing for governor repeated her plan to fight crime. 
"We need Milwaukee to be a safe place for families, the Deer District to be a destination and not the 'Fear District' anymore," said Rebecca Kleefisch, Republican candidate for governor.
Kleefisch says she wants to add 1,000 more cops in the state and use the Wisconsin State Patrol to help in areas with growing violent crime.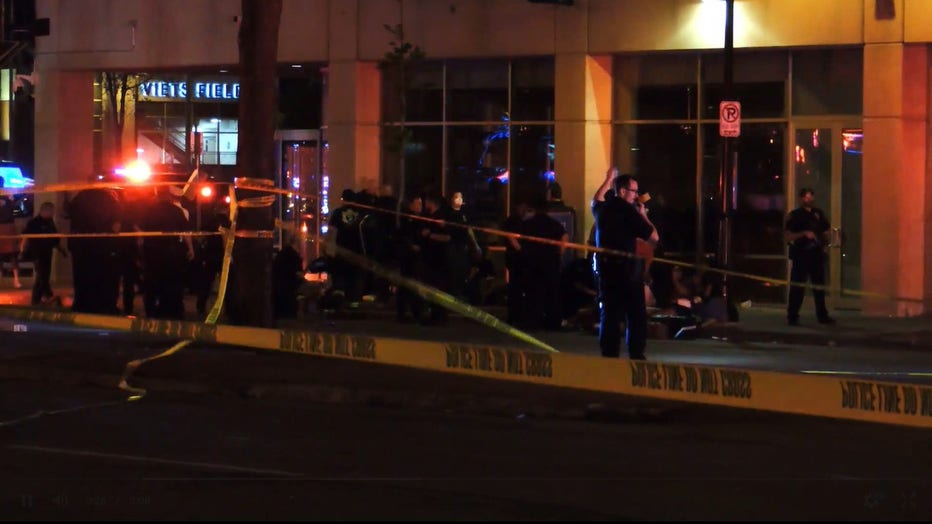 Shooting scene near Water and Juneau, Milwaukee
Democrats blame the Republican-controlled Legislature of not giving Milwaukee a fair amount of shared revenue. They point to the Legislature not approving a referendum that would ask Milwaukee County voters if they'd approve a higher county sales tax.
"This is not about more money," said Kleefisch. "This is about putting money where it is needed most badly and that is protecting families of Milwaukee and Wisconsin."
Milwaukee Mayor Cavalier Johnson held several private meetings throughout the day Monday to discuss the violence.
On Saturday, he called on state lawmakers to tighten gun laws.
"I would implore our partners at the state to see the lives that are being lost, needlessly, senselessly, because folks have too easy access to guns, not just in Milwaukee but across our state."
"We don't control gun law at the local level," said Johnson on Saturday. "I wish that we did, but we don't. That's something for Madison to work out, and I implore my partners in Madison, who I intend to work with, to open your eyes to what is happening here in Milwaukee. Just think about it. If public safety becomes an issue downtown and folks stop spending their dollars here, people stop coming here for things like we had last night, that impacts state coffers, as well. They get the sales tax revenue from that. This impacts the entire state."
While Kleefisch says there are good gun laws on the books, she says prosecutors need to do a better job in bringing charges.
SIGN UP TODAY: Get daily headlines, breaking news emails from FOX6 News
Republican Kevin Nicholson's plan includes setting minimum sentences and bail for violent crime.
Democratic Governor Tony Evers' campaign says he's invested $100 million into public safety and violence prevention.