Bucks' championship run economic impact estimated at $57.6M
MILWAUKEE - VISIT Milwaukee released data on Monday, Sept. 27 that shows the economic impact of the Milwaukee Bucks' championship run was $57.6 million. That includes direct and indirect spending in the community.
Breakdown of the data
High-Level Estimated Economic Impact Data
First Round (May 22-29 vs. the Miami Heat): $2.7 million in total economic impact
            $1,491,687 in direct, $1,225,642 in indirect and induced
Second Round (June 5-19 vs. the New Jersey Nets): $12.8 million in total economic impact
            $7,030,063 in direct, $5,816,500 in indirect and induced
Third Round (June 23-July 3, vs. the Atlanta Hawks): $14.1 million in total economic impact
            $7,757,764 in direct, $6,395,664 in indirect and induced
NBA Finals (July 6-July 20 vs. the Phoenix Suns): $28 million in total economic impact (NBA Finals Game 6 alone: $5.8 in total economic impact, with an 82% occupancy rate downtown and a $240 average daily rate)
            $15,546,762 in direct, $12,656,750 indirect and induced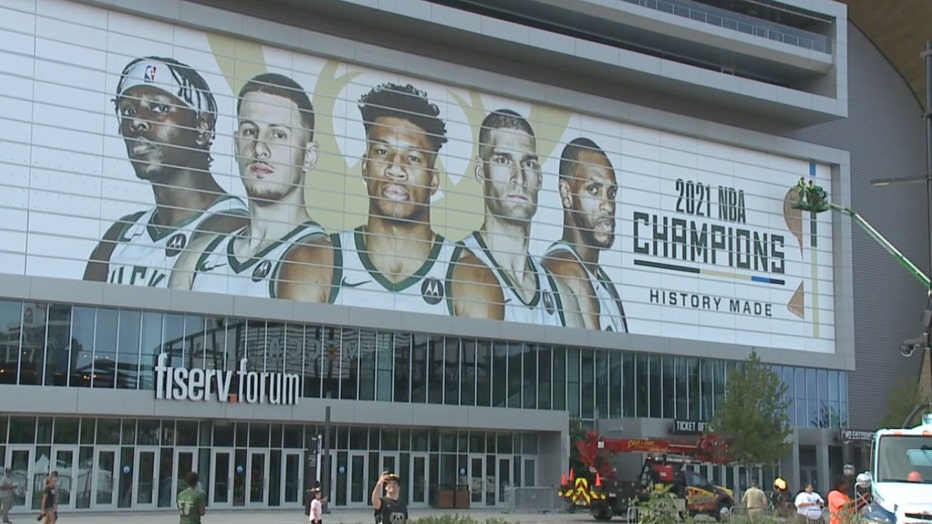 SIGN UP TODAY: Get daily headlines, breaking news emails from FOX6 News
The Milwaukee Bucks brought some big bucks to the city of Milwaukee, and the more than $55 million in economic impact couldn't have come at a better time.
It's the city of champs, with Milwaukee, scoring big as the Bucks reached their goal of becoming the 2021 NBA champions.
"If you invest in your team and your product, the sky is the limit," said the Bucks owners. "You have to be patient. You have to put money into it."
A lot of money also came into the Cream City, with thousands of fans downtown. With 65,000 fans packing the Deer District at once, this was just a snapshot of the support shown to the team, as dollars poured into area businesses.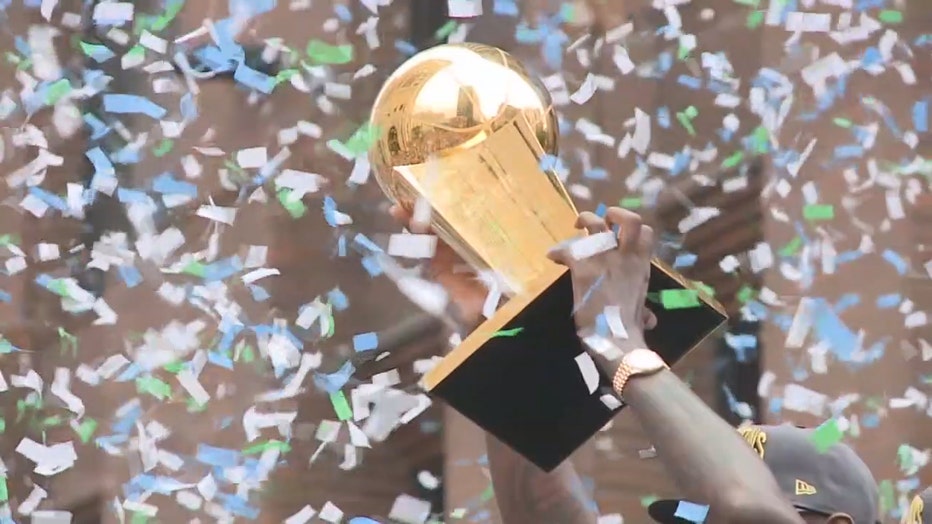 The Larry O'Brien Trophy, hoisted during the Milwaukee Bucks NBA Finals championship parade on Thursday, July 22.
"This was an unexpected economic boost," said Claire Koenig with VISIT Milwaukee.
Koenig said the total economic impact of the three rounds of playoff games as well as the NBA Finals is estimated to have been $57.6 million in direct and indirect spending to the community.
"It exceeded all of our wildest dreams, and hopes and expectations," said Koenig.
With lodging topping the charts at nearly $8.5 million, followed by recreation at more than $6.5 million, retail nearly at $6 million and food and beverage at more than $5 million, this was a vital boost, pumping up struggling businesses as the coronavirus pandemic took a toll.
"We lost billions of dollars and economic impact that would've been brought by meetings, conventions, sporting events because of the pandemic," said Koenig.
Total Estimated Direct Impact by Spending Type for Entire Playoff Run:
Lodging: $8,424,845
Transportation: $4,258,004
Food and Beverage: $5,219,209
Retail: $5,819,003
Recreation: $6,586,263
Space Rental: $38,521
Business Services: $1,210,430
For the month of July, downtown hotel demand was driven by Bucks' fans, sports media, the NBA and a few corporate partners, VISIT Milwaukee said. There were relatively few other meetings and conventions in the market that month generating significant hotel demand.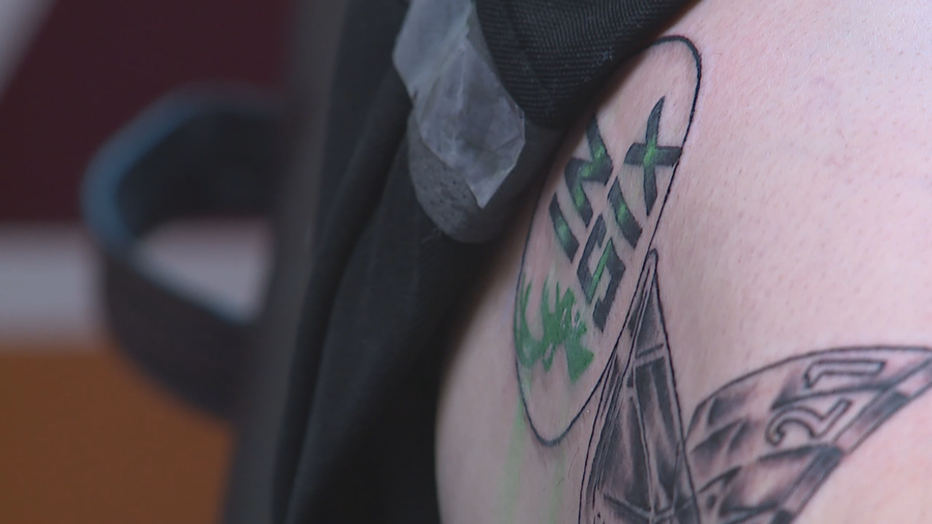 Tattoo by artist Jon Piontek at Body Ritual
FREE DOWNLOAD: Get breaking news alerts in the FOX6 News app for iOS or Android
Playoffs' Downtown Hotel Occupancy Rates and Average Daily Hotel Rates
Includes both home and away games
Round 1 (4 games): Avg occupancy 52%, avg ADR $128
Round 2 (7 games): Avg occupancy 50%, avg ADR $133
Round 3 (6 games): Avg occupancy 55%, avg ADR $136
Finals (6 games): Avg occupancy 64%, avg ADR $143
VISIT Milwaukee also chose to capitalize on the spotlight, running ads in drive-markets, areas within a 6-hour drive of Milwaukee.
"We wanted to target the markets where we knew travelers are already interested in Milwaukee," said Koenig.
As history was made, the hope continues for future success. 
VISIT Milwaukee is looking to other big events this year to also help make an economic impact. They say the Ryder Cup was huge, and they are looking forward to the Milwaukee Brewers and their forthcoming postseason run, along with the first two rounds of the NCAA Tournament coming to Milwaukee in spring 2022.