Brian Walshe, husband of missing Massachusetts woman, allegedly searched ways to dispose of body
COHASSET, Mass. - Brian Walshe, the husband of a Massachusetts woman who has been missing since New Year's Day, made several online searches related to disposing and dismemberment of a body, including "10 ways to dispose of a dead body if you really need to," "can identification be made on partial remains," and "how to clean blood from a wooden floor," prosecutors said on Wednesday.
Walshe, 47, appeared in court on Wednesday morning for his arraignment on murder and other charges. Not-guilty pleas were entered on his behalf, and he was held without bail in Quincy District Court. He did not speak except to tell the judge he understood the charges.
Walshe was already in custody and being held on $500,000 bail after pleading not guilty to misleading investigators searching for his wife Ana Walshe, whose body has not been found.
Ana Walshe, 39, was reportedly last seen leaving their home in the affluent coastal community of Cohasset south of Boston in the early morning hours of Jan. 1, purportedly to take a ride-hailing vehicle to Logan International Airport for a flight to Washington, police and prosecutors said.
But police have found no indication that she either took a vehicle or boarded any flight out of Logan recently.
READ MORE: Ana Walshe investigation: DC police report reveals husband threatened to kill her
Ana Walshe was reported missing several days later by her employer in Washington, where the couple has a home and to which she often commutes during the week for work at a real estate company, authorities said.
In court, the prosecutor said local police conducted a well-being check on Jan. 4 at the couple's home in Cohasset. It was at this time when Brian Walshe first reported his wife missing, saying she left the house around 6 a.m. on New Year's Day.
The prosecutor then read aloud a series of Google searches Walshe is accused of making on Jan. 1 on his son's iPad, before and after he reported having last seen her. 
According to prosecutors, some of the searches included: 
4:55 a.m.: "how long before a body starts to smell"
4:58 a.m.: "how to stop a body from decomposing"
5:47 a.m.: "10 ways to dispose of a dead body if you really need to"
6:34 a.m.: "can you throw away body parts"
9:29 a.m.: "what does formaldehyde do"
9:34 a.m.: "how long does DNA last"
9:59 a.m.: "can identification be made on partial remains"
11:34 a.m.: "dismemberment and the best ways to dispose of a body"
11:44 a.m.: "how to clean blood from a wooden floor"
1:08 p.m.: "what happens when you put body parts in ammonia"
Prosecutors also said in court that someone fitting Brian Walshe's description was seen on surveillance video disposing of what appeared to be heavy trash bags. They added that clothes and other items belonging to Ana Walshe with her DNA were found at a trash processing facility.
Brian Walshe was also seen on surveillance video buying $450 worth of cleaning supplies at a Home Depot store in Rockland, Massachusetts, the day after his wife was last seen. Additionally, police found a broken knife and blood in the basement of the couple's home, prosecutors said, although they did not say whose blood it was.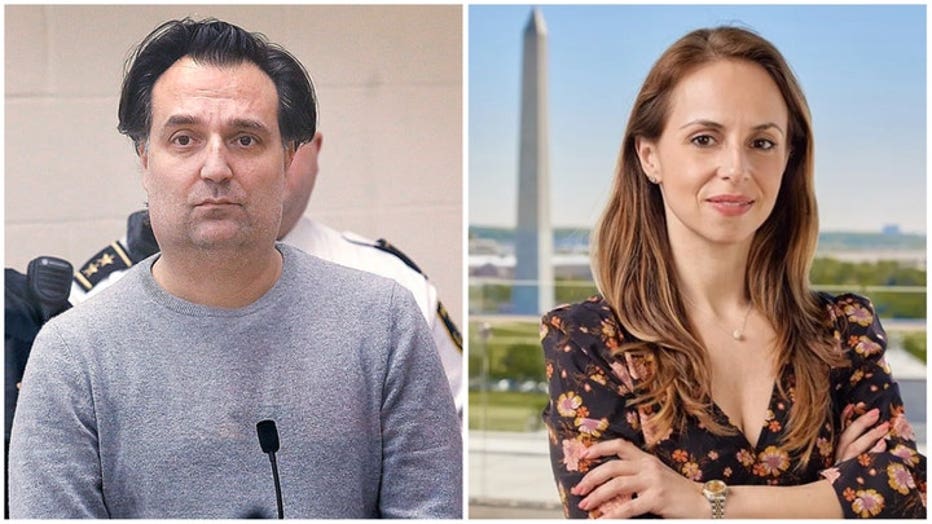 Brian Walshe and Ana Walshe are pictured.
Authorities have searched the family's home, a wooded area near the home, a trash processing facility in Peabody north of Boston, and a condo complex where Walshe's mother lives.
The couple's three young children are in state custody.
A police report, obtained by FOX affiliate Boston 25 Reporter Bob Ward, also showed that Ana, who was going by her maiden name Ana Knipp at the time, told D.C. Police officers that Brian "made a statement over the telephone that he was going to kill her, and her friends" back in 2014.
Brian Walshe had been on home confinement while awaiting sentencing in a fraud case involving the sale of fake Andy Warhol paintings, according to federal court records. Cohasset police said Ana Walshe's disappearance and her husband's case appear to be unrelated.
READ MORE: Ana Walshe: 'Absolutely' no signs 'of a tragedy' before disappearance, friend says
The Associated Press and FOX 5 DC contributed to this report. It was reported from Cincinnati.