Bayshore Qdoba robbery video; suspects fall through ceiling
GLENDALE, Wis. - Video from inside the Bayshore Qdoba shows the moment a man and a girl – hiding from Glendale police – fell from the ceiling on March 13. 
Security cameras from inside the restaurant on Silver Spring Drive show an employee walking to the back door. At 10:41 p.m., two people dressed in black came out of the door – the video shows one of them with a gun.
A few minutes later, the employee and the two people were seen in the back office. According to a criminal complaint, the employee was trying to figure out how to open the safe.
SIGN UP TODAY: Get daily headlines, breaking news emails from FOX6 News
Security cameras show, around 10:50 p.m., the man and girl ran toward the back door and put their hands up. Police said the two hid in the ceiling trying to get away, but their plan came crashing down five minutes later.
Still, it took several hours to arrest the teens; they were found in a vacant store next door after busting through the drywall.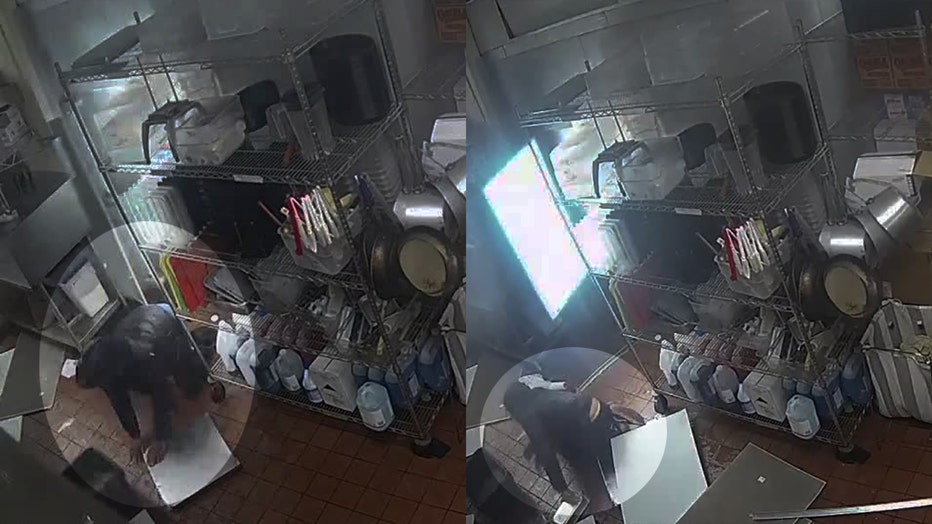 Security video shows Bayshore Qdoba robbery suspects fall through ceiling on March 13
Marqavion Williams, 18, was arrested and charged with six counts, including armed robbery. The 16-year-old girl was arrested but has not been charged.
When police searched the ceiling area, they found clothing, a mask and a gun. According to the complaint, Williams told officers he planned the robbery because he "needed money for a car." He also admitted he stole the gun from his grandfather.
Williams had his preliminary hearing March 28. Court documents indicate the case will move forward to trial.