Alleged cop killer got probation 14 hours before, judge called it 'good bargain'
MILWAUKEE - Call it "the mystery of the black backpack." Prosecutors say Terrell Thompson, the man accused of killing Milwaukee Police Officer Peter Jerving, ran away from two different crash scenes carrying a backpack.
Those details are included in a 19-page sentencing transcript. 
We have no way of knowing what was inside that backpack, but we do know Thompson was previously accused of threatening his friend's mom with a gun.
We also know Judge Christopher Dee called the backpack "mysterious" as he sentenced Thompson to probation just 14 hours before police say Thompson killed Jerving.
Police said the shootout near 14th and Cleveland early Tuesday, Feb. 7 happened more than two years after Thompson blew a red light at Sherman and Bradley in Milwaukee and then ran away from the crash scene and a year-and-a-half after he hit two more cars in one night and ran away again.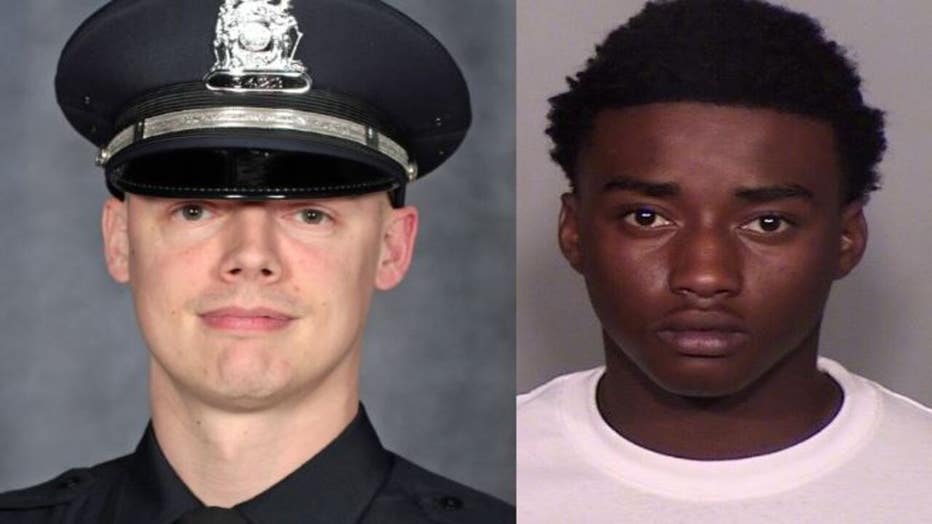 Milwaukee Police Officer Peter Jerving, Terrell Thompson
"He was 17 and 18 years old at the time he committed the offenses he was charged with," said Julius Kim, criminal defense attorney and FOX6 News legal consultant.
It wasn't until Monday, Feb. 6 at 19 that Thompson finally pleaded guilty in exchange for the state's offer of 12 months' probation.
"The criminal justice system is going to try to treat younger offenders, meaning 17- 18- 19-year-old offenders, differently than older people who may be more mature," said Kim.
Kim said that's not an unexpected result, but a transcript of Thompson's sentencing hearing on Monday includes one thing prosecutors had not revealed before. The victims of each of those crashes told police Thompson left the scene carrying a backpack.
In the second case, he came back to the scene with his mom without the backpack.
Judge Dee called it "a little mysterious; you seem to always have this black backpack, and you run away, and that backpack seems to disappear."
The judge never asked Thompson what was in the backpack.
In January 2022, a 32-year-old woman tried to get a restraining order against Thompson, claiming he threatened to kill her and sent her a picture of his gun.
"It's impossible to predict, with 100% certainty, human behavior," said Kim.
Thompson apologized Monday and called the hit-and-run crashes a "life learning lesson."
His lawyer acknowledged he was facing 120 days in jail, adding, "thankfully, the state's not asking for it."
Judge Dee told him, "You got the benefit of a good bargain."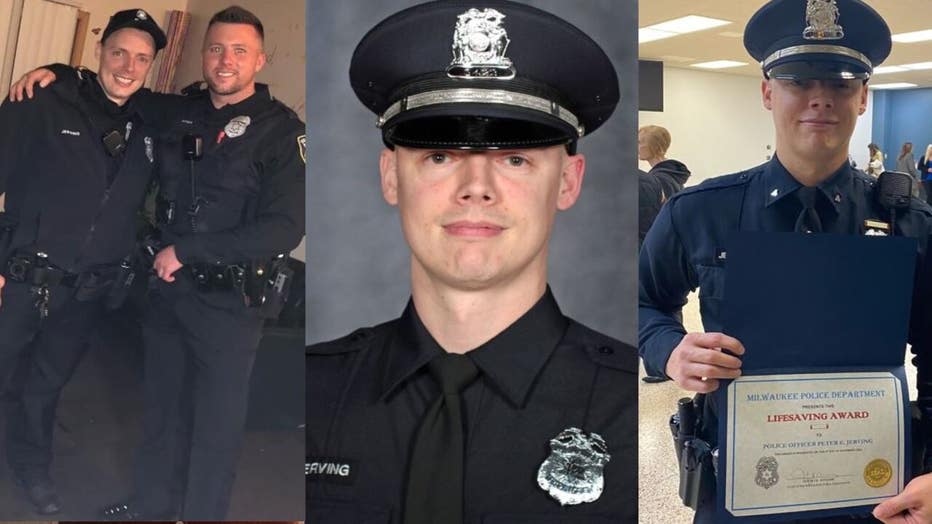 Milwaukee Police Officer Peter Jerving
Fourteen hours later, Milwaukee police say Officer Jerving paid the price.
At the sentencing hearing Monday, Thompson's attorney said he had a supportive mother, he was pursuing his GED, had a job painting cars with his cousin and even had a job interview scheduled for Tuesday to be a customer service rep for Allstate.
All of that played into the decision to release him on probation for a year.
He barely made it 12 hours before police say he committed an armed robbery, and two hours after that, they say he was involved in a shootout with Officer Jerving. Both men died.