Milwaukee Fire Chief Aaron Lipski sworn in
MILWAUKEE - A long-time member of the Milwaukee Fire Department, who has served as acting chief since last October, is now officially the head of the city's fire service.
Aaron Lipski was sworn in as chief by the Fire and Police Commission during a joyous ceremony in the Common Council chambers at Milwaukee City Hall Friday, June 11, in what was the first large gathering in the seat of city government since the pandemic began.
Lipski said his goal is for the department to be on the leading edge for not only fighting fires, providing medical services, or rescuing people in need, but addressing racial disparities in the department and the city.
"Despite the known problems we face, there is real hope. We are being given an enormous opportunity, to fix things to rebuild things. That is truly what it is, is an opportunity," Lipski said to the more than 150 people on hand, including family, friends, co-workers, along with city and county law enforcement brass, and city elected officials for the event.
"The history of the Lipski family in the fire department dates back to 23 B.C. in the city of Milwaukee, that's how far back it goes," joked Mayor Tom Barrett, drawing laughs from the crowd.
"For those of you who don't know, Aaron is also a part-time philosopher," Barrett later added. "We've spent many times in these meetings hearing 'the philosophy, according to Aaron Lipski.' And he'll share that with you, I guarantee you, if he gets the chance."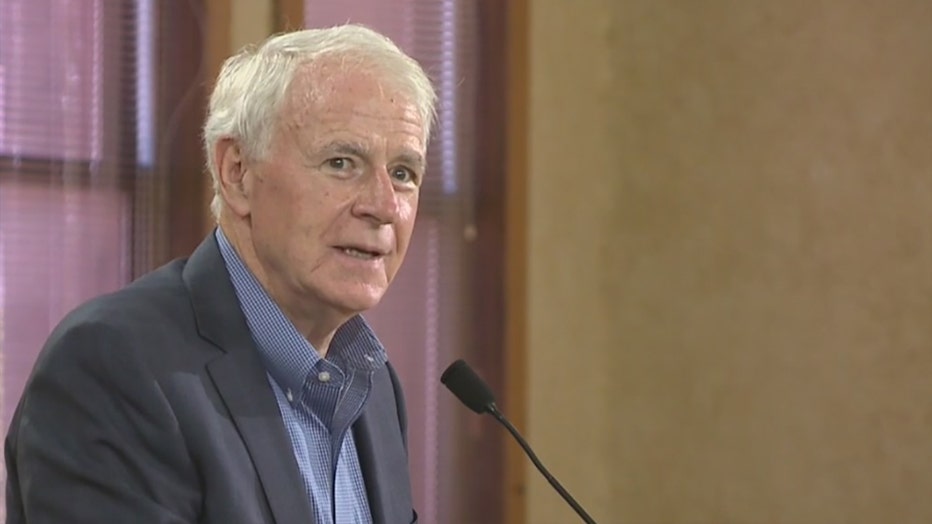 Milwaukee Mayor Tom Barrett at the swearing-in of Fire Chief Aaron Lipski on June 11, 2021.
Lipski later quipped he was unaware he was attending a roast.
Jokes aside, Barrett commended Lipski for his years of service, leadership during the pandemic, and his commitment to racial equity and justice in the city, calling it a "real issue" in the city.
Aaron is "someone who loves this community, who's committed to this community, and who wants to do right, for all the people who live here," Barrett said.
Lipski served as acting chief since October 2020 following the retirement of Chief Mark Rohlfing. Lipski will serve out the remainder of Rohlfing's term, which ends in May 2022. A point in time Lipski says he hopes he will be allowed to continue the work he's set out to accomplish.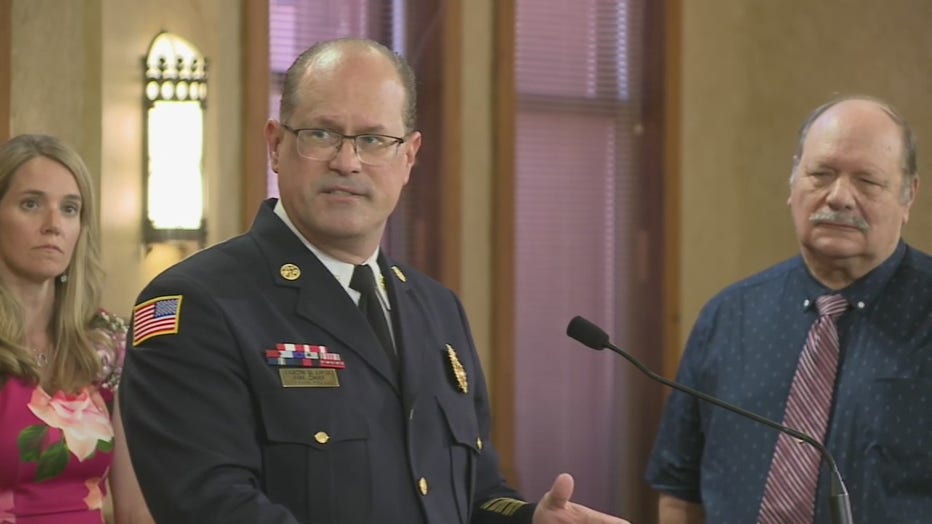 Milwaukee Fire Chief Aaron Lipski sworn in on June 11, 2021.
The FPC unanimously approved appointing Lipski to the post last month, in which he received overwhelming support from the FPC and community leaders to lead the 700-member service.
"Throughout the pandemic, Acting Chief Lipski sought and found solutions, accepted and surpassed every challenge, and bravely led first responders in a city that was undergoing some of the most uncertain of times," said FPC Commissioner Amanda Avalos. "He brings respect, innovation and an open mind to his work. Qualities that make him a great leader." 
Alderwoman JoCasta Zamarripa said it was Lipski who she turned to following a rash of fires in the 8th aldermanic district, who helped put together a door-to-door smoke alarm installation campaign.
Alderman Mark Borkowski noted that with Lipski's appointment, the family's firefighting lineage will continue.
"After Aaron's long and distinguished career with the Milwaukee Fire Department, I know he's going to do a great job as this tenure as our fire chief," Borkowski said.
"I had a feeling that this event would be occurring. I've always known him to be a loving father, husband, good friend and a loyal public servant to all those who he serves in the city of Milwaukee," said friend and Milwaukee Municipal Judge Derek Mosley, who served as the event's emcee.
Lipski, 46, started with the Milwaukee Fire Department on February 24, 1997, alongside his older brother, Dan, who retired this year as a deputy chief after 24 years of service. Aaron and Dan Lipski's great-grandfather, Henry A. Lipski, was an engineer; grandfather Daniel F. Lipski and father Neil T. Lipski both retired from MFD as deputy chiefs, as well.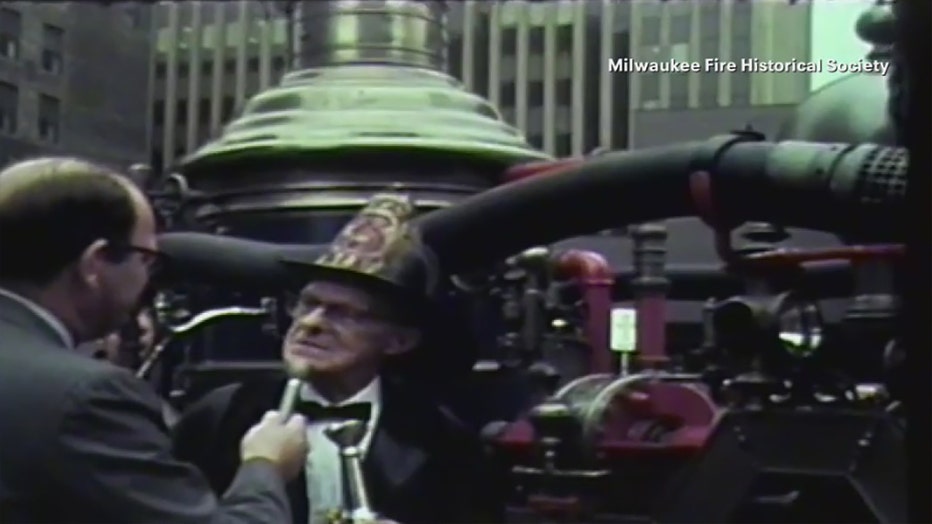 Henry A. Lipski in 1971, a former MFD engineer on horse-drawn steam engines.
Lipski thanked his family, including his wife and daughter, friends and countless others for their support as he enters, officially, into this new role as fire chief.
In a city that is often said to be one of, if not the most segregated in the country, Lipski said the department is all-in on recruiting more diverse candidates, to create a more representative department for the city and people it serves; that the department must be a leader to address long-standing issues in the city.
"I guess where we can value-add is that we can start by understanding, better, that it is about people's relationships. And is about people being comfortable by looking across and seeing someone that is more familiar-looking," Lipski said, adding that if a more diverse department causes a young person to see value, or potential in themselves, "that's a win."
FREE DOWNLOAD: Get breaking news alerts in the FOX6 News app for iOS or Android
And while the fire service runs in the blood of the Lipski family, and that lineage has provided a wealth of knowledge for the position he now holds, Lipski said he's well aware of the pressure.
"There's a tremendous amount of pressure, because if I screw it up, nobody cares what the lineage is or isn't. And I very badly don't want to do that."