AAA survey indicates traveler optimism is growing as summer nears
MILWAUKEE - A new AAA survey shows traveler confidence is growing as COVID-19 vaccinations become more readily available.
According to an April 7 news release, the new survey reveals nearly half of Wisconsinites (46%) are comfortable taking a trip. That is a 6% increase compared to the previous survey in January.
CDC guidelines now say vaccinated people can safely travel. However, one travel agent says, just because the CDC says you can travel safely doesn't necessarily mean you can book a trip.
March was the busiest month at Mitchell International Airport since the start of the pandemic. Summer vacations are now on the schedule.
"I'm going to Colorado in August. That's pretty nature-y, outside. So I feel pretty good about that," said Jenna Waligora of Milwaukee.
FREE DOWNLOAD: Get breaking news alerts in the FOX6 News app for iOS or Android
"I think I feel pretty safe about it. I got my first dose of the vaccine a few weeks ago, and I actually get my second dose tomorrow, so once I'm fully vaccinated I'll feel pretty fine about it," Janey Weber of Milwaukee said.
Still, 54% of Wisconsinites are not comfortable traveling, according to the survey.
"I haven't traveled since the whole COVID-19 has been happening," said Brandi Collins of Milwaukee.
Jeanne Reuter, owner of Bayside Travel said demand is starting to pick up, but traveling internationally is still a challenge.
"Croatia was closed, and then they were open. Then they were closed again. Then they're open again," Reuter said.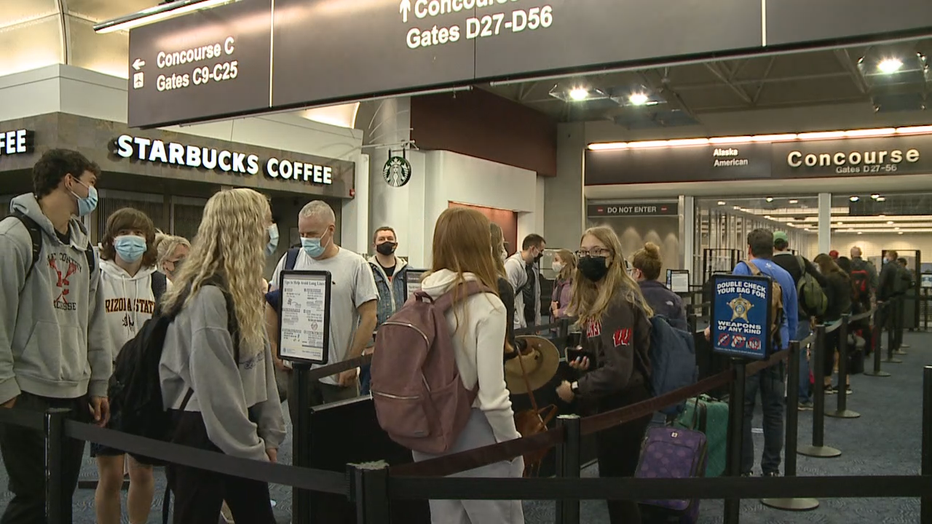 Travelers at Mitchell International Airport in Milwaukee
Reuter expects for business to be fully back by summer 2022, but others are looking at a longer timeline for themselves.
"I don't know. Maybe like 5 years? If that? I'll have to see how things change. You never know, it might get worse," Collins said.
The CDC said fully vaccinated people should still avoid crowds and wear a mask in public when traveling.
Additional AAA survey findings
Wisconsinites cite the vaccine and increased safety measures as reasons they feel comfortable traveling now.
More than a quarter (27%) say they have received the vaccine. Even more (45%) base their confidence on masks and sanitization.
According to the AAA survey:
62% of Wisconsinites expect to travel in 2021

26% of travelers will take their next 3-day trip before June

72% of Wisconsinites say they would be traveling more if there was not a pandemic

50% of Wisconsinites say they will feel more comfortable traveling when they are fully vaccinated
Meanwhile, Wisconsinites appear to be more willing to fly and stay in a hotel or resort. According to the survey:
63% of Wisconsinites are comfortable staying in a hotel/resort (15 percentage-points more than Q1)

40% are comfortable taking a flight (9 percentage-points more than Q1)
The most popular vacations for Q2 travelers are:
Beach destinations (27%)

City/major metro destinations (26%)

National/state parks (23%)