Milwaukee police: Officer shot, suspect dead near 11th and Keefe
MILWAUKEE - A Milwaukee man is dead, and a police officer was wounded after an unusual sequence of events near 11th and Keefe on Friday, Aug. 26.
Police Chief Jeffrey Norman said the officer was hit by a bullet that likely came from the suspect's gun after that suspect had already shot himself in the head. The Milwaukee County Medical Examiner's Office identified as the man as DeShaunte Adams.
"I was like, 'Oh lord, they're in front of my house.' I'm devastated," neighbor Mellownie Anderson said. "Never seen it on my block like this."
SIGN UP TODAY: Get daily headlines, breaking news emails from FOX6 News
A police scene like Friday's leaves a lot of questions, especially after hearing what happened.
"Couldn't go nowhere, do nothing. So I was looking around, asking questions, said Anderson. "I'm still – just can't get over it right now."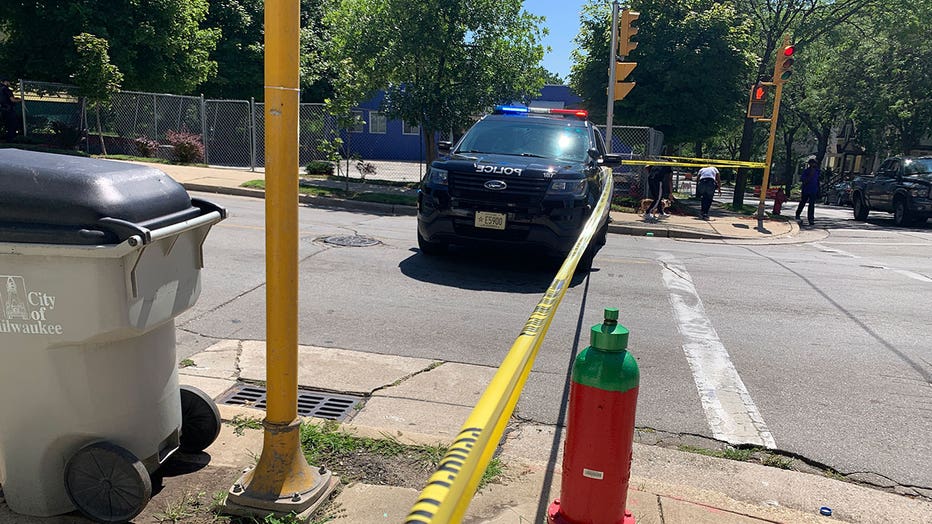 Police investigation near 11th and Keefe, Milwaukee
The 36-year-old officer was shot in the leg. Norman said the bullet came from the 43-year-old suspect's gun after he'd already shot himself in the head.
"We're still trying to figure out how that all occurred," said Norman.
FREE DOWNLOAD: Get breaking news alerts in the FOX6 News app for iOS or Android.
It all started just before noon. Police were looking for a Milwaukee man wanted for a domestic abuse injunction. Officers found him near 11th and Keefe and ran after him.
Police said the suspect shot at officers and officers fired back. As the chase continued, Norman said the suspect shot toward officers a second time. No one was hit as the bullets flew.
The suspect ran into a backyard, according to police, and shot himself in the head. He died as a result.
"After officers approached the suspect, for officers' safety, the officers stabilized the suspect with a tactical ballistic shield when a suspect's firearm inadvertently discharged, subsequently striking an officer nearby," Norman explained.
It remains unclear if the suspect was dead at the time the bullet hit the officer.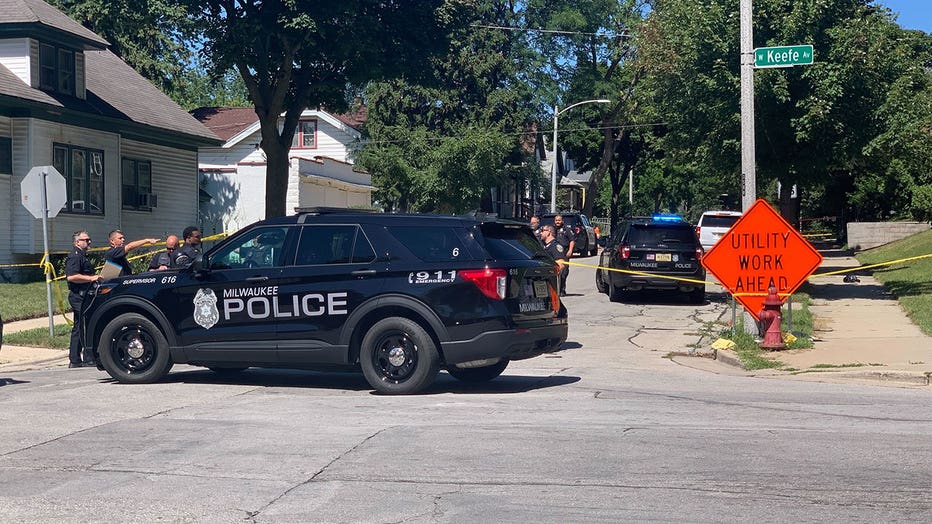 Police investigation near 11th and Keefe, Milwaukee
"We know the medical examiner's office is here. We're going to be working in tandem with them on what was all the dynamics on how that firearm went off," said Norman.
Police said they do not have an exact number of how many officers were involved at the time, and that, as of now, no one is on administrative duty in connection to the incident.
The chief said the officer who was shot is in the hospital, expected to recover and in good spirits.