Patrick Baldwin Jr. chooses UWM to play college basketball
SUSSEX, Wis. - Patrick Baldwin Jr., one of the nation's top recruits in his class, says he will play college basketball for his father at the University of Wisconsin-Milwaukee.
The 6-foot-9 forward is rated as the nation's No. 4 senior prospect according to composite rankings of recruiting sites compiled by 247Sports. An ankle injury caused him to miss most of his senior season at Hamilton High School in Sussex, Wisconsin.
RELATED: Check out the new and improved FOX Sports app
Baldwin chose the Horizon League program over Duke and Georgetown. He announced his decision Wednesday at a news conference at his high school.
His decision is a huge victory for his father, who has posted a 47-70 record in four seasons as Milwaukee's coach The Panthers went 10-12 this past season and lost in the Horizon League Tournament semifinals.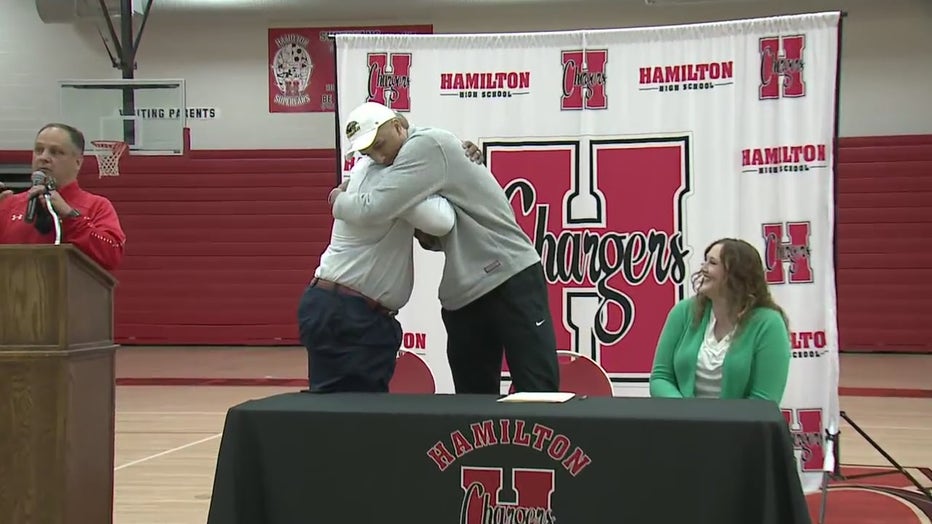 Patrick Baldwin Jr. embraces his father and new head coach
The elder Baldwin took over Milwaukee's program after working as an assistant at Northwestern when the Wildcats made their lone NCAA Tournament appearance in 2017.
Milwaukee has posted just one winning season – a 20-13 mark in 2015-16 – since earning its last NCAA Tournament berth in 2014. The Panthers are best known for reaching the Sweet 16 in 2005 under Bruce Pearl.
Within moments of the Baldwin announcement, UWM tweeted out information on how to purchase 2021-22 season tickets for the Milwaukee Panthers.
Basketball fans said they saw Baldwin's announcement in two ways. He could pick any college to play for -- or he could play for his dad.  
"I would say that people who think that's a bad call – I disagree, completely," said Caleb Fraser, UWM student. "I think that's really cool. I feel like that's really motivating to want to play under someone that you respect. I assume he has a good relationship with his dad if he's joining."  
As the news made its way to campus Wednesday morning, some students said that for the first time, the men's team has their attention.
"It's cool," said Fraser. "It's just cool to see that like, all eyes are on UWM right now."
For the university, the announcement meant an immediate demand for basketball tickets and a higher profile on the national stage, a welcome sight for Pat Baldwin as both the coach and proud father.
"For my son, the thing that we talked to him about is that this is his decision," said Coach Baldwin. "With our student body, with our ticket sales and all of it, I just hope it increases the attention that we get. Hopefully, an opportunity for us if we're in the Panther Arena that it's a packed arena."  
Collectively, the student body and the team hope that with new talent comes new opportunities for wins.
"Well, it's hard to predict the future, but my goal is similar to the background here, is to have the Panther Arena filled to capacity and to be playing for championships," said Coach Baldwin.