Brewers cleared to host 25% capacity to open season; no tailgating
MILWAUKEE - The City of Milwaukee Health Department on Thursday, March 4 announced it has approved a plan for the Milwaukee Brewers to begin the regular season at 25% of total capacity at American Family Field.
Still, for the first time in 18 months, fans will be allowed to cheer on the Brewers in person.
American Family Field has a capacity of 41,900; at 25% capacity, roughly 10,000 fans may be allowed in the ballpark.
"It is is going to be the largest approved gathering in the state of Wisconsin in essentially a year," said Rick Schlesinger, Brewers president of business operations.
FREE DOWNLOAD: Get breaking news alerts in the FOX6 News app for iOS or Android.
There will be noticeable changes. Tailgating at American Family Field was not approved to begin the season.
"The tailgate ban and I use the word ban with lower-case 'b,'" Schlesinger said. "Maybe a small group of four people with a grill in the back of the trunk is not a problem, but four can become 40, and 40 can become 80, and obviously, we are trying to avoid close contact between people."
"Eat the bratwurst at home before you come to the ballpark," said Barrett.
Fans ages two and older are asked to wear masks unless they are eating or drinking. Concession stands will be open, but all guests are asked to practice social distancing.
"We are in agreement the most important issue is safety," Barrett said.
Increasing attendance and allowing tailgating will come down to improved health metrics in the region and, of course, a little teamwork among fans in the stands.
"If we all behave and we're all good soldiers and good citizens, wear masks…we will have a more receptive response to tailgating," said Schlesinger.
City officials said only bar shuttles approved by the health department will be allowed at the park. County buses will also be allowed with capacity limits.
Approval of the plan also allows the team to bring much-needed jobs for members of the event staff and game-day workforce.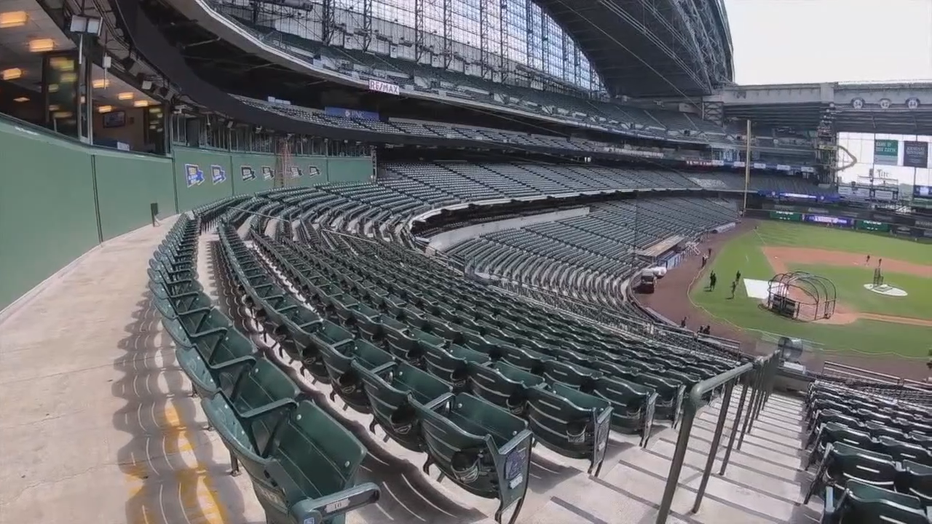 Opening Day is set for Thursday, April 1 at 1:10 p.m. against the Minnesota Twins. The last home game with fans in attendance was on Sept. 22, 2019, a 4-3 Brewers win over Pittsburgh in the middle of a run of 11 wins in 12 games. 
A news release says Brewers Season Seat Holders and Suite Holders will be contacted about their options for attending games in the next week.
Information on tickets to individual games will be announced at a later date. 
More information on fan accommodations and safety rules can be found at brewers.com/COVID.