Supreme Court candidate Protasiewicz won't hear Democrats' lawsuits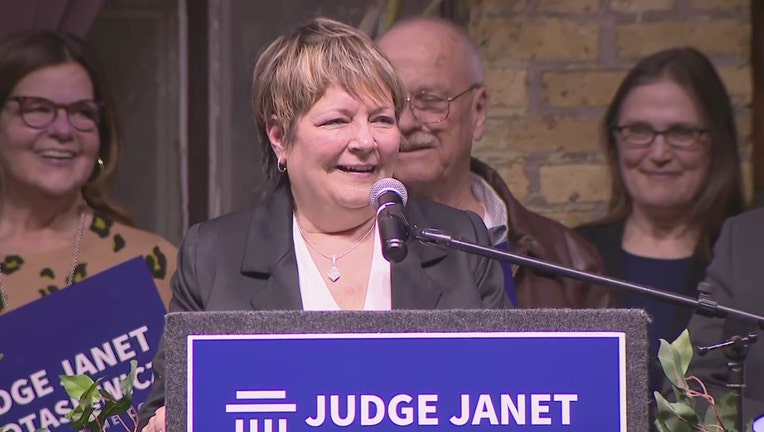 article
MADISON, Wis. - The Democrats' choice in a high-stakes Wisconsin Supreme Court race said Wednesday that she would not hear cases brought by the Wisconsin Democratic Party because it has donated $2.5 million to her campaign.
However, Milwaukee County Circuit Judge Janet Protasiewicz also said she would not recuse herself from cases involving abortion or legislative redistricting, even though groups active on those issues are backing her campaign.
Protasiewicz faces Republican-backed candidate Dan Kelly in the April 4 election, with majority control of the state's highest court at stake. The court is expected to hear a challenge to Wisconsin's 1849 law banning abortion, and liberals have promised to put a case before the court that would allow it to overturn Republican-drawn legislative districts.
SIGN UP TODAY: Get daily headlines, breaking news emails from FOX6 News
The winner of the race will also be in place heading into the 2024 presidential election in battleground Wisconsin. The court, currently controlled 4-3 by conservatives, came within one vote of overturning President Joe Biden's narrow win in 2020.
With so much on the line, the race has already broken national spending records for a state supreme court election. More than $18 million has been spent on the race, with more than a month to go before Election Day. The previous record spent on a state supreme court race was just over $15 million in Illinois in 2004.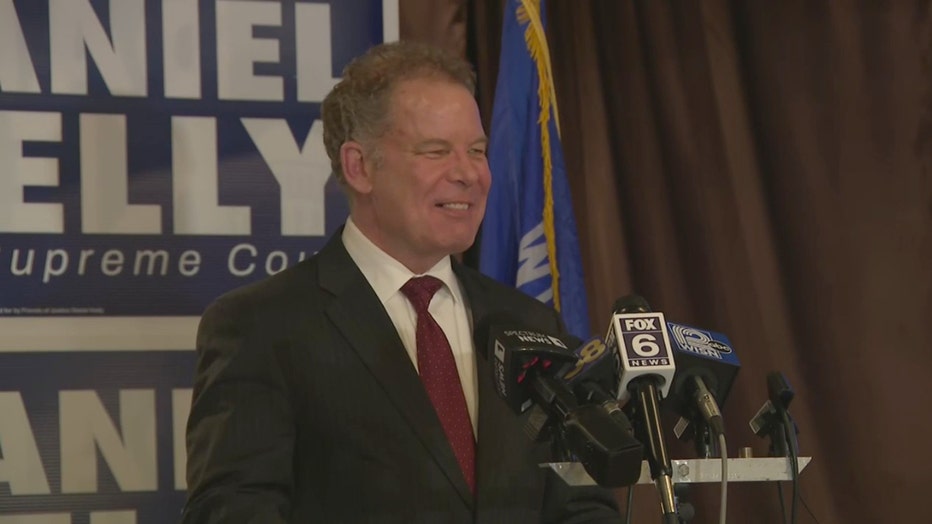 Dan Kelly delivers speech after advancing to the April election in the Wisconsin Supreme Court race
Protasiewicz was asked after she spoke at a meeting of the Wisconsin Counties Association about whether she would step aside from cases brought by Democrats given the party's donation of $2.5 million to her campaign last week.
"I think that $2.5 million is obviously a significant amount of money," Protasiewicz told reporters. "I don't know if the public could really say she's fair when she's received two and a half million dollars from a particular entity."
She said her decision would only apply to cases brought by the Democratic Party, not cases brought by others and supported by Democrats.
FREE DOWNLOAD: Get breaking news alerts in the FOX6 News app for iOS or Android.
Kelly, who was also slated to speak to county officials later Wednesday, had no immediate reaction to Protasiewicz's comments.
Protasiewicz's position is the same as that taken by Justice Jill Karofsky in 2020 when she won the race that year against Kelly. He was appointed to the court in 2016 and served four years. He is now running again for a full 10-year term, with majority control of the court at stake.
Protasiewicz has made her support for abortion rights a centerpiece of her campaign. Kelly has accused her of going too far and essentially committing to voting to overturn the state's abortion ban, should the case come before the court as expected.
Protasiewicz has not said how she would rule on that or any other specific case.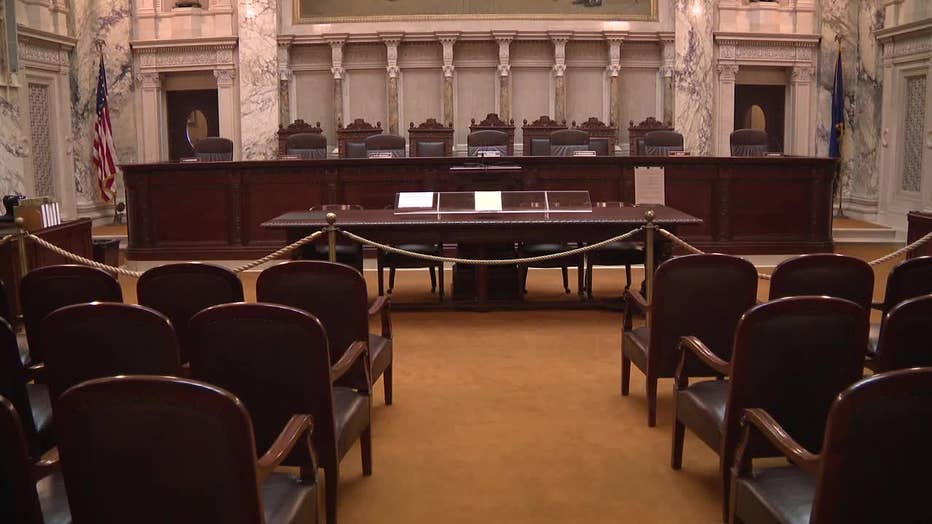 "Every single time I talk about what my personal values are I make sure everybody understands that I will only be making decisions based on what the law is and based on what the constitution is," she said.
When asked if she would recuse herself in cases involving abortion, in light of donations to her campaign from groups that support overturning the law, Protasiewicz said, "I have made no promises in regard to that."
She also said she did not anticipate recusing herself from cases involving redistricting. Kelly has accused her of improperly signaling that she would overturn the GOP-drawn maps since she has called them "rigged."
A liberal voting rights attorney has promised to bring a new lawsuit challenging the GOP maps should Protasiewicz win. Whoever wins the April election will join the court in August.