WI DHS pauses administration of Johnson & Johnson COVID vaccine
MADISON, Wis. - The Wisconsin Department of Health Services (DHS) announced on Tuesday, April 13 that it is instructing vaccine providers to stop administering the Johnson & Johnson COVID-19 vaccine due to a federal review of adverse side effects reported.
The Centers for Disease Control (CDC) and U.S. Food and Drug Administration (FDA) issued a statement saying six cases of a rare and severe type of blood clot have been reported in the U.S. out of 6.8 million Johnson & Johnson vaccine doses given.
DHS officials said in a news release that vaccine providers should continue to hold the vaccine at proper storage and continue timely reporting of any adverse events to the Vaccine Adverse Events Reporting System (VAERS).
FREE DOWNLOAD: Get breaking news alerts in the FOX6 News app for iOS or Android
The pause will allow CDC to determine if there are any further cases of this clotting disorder and to provide health care providers with guidance on how to treat this rare condition.
"The treatment for it is significantly different than normal blood clotting," said Gov Tony Evers.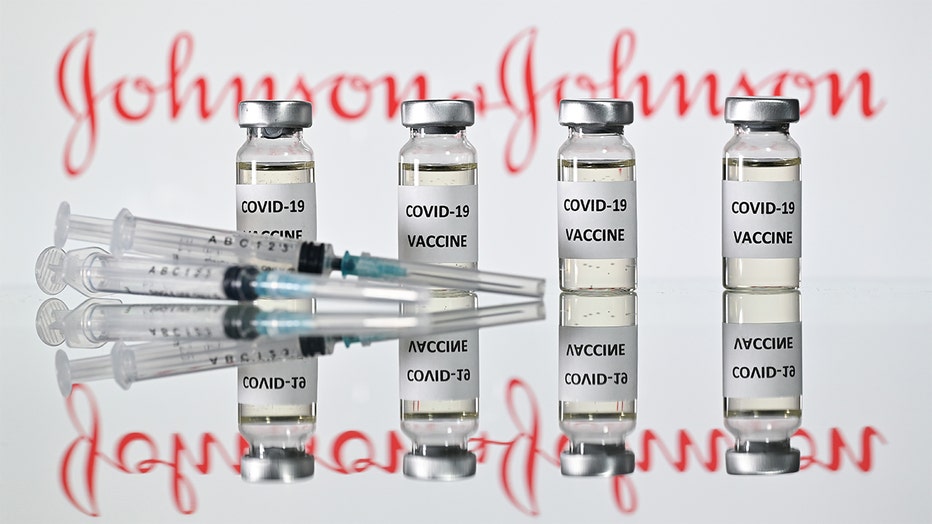 An illustration picture shows vials with Covid-19 Vaccine stickers attached and syringes with the logo of US pharmaceutical company Johnson & Johnson. (Photo by JUSTIN TALLIS/AFP via Getty Images)
The CDC's Advisory Committee on Immunization Practices will be calling an emergency session Wednesday to discuss the data.
"Our best and brightest are looking as closely as possible at this to tell us what are the safest next steps for the public health," said Dr. Ryan Westergaard with the DHS.
DHS Deputy Secretary Julie Willems Van Dijk said 159,000 people across Wisconsin have already received the single-shot vaccine -- or about 4% of the total doses administered. The state is scheduled to receive 10,000 doses of the Johnson & Johnson vaccine this week.
People who received the Johnson & Johnson vaccine should monitor for the following symptoms three weeks after their vaccination:
Severe headache
Abdominal pain
Leg pain
Shortness of breath
Symptoms associated with these severe events have occurred six to 13 days after vaccine receipt. Contact your health care provider and use the v-safe program to report your symptoms.
In the meantime, officials are urging Wisconsin residents who have yet to get vaccinated not to let this news discourage them.
"The risk of this rare event is about one in a million. The risk of getting COVID in the United States is one in 10," Willems Van Dijk said. "The risk of dying from COVID is one in 600."
Officials say the Pfizer and Moderna COVID-19 vaccines continue to remain extremely safe vaccines. DHS encourages everyone eligible to get the vaccine to continue with their vaccination, especially in light of variants. Wisconsin continues to have a good supply of these vaccines; 96% of the doses administered in the state have been Pfizer and Moderna.