Western States Peter Jerving memorial stone honors fallen officer
BUTLER, Wis. - A special dedication was held Monday, Feb. 13 at Butler's Western States Envelope and Label in honor of fallen Milwaukee Police Officer Peter Jerving.
Jerving died Feb. 7 when he was shot during a struggle after chasing robbery suspect Terrell Thompson near 14th and Cleveland in Milwaukee.
Jerving's funeral was held Monday at Elmbrook Church in Brookfield. A procession led Jerving's body from Krause Funeral Home to the church Monday morning for the visitation and funeral. A second procession led Jerving's body from the church to Wisconsin Memorial Park in Brookfield for burial.
SIGN UP TODAY: Get daily headlines, breaking news emails from FOX6 News
Following the funeral, Jerving's former co-workers at Western States gathered in Butler to unveil a memorial stone in the fallen officer's honor. There was also a moment of silence for Jerving outside Western States near the flagpole. The stone came from Wenta Monument in less than a week.
"He was proud to be a Milwaukee police officer, and he did every job, any job he did, he did it with his all," said Barb Kurcz, former co-worker at Western States. "He went after it. He was proud and we're proud of him. He's touched so many people."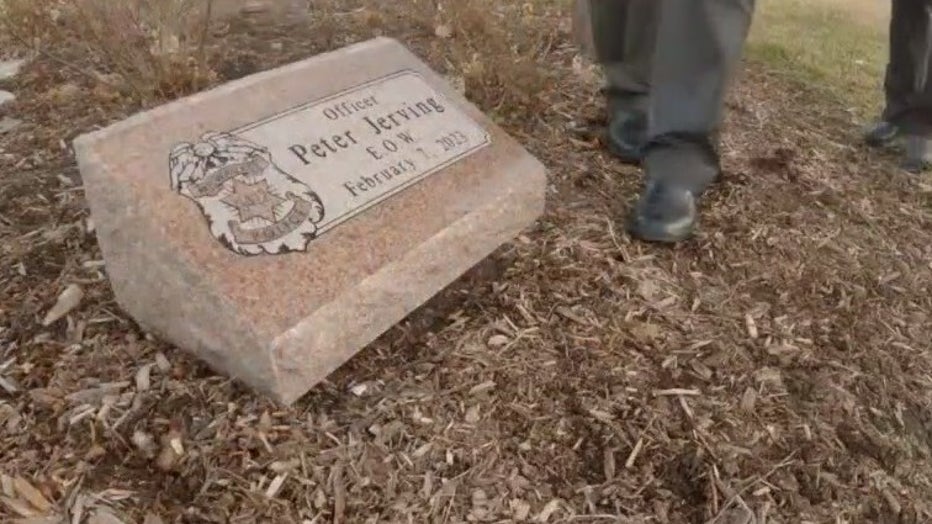 Jerving, 37, worked at Western States for 14 years before taking a leave of absence to fulfill his dream of becoming a police officer. 
"Peter was the fun of the party," said Kurcz. "He always knew how to cheer you up."
His Western States co-workers supported him in that dream. Many of them attended his graduation from the Milwaukee Police Academy in 2019 and a special ceremony in 2022 when he received a Lifesaving Award for his actions in June at the scene of a crash.
Jerving held the title of "assistant supervisor" when he left Western States to join MPD and serve the city of Milwaukee.
"We feel like a friend got killed," said Kari Pittelkow, former co-worker at Western States.
At the time of his death, Jerving had four years of service with the police department and worked at Police District 4. Jerving was roughly halfway through his studies for a bachelor of science in criminal justice at Marian University.
An email to Western States employees announcing the young officer's death refers to him as "one of the good guys" and "a real GEM" whose "dream was to serve and protect the people of the city he lived in." 
His co-workers in Butler called him "Pete." For Kurcz and Mary Lynn Ellis, he was more like a son.
"Pete had a smile that brought you in," said Kurcz.
"His hugs," said Ellis. "He gave amazing hugs. Started here when he was probably around 20 years old. Kind of a baby. Pretty much grew up here."
Ellis took Jerving under her wing.
"A couple of us here were mother hens to him," said Ellis. "I felt like he was a son to me."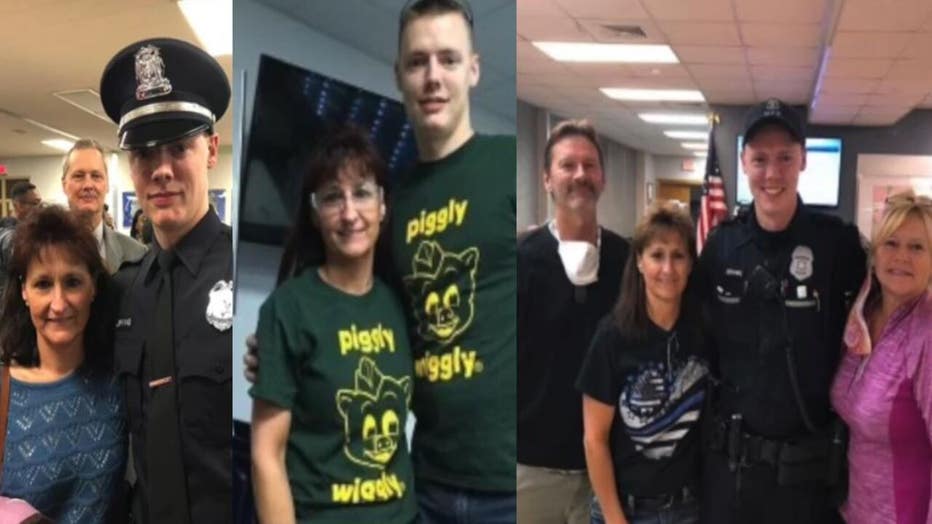 Kurcz felt the same way.
"Pete was just that guy that you wanted to do something for," said Kurcz.
Once he was on the force, Ellis and Kurcz brought the entire night shift dinner to celebrate.
"That's probably one of my best memories," she said. 
Like mother hens do, Ellis and Kurcz worried about Jerving. They texted him often to check in. On Feb. 7, they heard an officer was shot, so Ellis sent a text.
"I said, 'I know the shooting wasn't in your district, but please check in,' and he never did," she said. 
The two women said everyone loved Jerving.
"I just want him to be remembered for who he was, which was one of a kind. Absolutely, one of a kind," said Ellis.
Renee Rusch met him at Western States more than 10 years ago.
"He was always smiling," said Rusch.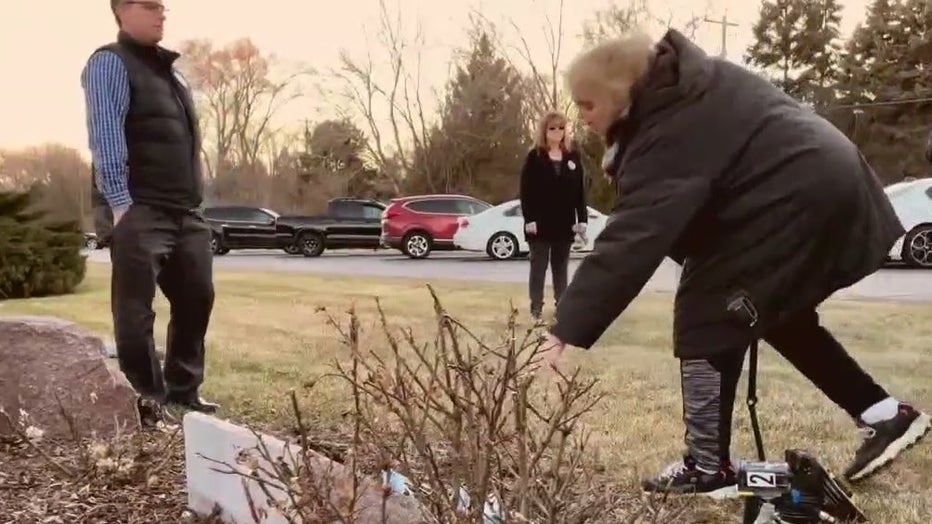 She reflected on his funeral services.
"It was amazing," said Rusch, of the show of support. "I've never seen anything like that before. I was hard to go through, but I'm just glad he's now at rest."
At the dedication Monday, Kurcz handed out chocolate chip cookies and banana nut muffins -- two things she baked for Jerving.
"He would love it," said Kurcz. "He really would."
She said she was able to hug Jerving's parents at his services.
"They have so many people to support them," said Kurcz. "There's so much love out there for Peter."
"He shined down on us today," said Ellis.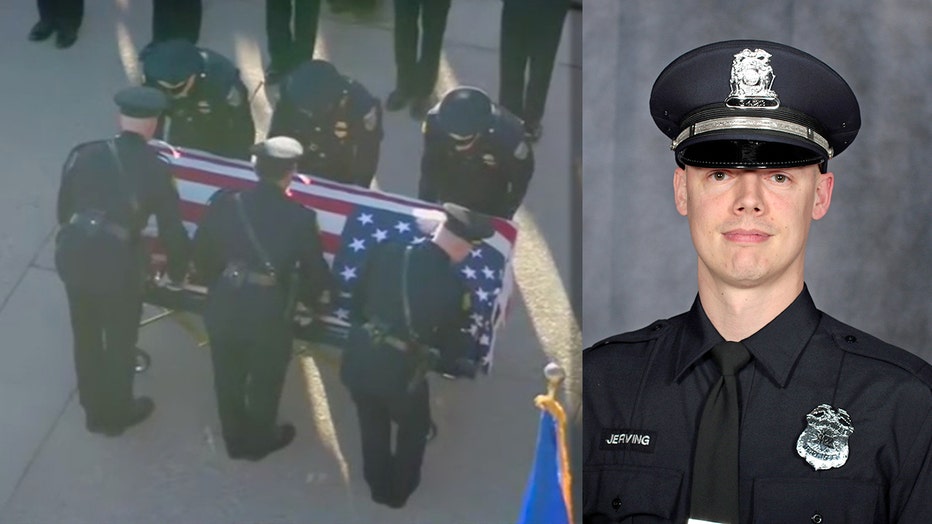 Officer Peter Jerving's casket leaves Elmbrook Church after his funeral Feb. 13, 2023.
Ellis said the memorial is very meaningful for Jerving's Western States family.
"It means the world to me. We can come and talk to him any time we want," she said. "He will always be remembered."