Wauwatosa police chase, Milwaukee crash; officer injured, man charged
WAUWATOSA, Wis. - A Milwaukee man is charged in connection to a Wauwatosa police chase, crash and battery to an officer that happened Thursday, Dec. 29.
Prosecutors say 31-year-old Patrick Marion was the driver, and that he later hit an officer in the head with the officer's baton while being taken into custody.
A Wauwatosa police officer first spotted a car driving with no license plates near 76th and North and turned on his emergency lights to conduct a traffic stop around 3:20 p.m. A criminal complaint states the car sped away, starting a roughly three-mile pursuit. It reached speeds as high as 94 mph and drove into oncoming traffic during the chase.
SIGN UP TODAY: Get daily headlines, breaking news emails from FOX6 News
The chase ended when the car crashed into a transport van near 67th and Glendale in Milwaukee. The complaint states the driver, since identified as Marion, got out and ran off – but was ultimately found near the scene.
"I'm going to tase you. Stop! I'm going to tase you," the officer can be heard yelling on body camera video.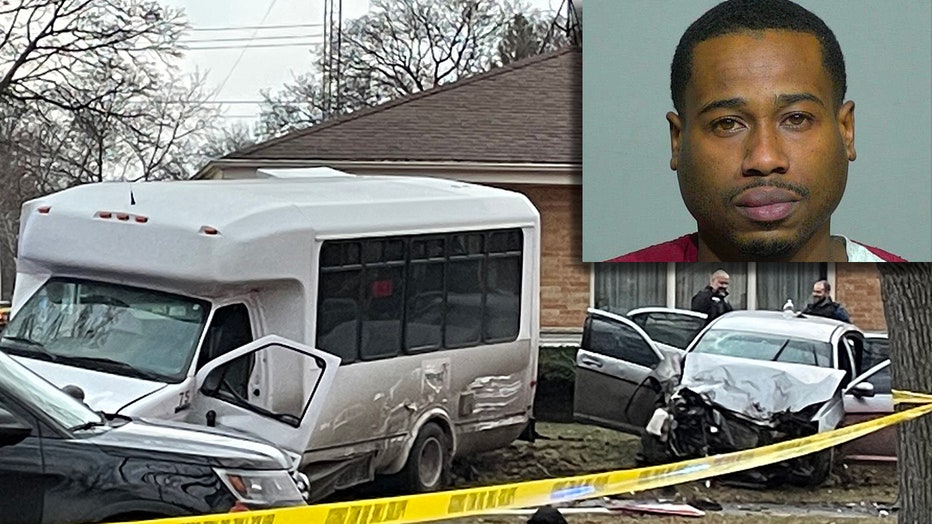 Police said Marion and the officer who ran after him got into a "physical altercation." During that altercation, prosecutors said Marion disarmed the officer multiple times – at one point hitting the officer in the head with the officer's baton.
Once Marion was taken into custody, the complaint states the officer was taken to a hospital and treated for a concussion. Marion and a passenger were arrested and taken to a hospital. While in an ambulance, Marion said "I wasn't supposed to be driving," according to an officer who was riding with him at the time. The 73-year-old driver of the transport van was also taken to a hospital with serious injuries. There were no passengers in the van.
During the investigation, Wauwatosa police said stolen mail was found inside the car. It came from a blue USPS mailbox on North Avenue, and authorities said someone needed a key to get in.
In all, Marion is charged with:
Vehicle operator fleeing/eluding an officer resulting in bodily harm
First-degree recklessly endangering safety
Disarming a peace officer
Battery to a law enforcement officer
Marion made his initial court appearance on Jan. 4 and has cash bond set at $10,000. He is due back for a preliminary hearing on Jan. 11.