Waukesha County declares fentanyl a community health crisis
WAUKESHA, Wis. - Waukesha County Executive Paul Farrow declared fentanyl a community health crisis on Monday, Aug. 1.
Monday's declaration includes Waukesha County directives to:   
Distribute opioid settlement money, in partnership with the County Board, to support Narcan training, the District Attorney's pre-trial diversion programming, and other related purposes.
Implement the Overdose Fatality Review (OFR) initiatives, in partnership with public and private entities and surrounding counties to share data and best practices.
Launch a local public information initiative utilizing the US Drug Enforcement Agency's 'One Pill Can Kill' campaign.
Create a set of measurable objectives to track the county's efforts in the fight against fentanyl that will be evaluated on a quarterly basis.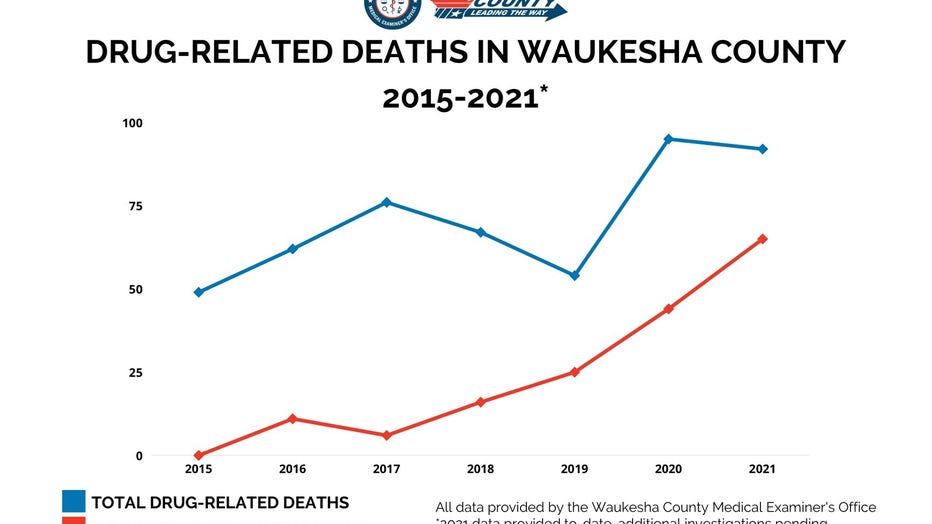 A news release says Illegally manufactured fentanyl is often found in counterfeit pills that are made to resemble prescription drugs. This includes prescription pain relievers, like oxycodone or stimulants. Individuals are at risk for fentanyl poisoning if they take pills from any source that is not a licensed pharmacy. 
SIGN UP TODAY: Get daily headlines, breaking news emails from FOX6 News
In Waukesha County, drug-related deaths became the leading non-natural cause of death for adults ages 18-45 in 2020 and 2021, driven by a rise in fentanyl poisoning. Waukesha County saw a record ninety-five drug-related deaths in 2020. In 2021, at least ninety-two people died from drug-related causes, with ten cases still being investigated.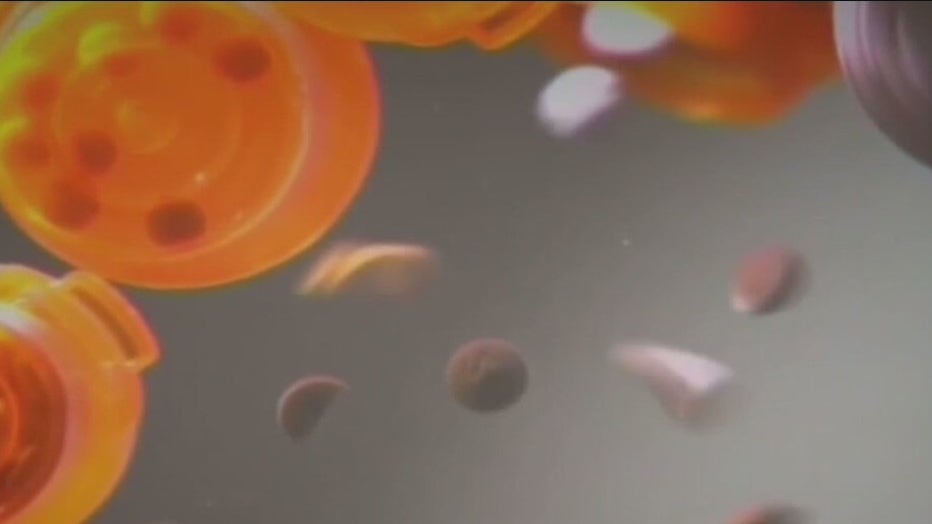 Overdose prevention efforts in Waukesha County  
One mother's quest is to make sure you know the dangers.
Logan Rachwal's smile was always larger than life.
Mom Erin Rachwal hopes the thousands of people who pass her son's billboard every day on I-94 can't ignore its message.
"We're supposed to be able to learn from our mistakes and grow from them.  With Fentanyl, you don't get another chance to grow," said Rachwal.
Logan Rachwal died from fentanyl poisoning last year on Valentine's Day.
He's one of nearly two dozen Wisconsinites featured in a new billboard campaign – putting a face to fentanyl's deadly grip.
"If we can save one family from going through what we deal with every day, it will be worth it," she said.
"Today, I'm declaring Fentanyl a community health crisis in Waukesha County," said Waukesha County Executive Paul Farrow.
He says drug-related deaths are now the leading killer of people ages 18 to 45 in the county.
"70% of those are Fentanyl related," said Farrow.
On Monday, Waukesha and Washington counties pledged to do more to stop it.
Waukesha County will use opioid settlement money for Narcan training.
The sheriff's department's "Metro Drug Unit" will also become a federal task force – tapping into more resources:
"Look at distribution routes and find pathways to bigger and bigger suppliers," said Sheriff Eric Severson says pills laced with fentanyl are coming into the U.S. through the country's southern border.
Buyers don't know they're deadly.
"If you're not getting it from your doctor, from your home, you cannot take it," he said.
By putting 17 faces out for everyone to see, Erin Rachwal hopes you realize fentanyl doesn't discriminate.
No parent wants to see their child in these lights – now a warning to others.
"Nothing will ever take the pain away from the loss.  But it helps channel the grief.  Which is what we need to do.  We need to take our grief and do something with it," she said.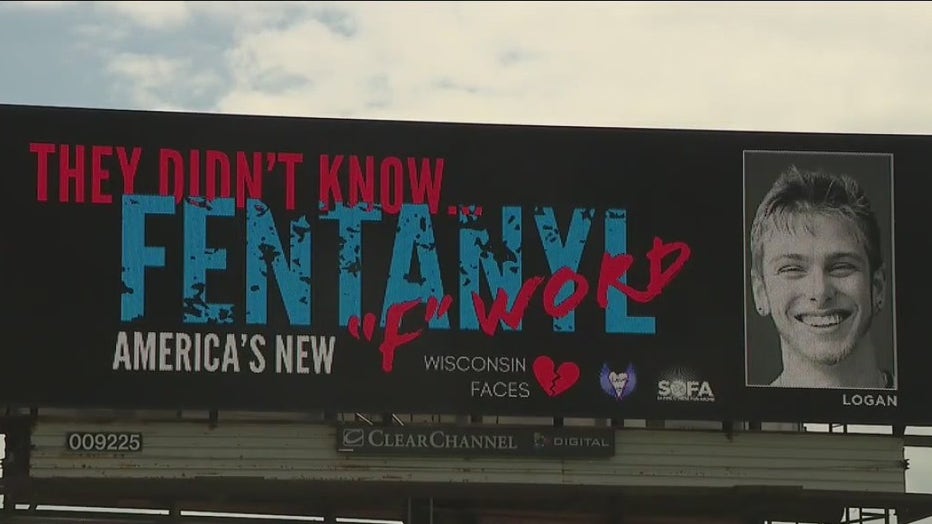 The billboards will run at least through October. They are sponsored by the Love, Logan Foundation and Saving Others for Archie - both groups started by parents who lost sons to overdoses.
Officials say the Fentanyl Community Health Crisis Declaration is just one of many ways Waukesha County is working to fight the opioid crisis. Waukesha County utilizes a collective impact approach through multiple programs focused on prevention, treatment, and enforcement.  
On Monday, July 25, the Waukesha County Sheriff's Department's announced that its Metro Drug Unit will transition into a unit of the federal Drug Enforcement Administration (DEA) later this year. As a federal task force, the Metro Drug Unit will have an enhanced ability to continue the reduction of available controlled substances within Waukesha County. They will also be able to pursue investigations that lead to source suppliers outside of Waukesha County. Learn more.
Waukesha County is working to expand a program that embeds a counselor into the Sheriff's Department to expedite care for mental health crises.
In May, Waukesha County leaders announced new efforts to prevent substance use in the community through allocation of approximately $200,000 to expand prevention efforts in schools and the community.
Earlier this year, the Waukesha County Department of Health and Human Services (HHS) added an additional full-time peer support specialist to its Outpatient Mental Health and Substance Use Services Clinic Staff.
The Waukesha County Heroin Task Force has relaunched its collaborative work to reduce the impact of the opioid epidemic in the County. Action Teams of key community stakeholders work collaboratively in three key areas: Prevention, Harm Reduction, and Treatment & Recovery to achieve results within a calendar year.
HHS maintains a strong relationship with the AODA Volunteers of Waukesha County, who provide valuable outreach, education and support services to individuals in recovery, or who are considering abstinence from drugs or alcohol.
The Women's Health and Recovery Project (WHARP), coordinated by Waukesha County HHS, assists women with substance use disorders, and their children, who have complex needs with issues such as housing, employment, mental health, physical health, transportation, and childcare. 
From May 2017 to July 23, 2022, more than 305 documented lives have been saved, at least 303 used the overdose reversal drug Naloxone/Narcan, as a result of the Waukesha County HHS Naloxone Project.
From May 2017 to June 2022, people who are using, their family members and friends, First Responders, and the general public have been helped through: 521 Naloxone administration training sessions to 4,918 individuals, which includes 1,048 law enforcement personnel. 7,170 Naloxone kits have been distributed free of charge.
Waukesha County participates in multiple statewide initiatives, such as Drug Treatment Court, National Prescription Drug Takeback Day and the Wisconsin Injection Drug Use Prevention Project.