Ripon area storm damage, fatal crash
RIPON, Wis. - Strong thunderstorms caused widespread damage across Wisconsin Wednesday night, July 28 into Thursday morning, July 29. Storm damage in the Town of Ripon included – downed trees and power lines.
Thursday afternoon, the Wisconsin State Patrol reported a fatal crash on County Highway N near Ripon around 6 a.m. – apparently related to the storm.
Preliminary investigation shows that a tree and powerline had fallen into the roadway near Schattsneider Drive. A 29-year-old man was driving and hit the tree, sustaining fatal injuries.
FREE DOWNLOAD: Get breaking news alerts in the FOX6 News app for iOS or Android
Community cleanup efforts
It's not the summer job Trenton Ramirez and Rudy Villalobos expected to have.
"A lot trees down, a lot of powerlines down," said Ramirez.
"I've been cutting down trees and limbs all day," Villalobos said. "I helped my grandma, my mom, my aunt."
Making a difference one yard at a time, their work is needed after severe thunderstorms left widespread damage and thousands without power. Utility poles were leaned from the strong, straight-line winds. Those same winds leveled corn fields and snapped trees – branches and limbs filling ditches. 
"It's hot today. Too bad it wasn't cooler. It is what it is right," said Crystal Stewart. A tree fell on her home. "Heard a crunching noise and checked it out to see what it was. It was a tree on our roof.
"Now we got to chop it up, get it out of the way, go up on top of the roof and see what we all have to fix."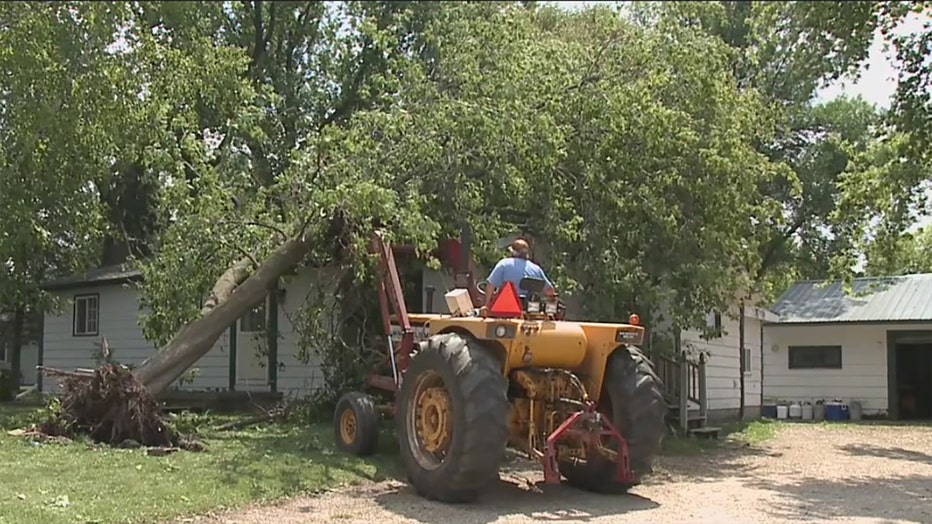 Downed tree in Ripon area after severe storms overnight into Thursday, July 29.
It is a challenging effort to clean all this up, but the community is coming together.
"When somebody is in kind of a disaster, somebody always steps up. I would do the same for somebody else," Stewart said.
Power restoration
Adam Sonntag, the city administrator for the city of Ripon, said Thursday morning that numerous roads and passageways throughout the city remain closed due to the storm damage. 
"City crews along with the county the Fond Du Lac county crews will be out clearing all the debris and the trees right behind us you can see crews are already removing trees along power lines," said Sonntag.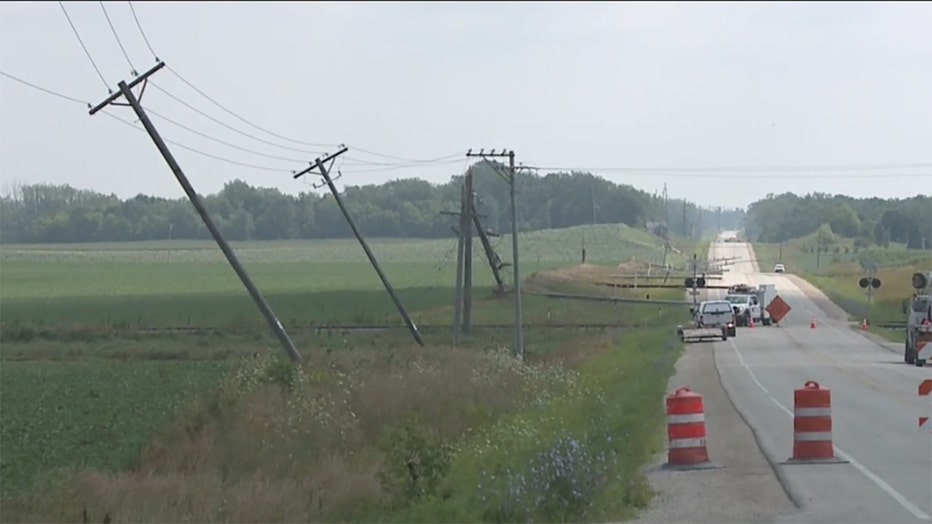 Damaged power lines near Ripon after severe thunderstorms overnight into Thursday, July 29.
First responders say at least 25 power lines were reported down. 
"This morning we have noted significant damage to private property throughout our entire community. Alliant Energy has confirmed a citywide power outage affecting 9,000 members of our city," said Adam Sonntag, City Administrator for the City of Ripon.
Ripon's mayor said it is possible that some people won't have power until Friday night.