Alcohol believed a factor after SUV slammed into 2 homes in Oak Creek
OAK CREEK, Wis. - Police in Oak Creek believe alcohol could have played a role in a crash Tuesday morning, April 6 involving one vehicle and two badly damaged homes.
Neighbors' jaws dropped when they saw the shattered glass, a pile of debris and holes in not one, but two homes.
"I would never wish that on anybody," said Tom Michalski. "That's a lot of damage."
FREE DOWNLOAD: Get breaking news alerts in the FOX6 News app for iOS or Android
The SUV slammed into two homes near 13th and Puetz in Oak Creek Tuesday morning. 
Francisco Rios said he was working nearby when it happened.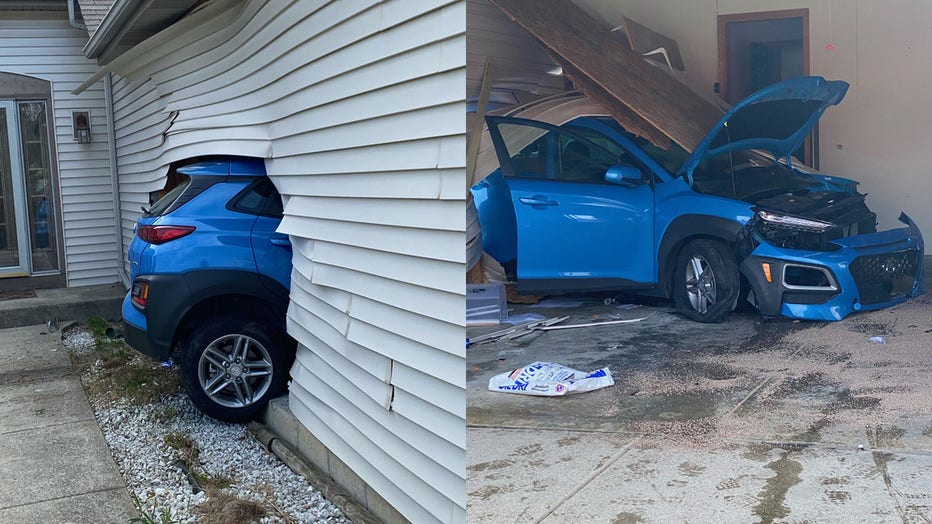 SUV crashes into home at 13th and Puetz, Oak Creek
"It sounded pretty bad," said Francisco Rios. "Lost control and hit the side of the house and bounced into the garage over here."
Pictures captured by a witness show a blue SUV lodged inside the garage. Witnesses jumped into action followed by first responders. 
"We tried to help her as much as we could but she was unconscious," said Rios. "The weight of her foot kept revving the engine
Oak creek police believe alcohol was involved. The fire department said the female driver was transported to the hospital. 
"It must have been going fast or certainly out of control," said Michalski.
Michalski said he used to live in one of the damaged homes and showed up to look at the mess, feeling for the families left picking up the pieces. 
"Call the insurance company as soon as possible," said Michalski. "Now they've got to fix it up. Is everything going to match? Is there going to be any other structural problems after a car hits it?" 
Neighbors said no one was at home at the time of the crash.