Running 4 Heroes: Peter Jerving honored by Florida boy with 1-mile jog
MILWAUKEE - Zechariah Cartledge, a boy from Florida, honored fallen Milwaukee Police Officer Peter Jerving with a 1-mile run as part of his organization "Running 4 Heroes, Inc."
The boy founded the organization in 2019 when he was 10 years old. He's now an eighth-grader, and he runs 1 mile for every first responder who makes the ultimate sacrifice in the line of duty.
"During the run, I'm just thinking about them, who I am running for," said Cartledge. "Want to make sure I'm going as fast as possible for them."
Every lap is a reminder of the dangers first responders like Milwaukee Officer Peter Jerving face.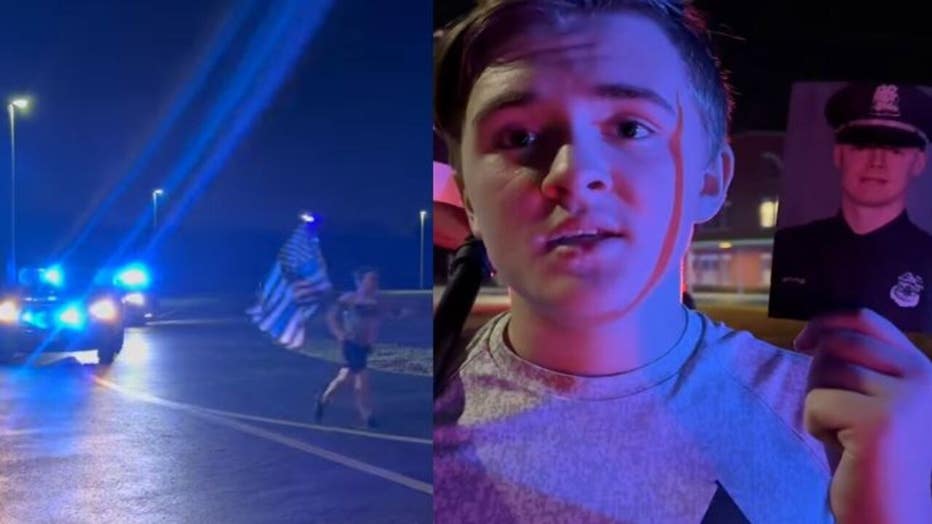 Zechariah Cartledge honors MPD Officer Peter Jerving (PHOTO: Running 4 Heroes, Inc.)
"His story is very upsetting, but at the same time, it's inspiring," said Cartledge. "It shows that he was heroic until his final moments."
For each mile that is run, "Running 4 Heroes, Inc." sends a flag that Zechariah carries to the family and/or agency of the fallen officer, along with a handwritten note. The organization also raises money for first responders injured or killed in the line of duty. 
Cartledge was joined by local first responders and his family in Florida as he ran seven laps around the track at his school, the equivalent of a mile, for Officer Jerving. Before the run, he said a prayer for Officer Jerving's family to comfort them during "the hard time they are going through."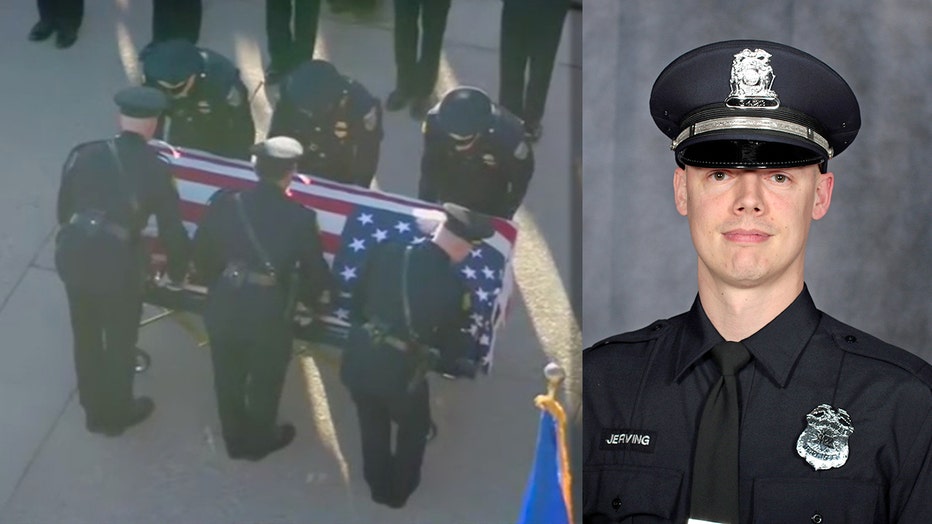 "Officer Jerving could still be on this Earth if it was…just one person's changed decision," said Cartledge in the video of his run for Jerving. "It shocks me how the people of the world, no matter what their views are...can even point a gun and shoot at somebody, a living being, for no reason at all. It's very unfortunate that, unfortunately, we have people out there like that; however, officers like Officer Jerving...know the dangers of law enforcement being shot and killed, yet people like Officer Jerving continue to still serve every call possible, and a robbery suspect, that's a very dangerous call…but I know Officer Jerving, in his final moments, still served active heroism and attempted to keep his community safe."
SIGN UP TODAY: Get daily headlines, breaking news emails from FOX6 News
Jerving died Feb. 7 when he was shot during a struggle after chasing robbery suspect Terrell Thompson near 14th and Cleveland in Milwaukee.
Jerving's funeral was held Monday at Elmbrook Church in Brookfield. A procession led Jerving's body from Krause Funeral Home to the church Monday morning for the visitation and funeral. A second procession led Jerving's body from the church to Wisconsin Memorial Park in Brookfield for burial.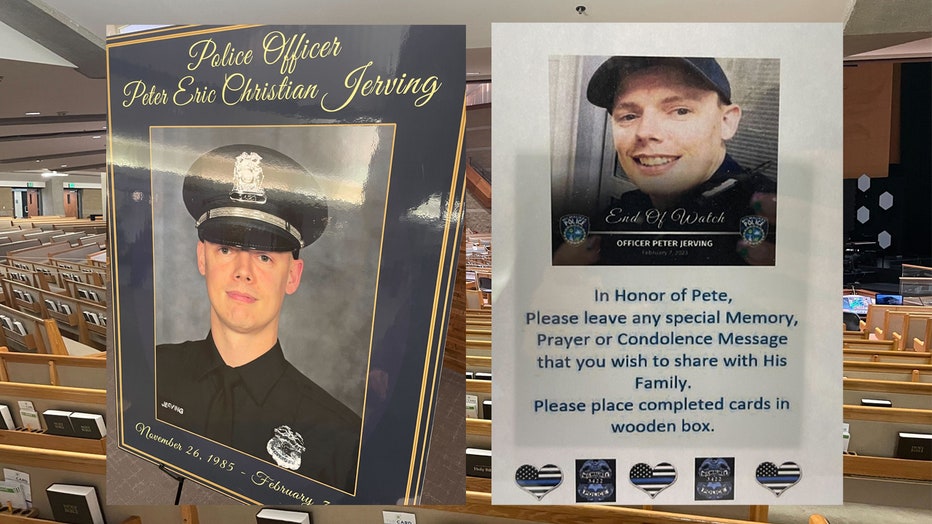 Peter Jerving's funeral at Elmbrook Church in Brookfield
Jerving graduated from the Milwaukee Police Academy in 2019 and a special ceremony in 2022 when he received a Lifesaving Award for his actions in June at the scene of a crash.
At the time of his death, Jerving had four years of service with the police department and worked at Police District 4. Jerving was roughly halfway through his studies for a bachelor of science in criminal justice at Marian University.
He leaves behind his parents, six siblings, a longtime girlfriend and many other loved ones.