Pfizer vaccine approved for children ages 12-15 in Wisconsin
MILWAUKEE - The Wisconsin Department of Health Services (DHS) announced that children 12-15 years old are now eligible to receive the Pfizer COVID-19 vaccine and vaccinations can begin starting Thursday, May 13. 
Some Wisconsinites in that age group rushed with their parents to get their first vaccine dose as soon as they became eligible Thursday, May 13.
"I just left school and came here," said 15-year-old Daniel Kreklow, a Wauwatosa student who got his shot at Aurora St. Luke's Medical Center in Milwaukee.
Neighborhood pharmacies, pediatricians and health clinics are asking people to roll up their sleeves for the COVID-19 vaccine.
"I was so excited. Finally, I got my vaccine. And hopefully, soon things will go back to more normal," 13-year-old Grace Kreklow said.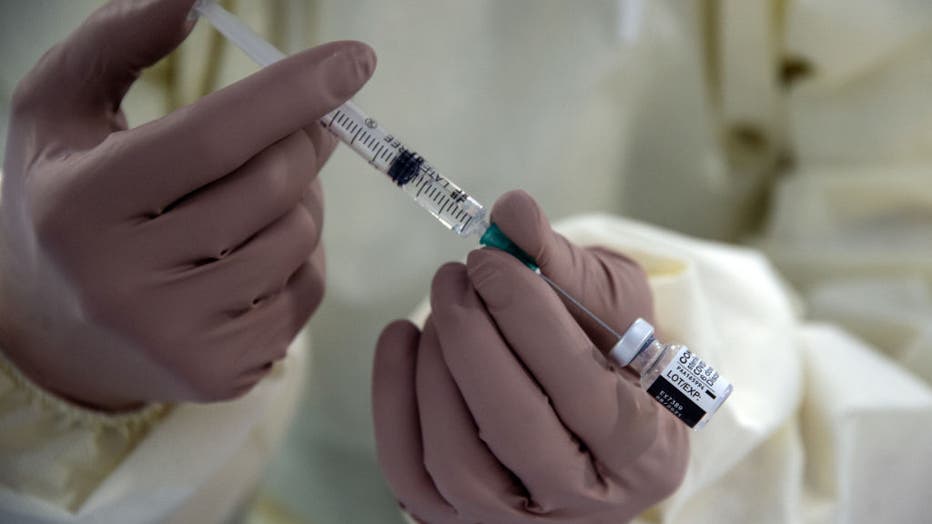 (Photo by Ivan Romano/Getty Images)
Families breathed a sigh of relief as they got their shots Thursday at the Wisconsin Center in Milwaukee.
"As soon as we were able to get the appointments this morning, I pulled them out of school and said we were going to get the first one done," said Kristi Kreklow, Daniel and Grace's mother. "They both a few weeks ago were quarantined from school and we are looking forward to not having that anymore."
The expanded eligibility group is now prompting conversations in schools about hosting pop-up vaccination sites to reach more students.
"I know a lot of parents are planning to get their kids vaccinated," said Kreklow.
A lot of kids who are now eligible said they have been jealous of adults getting their shots and were eager to do their part.
FREE DOWNLOAD: Get breaking news alerts in the FOX6 News app for iOS or Android
How to get the vaccine
Plenty of Pfizer doses are available at clinics, pharmacies and pediatrician's offices.
Parents and guardians of children ages 12-15 can schedule a vaccination using a variety of options, including with their health care provider, at community-based vaccination clinics, local and tribal health departments, or pharmacies.
Kevin Rios rolled up the sleeve of his baseball uniform Thursday, hoping the COVID-19 vaccine can help get to the ninth inning of the pandemic.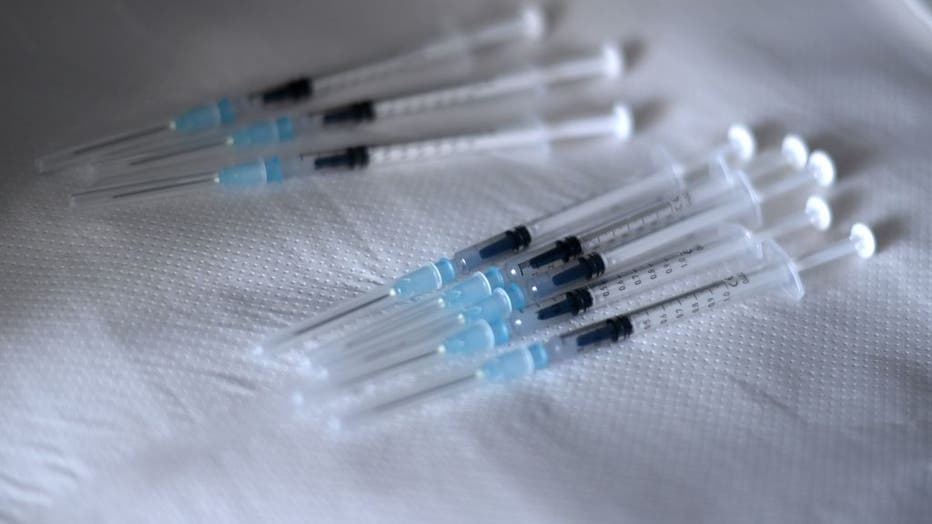 (Photo by INA FASSBENDER/AFP via Getty Images)
"Hopefully, we can not wear as much masks anymore," the 15-year-old said.
"Excited to get more free and relax without masks," Letizia Rios, Kevin's mom, said.
At Walgreens pharmacies, there are also slightly different rules when it comes to 12-year-olds.
"12-year-olds cannot register themselves due to the child protection act. 13 and older actually can, but the 12-year-olds would require a guardian or parent to do the registration for them," said Tabarius Smith, pharmacy manager at the Glendale Walgreens.
Once inside the store, it's the same process for kids as it is with adults, just with different conversations.
"The actual process is really just finding something that, for me to calm my patient down, is really to find a commonality – some play sports, some play instruments," Smith said. "I have enough time even in that two, three minute interaction to kind of break that ice."
For Rios, those two to three minutes were an easy walk to first. Now, he's one shot and two weeks away from a fully vaccinated home.
To locate a provider administering the Pfizer vaccine, visit Vaccines.gov.
Parents and guardians can learn more by visiting the COVID-19: Resources for Parents and Guardians page or by calling 1-844-684-1064 toll-free.
FDA, CDC approval
After clinical trials and a review of all available data, the U.S. Food and Drug Administration (FDA) authorized Pfizer's request to expand the emergency use authorization to include adolescents ages 12-15.
On Wednesday, May 12, the CDC's Advisory Committee on Immunization Practices confirmed the vaccine is safe and voted to recommend the vaccine to the age group.
"This pandemic has been tough on everyone, but I know it has been especially hard for our kids," said Gov. Tony Evers. "Now with a COVID-19 vaccine available for the first time, we can offer our children protection against the virus. Whether they are at school, playing ball with their friends, or taking a family vacation, vaccinating your kids means they can get back to doing the things they love while also staying safe and healthy."