Oconomowoc bank robbery, police video released
OCONOMOWOC, Wis. - Newly-released video shows the moments when a Summit police officer tried to pull over a suspected bank robbery suspect on Interstate 94 on Tuesday, June 29.
Two men – 44-year-old Kaia Mueller and 21-year-old Malachi Thorne-Gray – are now charged in connection to the events and the days-long manhunt that followed.
Prosecutors say Mueller tried to carjack a woman, then was able to carjack a man a block or so away – the first of a series of incidents that began around 1:10 p.m.
According to a criminal complaint, a suspect – since determined to be Mueller – grabbed the woman by her shoulder, arm and backpack in an attempt to drag her from the car. The woman said Mueller threatened to kill her during the struggle. She later freed herself, ran into a building and called 911. She later sought medical treatment for pain. The man, 88 years old, described Mueller threw him from his vehicle and onto the ground, saying "I don't want to hurt you," according to the complaint. 
Minutes later, reports came in that a bank several miles away was robbed at gunpoint. Responding police officers determined the suspect took more than $5,700. 
Bank surveillance was reviewed and showed the suspect, Mueller, point a gun at a teller while saying "Money now! All of it! Hurry, hurry." The complaint states the suspect then went to a second teller, again pointing a gun, demanding more money. Mueller later fled in a vehicle matching that of the one stolen from the 88-year-old victim.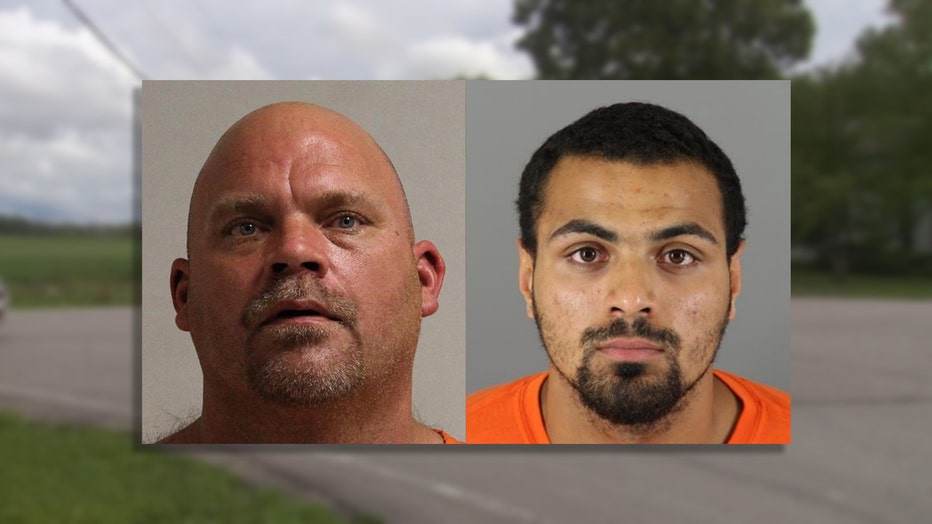 Kaia Mueller, Malachi Thorne-Gray
Oconomowoc police put out information regarding the bank robbery across police broadcasts, the complaint states. Shortly after the robbery took place, a Summit police officer – identified in the complaint as Officer Kyle Palm – spotted the suspect vehicle pulling out right in front of him and get onto Interstate 94.
Palm started to follow the vehicle onto the rain-soaked interstate and turned on his lights and sirens – attempting a "high-risk stop." The vehicle didn't stop, taking off at speeds Palm estimated to be upward of 80 mph.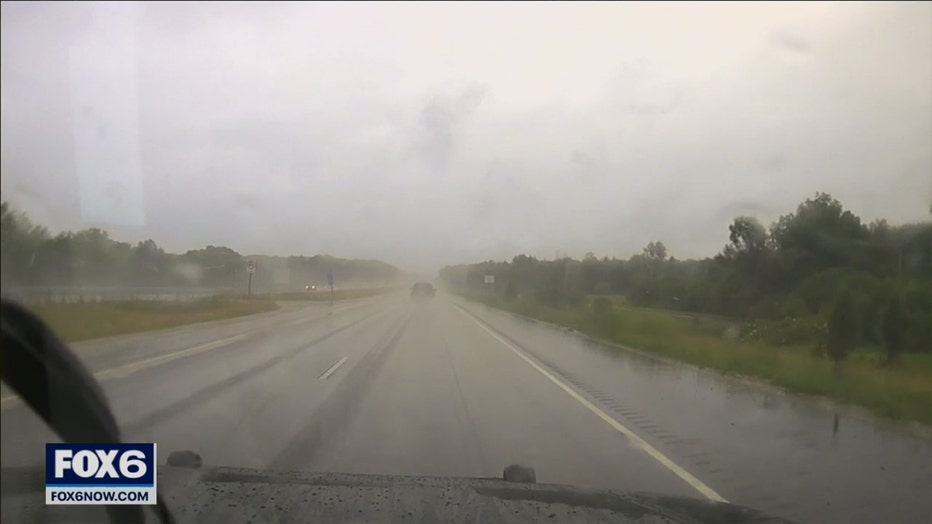 Dashboard camera video from Summit police pursuit.
The officer broke off the pursuit out of concern with the road conditions and traffic, but would not have to travel far. The stolen vehicle lost control and crashed into the ditch. When he pulled up to the crash scene, Palm started yelling commands as heard on video released by the police department:
"Let me see your hands! Let me see your hands!"
"Summit Police Department, we know you're inside. Keep your hands up! Do not reach for anything, otherwise, you will be shot!"
The vehicle was out of view from the squad car's dashboard camera. Palm suspected the people in the vehicle might still be there. As it turned out, the suspect, later identified as Mueller, was gone. Police reports and court filings say a K-9 found a pair of Crocs in the muddy forest – the same type of shoes worn by the bank robbery suspect.
FREE DOWNLOAD: Get breaking news alerts in the FOX6 News app for iOS or Android.
Hours after the initial incidents took place, Ocobnomowoc police received a different stolen vehicle report. A man told police, the complaint states, that someone had broken into his home and stolen his car with several firearms in the trunk. Officers noted pry marks near a window and damaged latching mechanisms. The vehicle was later found at an Okauchee Lake boat launch, where a witness reported they saw the driver get out and enter another vehicle that was already there. The witness gave a general description of the man described by earlier victims.
The complaint states that Thorne-Gray contacted the Waukesha County Sheriff's Department the night of the incidents. Talking to a detective, he said he suspected his co-worker Mueller was behind the crimes that unfolded that day, and said his pistol was stolen from his car at some point that day.
Thorne-Gray also told the detective, according to the complaint, that Mueller had "acted suspiciously" that day and that he left the job site unexpectedly without notice around mid-morning. He said Mueller asked him for a ride around 2:40 p.m. that afternoon because his car battery was dead.
Eventually, the complaint states, Thorne-Gray and Mueller met and Mueller said "Dude, I've had the craziest day of my life." Thorne-Gray said Mueller was covered in mud and scratches, and his clothing was tattered. It was during this time that Thorne-Gray began to suspect Mueller, the complaint states.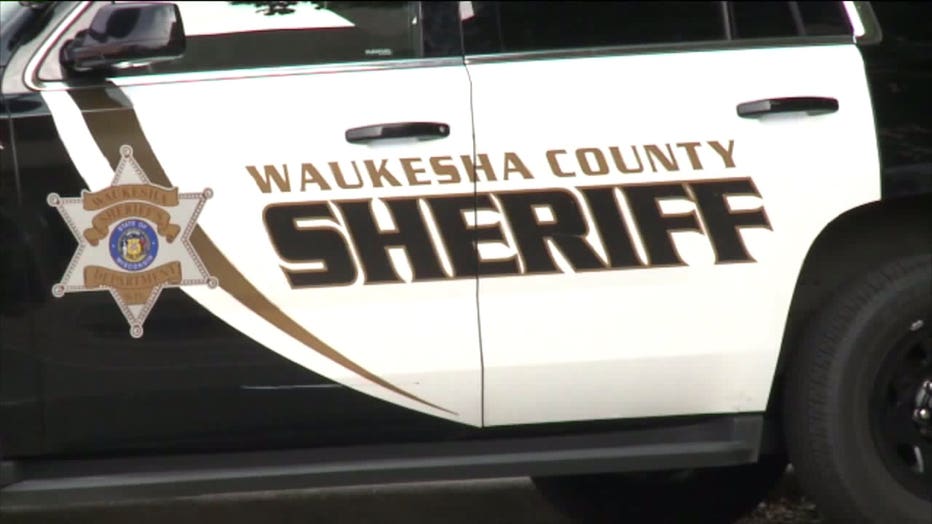 Waukesha County Sheriff's Department
Detectives spoke to co-workers of Mueller and Thorne-Gray. They said Thorne-Gray around 1 p.m. When asked why, he said he was going to pick up Mueller – which conflicted with Thorne-Gray's timeline of events.
The complaint states detectives spoke with Thorne-Gray again on July 2 about the discrepancies in his story. During that conversation, he started to report new things about the day – including doing cocaine in his car with Mueller. When confronted about the changing story, the complaint states Thorne-Gray began to speak of his own involvement.
Thorne-Gray told detectives, the complaint states, about how Mueller would "brag" about a prior bank robbery. Thorne-Gray said he knew Mueller would use his gun in a robbery, but that "he thought it would be a person, maybe a company but he did not know Mueller was going to rob a bank." Thorne-Gray also said he knew Mueller's plan.
According to the complaint, Thorne-Gray picked Mueller up at the boat launch and drove him to Oconomowoc. He drove around waiting to hear from a Mueller because "he was going to get some of the money." He downloaded a police scanner app and "realized they were in trouble" when he could hear the police response that afternoon. Thorne-Gray added that Mueller instructed him to report the gun stolen to police if they didn't get in touch within two hours.
The complaint states a vehicle, determined to be registered to Mueller, was also involved in a hit-and-run on State Highway 67 just after 5 p.m. that day. The driver who was struck said he tried to follow the vehicle, which had "peeled away" after the collision, but lost it after it appeared to have gone down a bike path. Responding officers could not locate the vehicle either.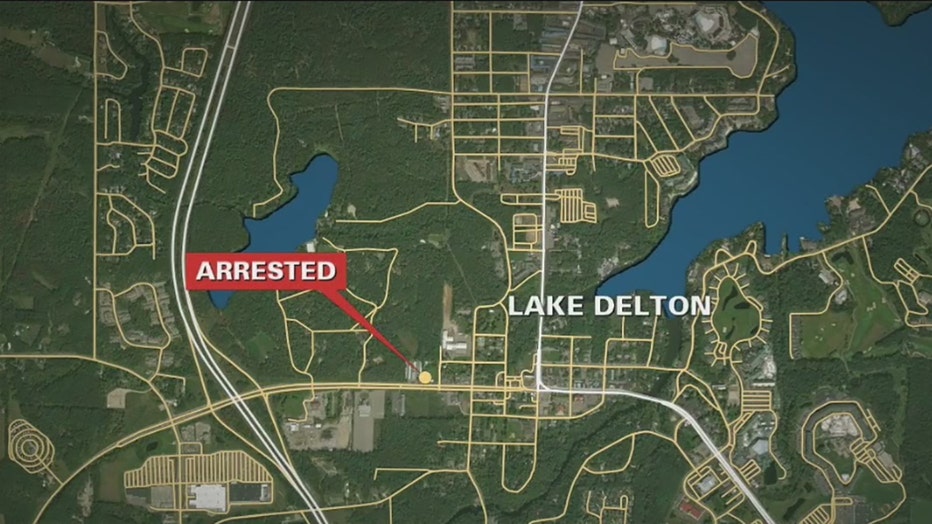 Location of Kaia Mueller's Sauk County arrest for a series of Oconomowoc incidents.
Mueller was arrested in Lake Delton the following night. He was with the vehicle involved in the hit-and-run, which had damage consistent with the accident, according to the complaint.
Mueller is charged with attempted carjacking, attempted kidnapping, armed carjacking, bank robbery, felony firearm possession and operating a vehicle without permission.
Thorne-Gray is charged with attempted carjacking, armed carjacking and bank robbery as a party to a crime. He is also charged with the straw purchasing of a firearm.
Mueller and Thorne-Gray remain in custody at the Waukesha County Jail. Both are due in court for preliminary hearings on July 14.