Whitefish Bay High School walkout, nationwide gun violence protest
WHITEFISH BAY, Wis. - High school students in Wisconsin are feeling the impact of the mass shooting in Uvalde, Texas – so much so that they walked out of school Thursday as part of a nationwide effort to stop gun violence.
"We are not helpless. We are not hopeless. We have voices," said Whitefish Bay High School senior Mariella Boudreau. "This cause is so important to so many people including us."
Whitefish Bay students showed support for the victims in Texas by participating in the walkout, which was put on by gun violence prevention organization Everytown.
SIGN UP TODAY: Get daily headlines, breaking news emails from FOX6 News
"All these things are happening, and you just wake up, and 20 kids are dead, and you're like, 'Oh, that happened again,'" said student Gracie Lutz. "It's heartbreaking, but it's not surprising."
Students said their concerns over gun violence in schools is something they all face but have little control over.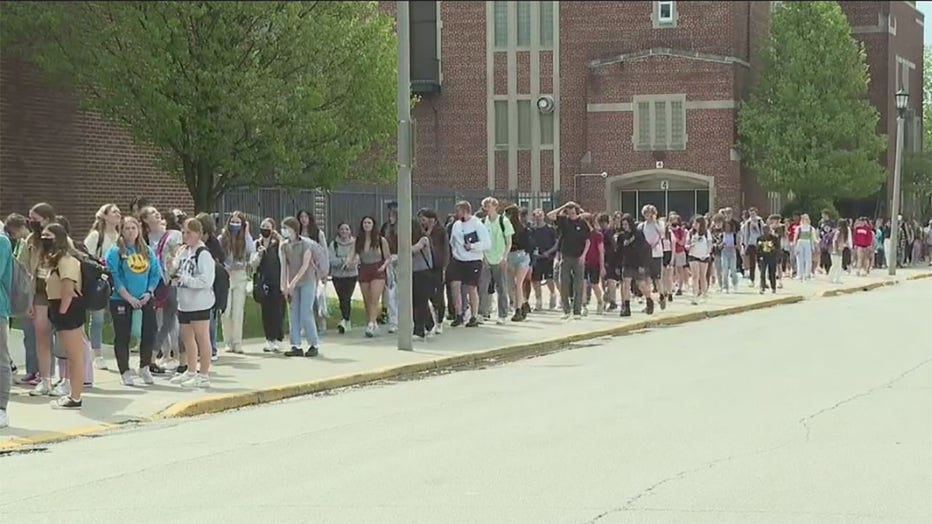 Whitefish Bay High School students hold walkout against gun violence after a school shooting in Uvalde, Texas.
"We as a generation are typically the ones most effected by this issue, but we have the least say when it comes to impacting legislation," Boudreau said.
It is not the first time the Whitefish Bay High School student body has done a walkout in response to a school shooting, but they are worried that things won't change.
FREE DOWNLOAD: Get breaking news alerts in the FOX6 News app for iOS or Android.
"There were more. And more and more and more – and still nothing has changed," said Lutz.
A school official told FOX6 News that about half of the school participated in the walkout. Students said they're going to continue raising their voices; they'll do whatever it takes to make sure schools are safe for everyone.