'My heart completely melted': 2nd grader dresses like teacher for Superhero Day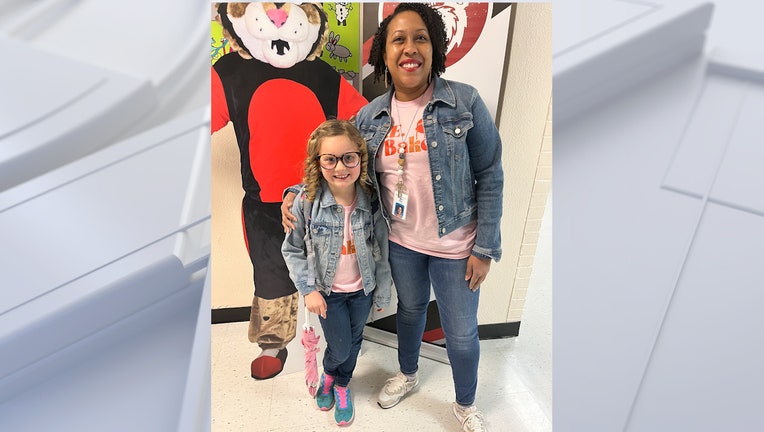 article
BENTONVILLE, Ark. - When Jaime Deigh hosted "Superhero Day" for her second-grade class, she expected her students to come dressed as their favorite fictional characters. 
But she was surprised to learn that one of her students picked her as a superhero and dressed the part. 
Deigh teaches at R.E.Baker Elementary in Bentonville, Arkansas. 
She said one of students, named Caroline, dressed just liked her for the special day. Caroline donned denim jeans, a denim jacket, and a pink shirt just like Deigh. Caroline even curled her hair like her teacher's.
RELATED: Teacher's TikTok plea helps clear thousands of dollars in school lunch debt
"Caroline's mom asked me what I was wearing to school on Friday," Deigh told FOX Television Stations. "She then asked what school shirt did I have and did I have a denim jacket? I told her yes."
"Her mom then explained Caroline wanted to dress like me because I was her superhero. My heart completely melted," Deigh continued. 
Diegh said "Superhero Day" came about after students spent the week reading "Almost Super" by Marion Jenson. The class was then asked to come dressed as their favorite superhero. 
"Typically students dress as a Marvel Superhero such as Spiderman, Batman or Wonder Woman. etc.," Deigh said. 
RELATED: Cheerleader competes alone at state champs after squad quits: 'It felt amazing'
Deigh said in all of her 19 years of teaching, this is the first time one of her students did such a kind act. 
"I wanted to parade around the school!" she said. 
Deigh said her student's act is a reminder not to take her job for granted. 
"You never know the influence you might have on a child regardless of the color of your skin, where you come from or who you are!" she said. 
This story was reported from Los Angeles.