MPD in-custody death, officer charged 'not responsible,' attorney says
MILWAUKEE - The second of two Milwaukee police officers charged in connection with the February 2022 in-custody death of Keishon Thomas made his initial appearance in court Wednesday, March 22. His attorney said his client "is certainly not responsible for the death."
Suspended MPD Officer Marco Lopez, 40, faces a felony count of misconduct in public office (false entry). He received a $5,000 signature bond in court Wednesday.
Retired MPD Officer Donald Krueger, 49, faces a felony count of abuse of residents of penal facilities. He appeared in court for the first time on March 15 and also received a $5,000 signature bond.
Krueger's attorney apologized to Keishon Thomas' family and said, "(Krueger) didn't do anything to contribute to this."  
Lopez' attorney told FOX6 News, "He is certainly not responsible for the death, and whether he falsified the records or not, it's the subject of the investigation and the ultimate prosecution." The attorney added that Thomas was alive when Lopez left work for the day, and he had no idea that Thomas had ingested drugs.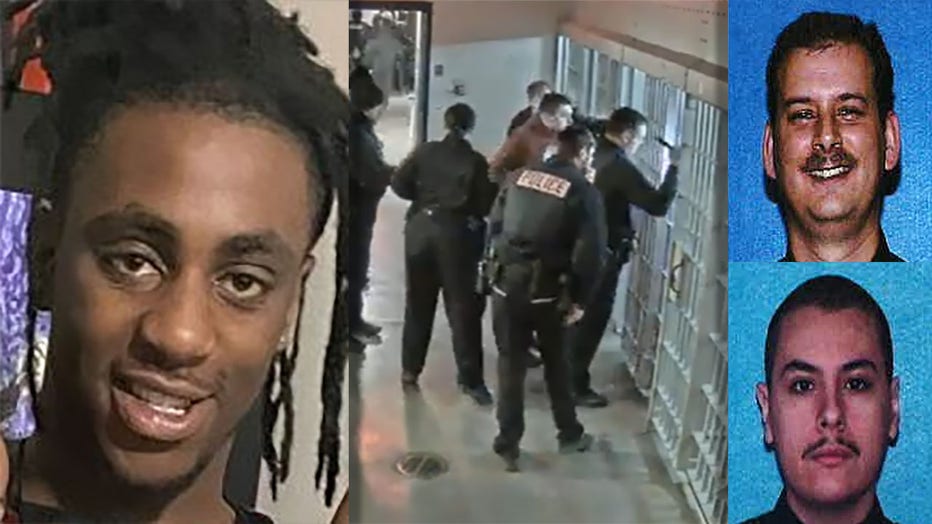 Kieshon Thomas; Donald Krueger; Marco Lopez
Keishon Thomas arrested at 20th and Capitol
Thomas was taken into custody after being pulled over for a moving violation just before 2 a.m. Wednesday, Feb. 23, 2022, near 20th and Capitol. He had a bench warrant for theft two years prior.
Thomas was placed in a holding cell without incident around 3 a.m. During a cell block check around 6 p.m., an officer noticed Thomas was not breathing. Despite life-saving attempts, he was pronounced dead at Police District 5 shortly after 6 p.m.
A report from the medical examiner's office shows that the cause of death was "acute mixed drug intoxication."
"We have an individual that died in the custody of the government so sure, I mean could've, should've would've," said Paul Bucher, Krueger's attorney. "As far as my client goes, he didn't do anything to contribute to this."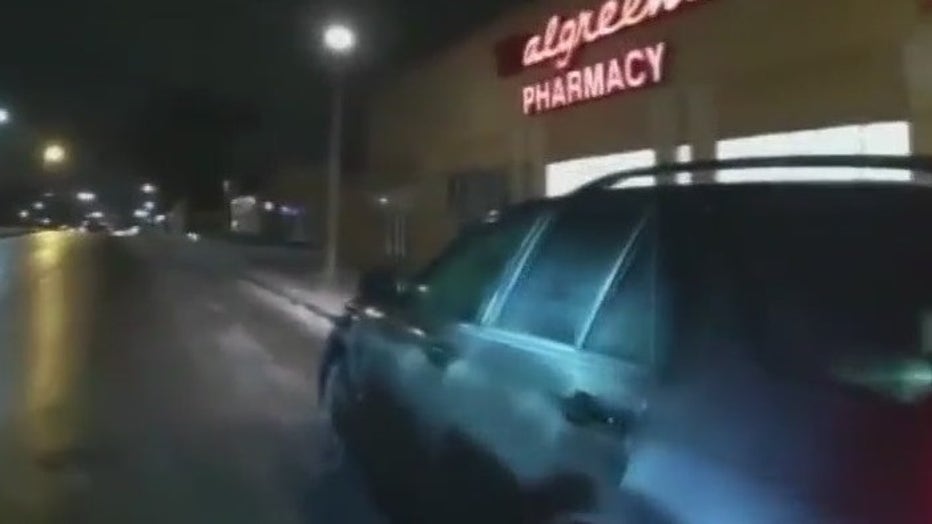 SIGN UP TODAY: Get daily headlines, breaking news emails from FOX6 News
Body camera video shows Keishon Thomas "ate" drugs
The arresting officer's body camera video showed when police removed Thomas from the squad at District 5, there was what appeared to be a clear plastic baggie on the floorboard of the vehicle. Additionally, there was a white rock-like substance which appeared to be drugs on the seat Thomas was sitting on. 
The video then showed Thomas lunged toward that substance. 
"He is trying to eat it. He is trying to eat it," an officer said. 
The video then showed the officer pulled Thomas away before he was able to ingest the substance. 
The video then depicted the following exchange:
Officer: "OK, so there's one rock. Where's the other one?"
Thomas: "I have no more. I ate them."
Officer: "You ate them?"
Thomas: "I ate the little, the little smoke I had."
At that point, Thomas was led to the desk in the garage area, where the search continued, and it appeared as if more drugs were located in his left front pocket.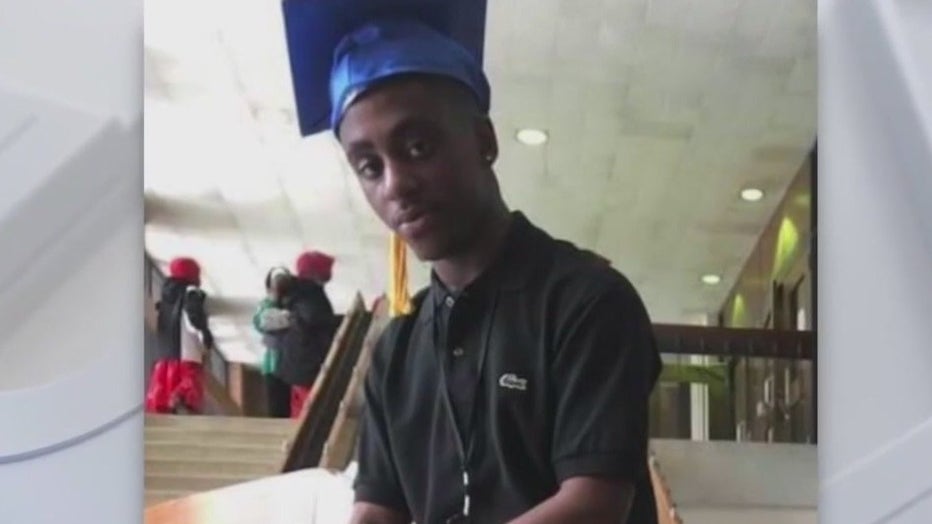 Thomas stated, "Weed that I eat" and, "But honestly, I only had one piece." Thomas was then led by officers from the garage to the holding room, according to the criminal complaint. 
A routine medical questionnaire was then administered, during which Thomas appeared alert. 
The health screen was conducted by Krueger, and all the health screening questions were addressed. However, nowhere in the health screen does Krueger note that Thomas admitted to ingesting drugs, according to the complaint.
The video shows that while Krueger was booking Thomas, he stated: "I'm about to throw up." 
Krueger handed Thomas a garbage can and told him to hang onto the can while he was throwing up. During this time, Krueger noted that Thomas was sweating. 
Krueger failed to seek medical attention: prosecutors
The complaint indicates that during the time that Thomas was sick, Krueger said:  I'm going to send him to the hospital for the ingestion." However, Krueger failed to call an ambulance and failed to get Thomas medical attention. Instead, he placed him in a cell. Krueger did this after being told Thomas ingested a rock of crack, first "a lot" and then only one-and-a-half ecstasy pills, and marijuana.
"I'm very sorry for the family," said Bucher. "I'm not trying to diminish the seriousness of this defense at all, but we will fight these charges. He did nothing to punish an individual nor aide an individual within the jail."
Bucher said there's more to the story than what the video shows.
"It's very complicated – more so than you think," said Bucher. "I know the videotape you all got doesn't, you know, really give the whole picture, but the reports do. Yes – there was the discussion, and unfortunately, the individual who passed had refused medical care, but it's a much more difficult case when the individuals were in the care of the government."
Bucher called it a tragic case but said his goal is to "exonerate my client." 
"He's a good copper," said Bucher.
Lopez failed to conduct cell checks: complaint
Once Krueger's shift as the District 5 booker came to an end, Lopez took over. The complaint indicates that booking officers are required to conduct checks of detainees every 15 minutes and the Milwaukee Police Department records checks on cell block sheets. 
According to the complaint, when the surveillance video was compared to Lopez's booking sheet, there were a multitude of inaccuracies on this cell block sheet. Lopez appeared to have missed a total of 10 checks throughout his shift that he marked as done. Instead, prosecutors said he appeared to be using his phone, talking to other officers – even painting.
The complaint also states Lopez inaccurately listed the number of people being held in the cells. He also said he conducted an "audio check" at times – which prosecutors say "is no such thing."
FREE DOWNLOAD: Get breaking news alerts in the FOX6 News app for iOS or Android
In a statement, Lopez told investigators, "There is no requirement to wake prisoners up. I think you are supposed to visibly check on prisoners." He added that he remembered Thomas snoring most of the time but was unaware of any reason he would have needed medical attention.
Neither Krueger nor Lopez were on shift at the time of Thomas' death. An on-duty officer conducting cell checks discovered Thomas unresponsive and called for assistance before he was ultimately pronounced dead.
FOX6 News asked Lopez' attorney about the allegations that Lopez was on his phone and even painting at work. The attorney had no comment.