Largest power restoration in We Energies' history after Tuesday storms
MILWAUKEE - We Energies crews spent the day Wednesday, Aug. 11 working to restore power after strong storms with high winds caused extensive damage across Wisconsin Tuesday night. The company's president said it's the largest power restoration effort in company history. 
A spokesman added late Wednesday: "As outages reports have come in throughout the day we're finding that the damage to our network is even more extensive than we originally estimated. We now believe that more than 225,000 customers lost power at some point due to the high winds, lightning and toppled trees. Parts of our system will need to be completely rebuilt before power can be turned back on." 
"We are fully mobilized on the largest restoration in our company's history," said Tom Metcalfe, president of We Energies. "A lot of our system is down, and it's going to take a major rebuild of many portions of our network."
Crews from Wisconsin and out-of-state were asked to help with the massive operation. In the wake of the storms, more than 100,000 were reported to be without power, with between 400 to 500 crews working to restore it via round-the-clock shifts.
"We have restored, since the storm last night, approximately 130,000 customers, and we expect to restore a further 20,000 customers between now and midnight, "said Metcalfe, during a Wednesday evening update. 
For above-ground lines and under normal circumstances, We Energies says it can take anywhere from 20 minutes to just a couple hours to restore power. It's the heavy damage across the area like the uprooted trees and angling power lines near 9th and Greenfield complicating that work.
"This is all hands on deck," said Metcalfe.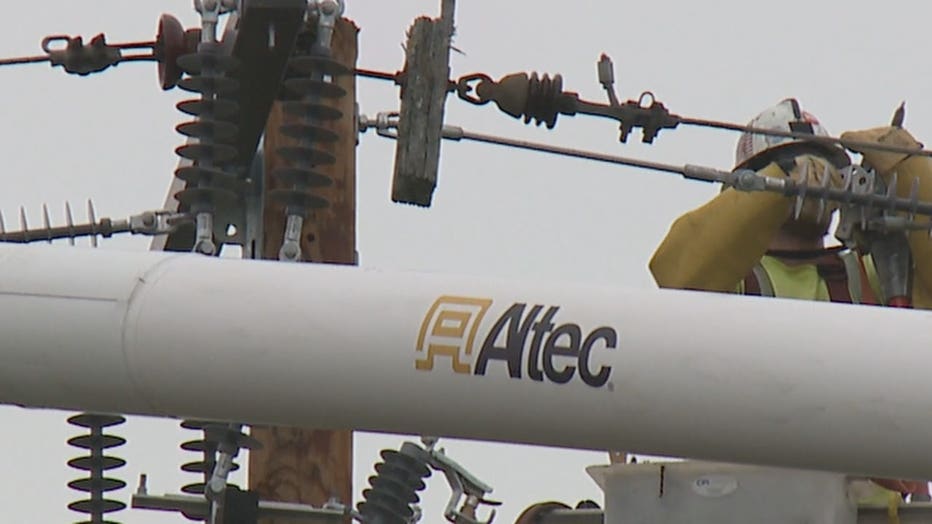 The magnitude and speed of Tuesday's storm complicated cleanup and restoration efforts Wednesday.
"We have a number of poles that were snapped, broken because trees have come down. Think 70- to 80-foot tree coming down on our network. It's really not something we can design for," said Metcalfe. "These feeders have got multiple, sometimes dozens of hazards, trees down, so we're having to make, it's not just one touchpoint. It's multiple touchpoints on a single feeder, which is taking a lot longer."
Susan Ozimek of New Berlin was among many waiting Wednesday for the power to come back on.
"The power didn't go off until this morning, so we thought we were good," said Ozimek.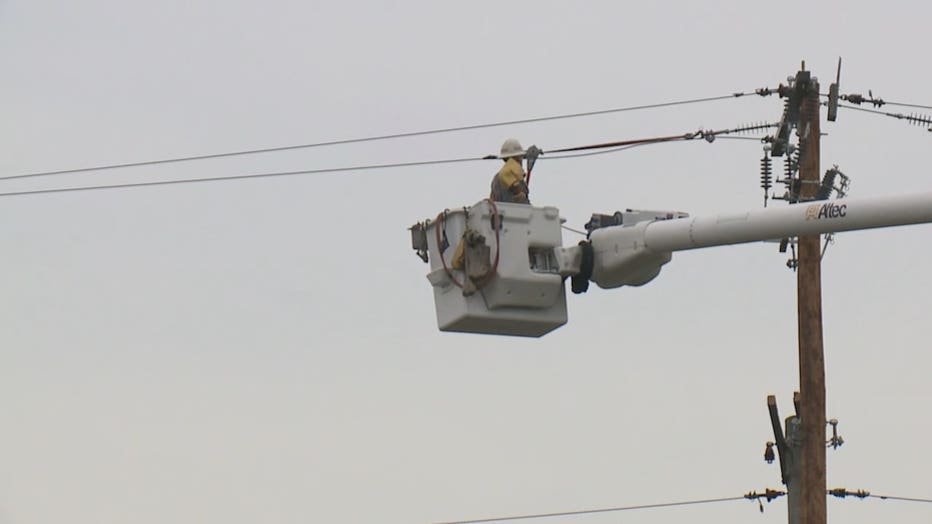 Overnight storms knocked over the fence in her backyard.
"We'll have to buy new sections, dig pit holes for the fence posts," said Ozimek.
FREE DOWNLOAD: Get breaking news alerts in the FOX6 News app for iOS or Android
We Energies officials have strongly urged customers to stay at least 25 feet away from any downed power lines and report the situation to We Energies or a local law enforcement agency immediately.
They've also asked for customers to be patient through the frustration of not having power.
"We will get to you as quickly as we can," said Metcalfe. "If resources are in your area and they leave before the power is back on, please know that we haven't forgotten about you. In many cases, it's because we need additional equipment or additional resources to make the restoration."
Excessive heat complications
The extreme heat and more storms on the way Wednesday added to the challenges for We Energies' crews and customers.
"Think about taking a cool bath," said Nick Tomaro, Milwaukee Health Department. "Think about keeping the shades down. Drink plenty of fluids. If you're outside, wear a hat."
The City of Milwaukee offered a list of 31 places to keep cool, like a splash pad at Humboldt Park.
With some infrastructure down, Milwaukee County mobilized a virtual emergency operations center Wednesday to coordinate response efforts.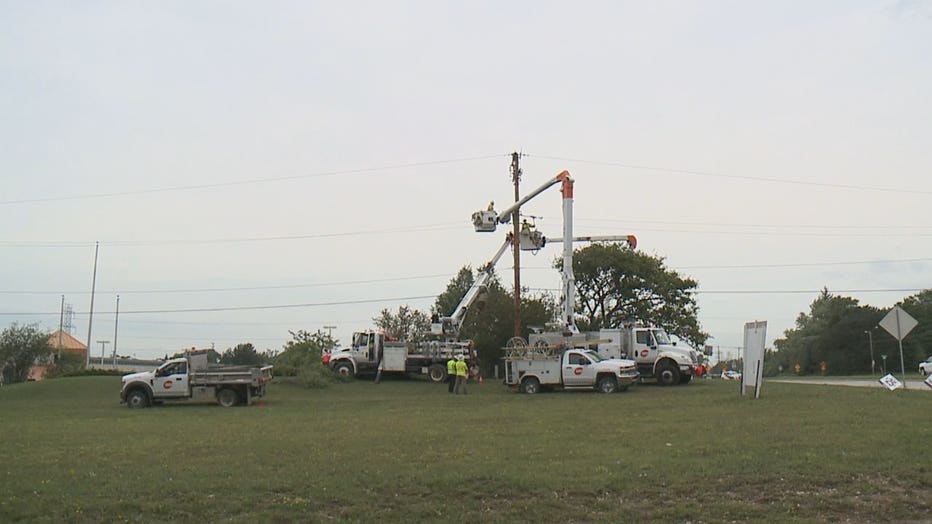 "It's a virtual EOC right now that allows transmission of information: video, photos, voice, very much like everyone's favorite meeting location: a Zoom call," said Aaron Lipski, Milwaukee fire chief.
Metcalfe estimated between 20,000 to 50,000 will be without power for several days as the utility works to first clear debris before bringing power back online.
"We're still working on that," said Metcalfe. "Days not weeks, but certainly it could be a few days here. I'll say that."
Metcalfe said Wednesday evening 50 frontline mechanics from Illinois and Iowa were headed to Wisconsin to provide mutual aid.
For current outage information, please visit the We Energies Outage Map.