Wrong-way I-43 construction crash, driver arrested for OWI
MILWAUKEE - A Milwaukee area man, 28, was arrested after driving the wrong way on I-43 Sunday morning, July 31, crashing in a construction zone. The vehicle was left teetering on a construction girder.  
The crash happened around 5:15 a.m. between Silver Spring Drive and Capitol Drive.
According to the Milwaukee County Sheriff's Office, the driver entered I-43 at National Avenue and drove northbound in the southbound lanes before entering the construction zone. That's about five miles, so it's a miracle no one -- not even the driver -- was seriously injured.
Firefighters from both Milwaukee and North Shore Fire/Rescue were dispatched to this scene.
"Were surprised to find that the vehicle was basically dangling on the support structures of what was previously the bridge of the portion of I-43 currently being demolished," said Dan Tyk, North Shore Fire battalion chief.
Tyk said while surprising, his crews train for situations like this. 
"The priority was to use winches and chains to stabilize the vehicle where you could be on top of it, and it wasn't going to shift at all," said Tyk. "The danger is really not knowing what the person inside the vehicle is going to do."
From an aerial ladder, to a ground ladder, to the trunk of the vehicle, dozens of firefighters set up ways to access it.
"We were able to lay additional ladders across those support beams sort of to then, to make a plank or a walkway that we could get to the vehicle," said Tyk.
The driver was arrested for OWI and second-degree recklessly endangering safety.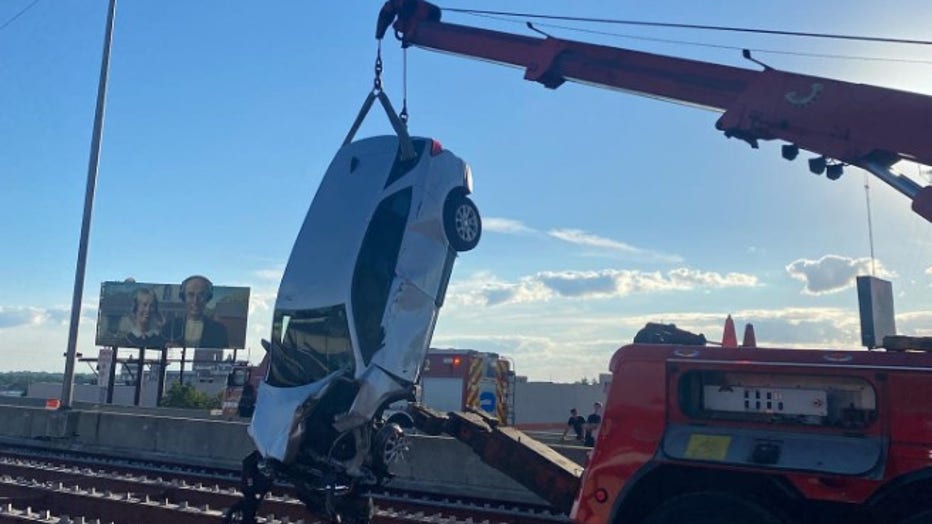 Photo: North Shore Fire Department
I-43 was closed in both directions for more than two hours so heavy equipment could be brought in to rescue the man. 
SIGN UP TODAY: Get daily headlines, breaking news emails from FOX6 News
North Shore Fire officials said with plenty of construction in the area, drivers should be sure to pay attention, as routes can change on a daily basis.