Milwaukee police shooting, squad stolen; man pleads guilty
MILWAUKEE - The man charged with shooting a Milwaukee police officer and stealing his squad car in 2022 pleaded guilty Tuesday, Jan. 17 to several charges – including attempted first-degree intentional homicide.
Jetrin Rodthong, 23, also pleaded guilty to operating a vehicle without the owner's consent, second-degree recklessly endangering safety, hit-and-run involving injury and possession of methamphetamine. Three counts of felony bail jumping were dismissed as part of a plea deal.
Rodthong is due back in court March 23 for sentencing.
SIGN UP TODAY: Get daily headlines, breaking news emails from FOX6 News 
The shooting happened on Jan. 27, 2022 near 25th and St. Paul. The officer, identified as Herbert Davis, was dispatched to the area after a passerby reported a man slumped over in a parked car. 
Body camera video released by MPD showed the officer walk up to the car and open the door, finding the man – identified as Rodthong – slumped over as had been reported. The officer shined a light inside, pulled the keys out of the ignition and announced himself to Rodthong as a Milwaukee police officer.
Dashcam picture of officer shoot near 25th and St. Paul, Milwaukee
Davis could not understand Rodthong. The two had a back-and-forth for a while before Davis called for medical help and asked Rodthong to get out of the car.
Video released by police showed Rodthong get out of the car, and he and Davis began to struggle. Seconds later, Davis ran and ducked behind the car – someone can be heard saying "stop" before shots were fired toward Davis. Rodthong crouched behind the car as Davis returned fire. Rodthong then hopped in the squad car and peeled off as Davis limped away.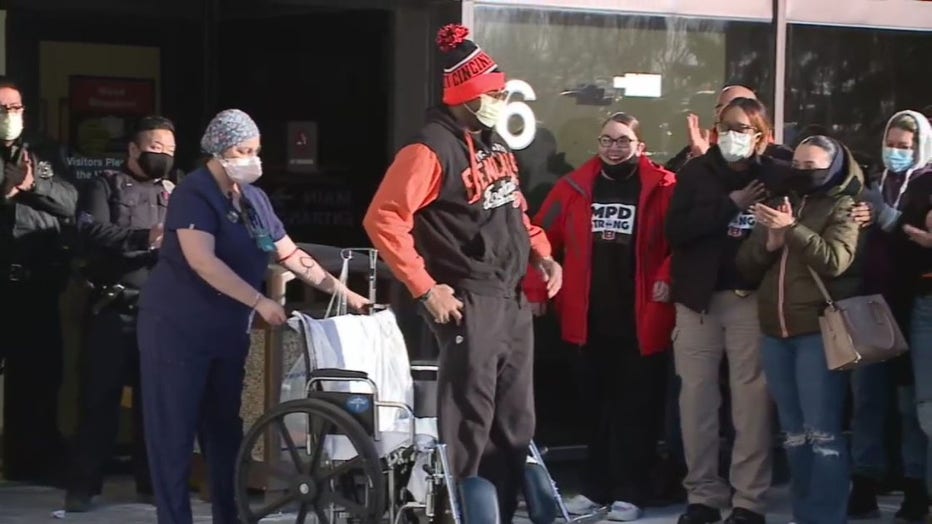 MPD Officer Herbert Davis leaves hospital after being shot near 25th and St. Paul
The dashcam video showed Rodthong run multiple red lights, missing cross traffic at 16th Street – ultimately t-boning another car and crashing. Rodthong ran off, but police caught up a block away. Both he and Davis were shot in the incident.
Davis had injuries to his left shoulder and left flank from Rodthong's gunfire. The bullet that entered his shoulder traveled into his chest near his sternum. He walked out of the hospital the next day.