Officer Jerving's message 'from the grave' shows community focus
MILWAUKEE - FOX6 News is learning more about Peter Jerving, the Milwaukee police officer killed in the line of duty Tuesday, Feb. 7, and it's from his very own hand.
One person who read what Jerving wrote called it a "plan for his community from the grave." 
"It's really been quite emotional. One of the professors said, 'As soon as I heard the news, I cried,'" said Callista Gould, assistant vice president for marketing and communications for Marian University. "They said, 'He was such a thoughtful student, and he was really good with his classmates. He was very respectful.' But they said he talked a lot about being an officer, and he loved being an officer."
SIGN UP TODAY: Get daily headlines, breaking news emails from FOX6 News
Jerving was roughly halfway through his studies for a bachelor's of science in criminal justice at Marian University when he was killed. In online posts for class, Jerving wrote:
"In my opinion, community resilience is how the community comes together and assists each other after any type of crisis."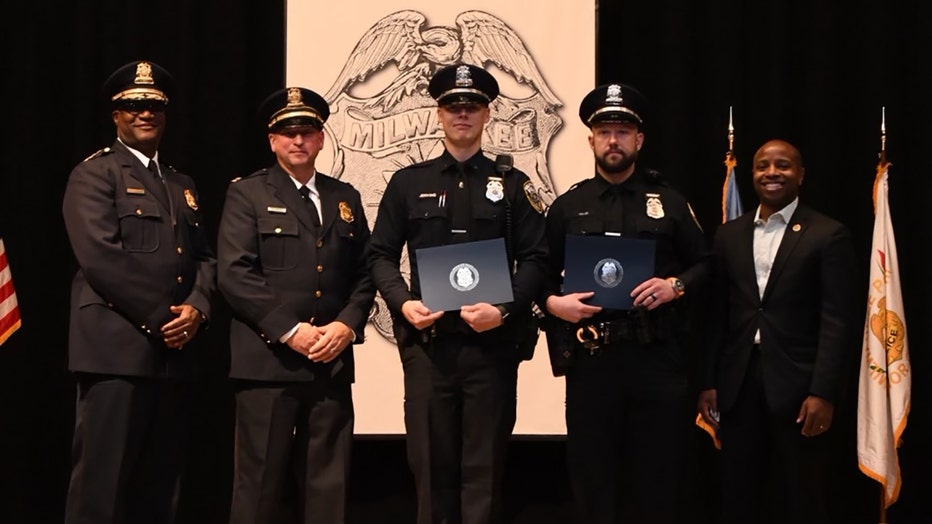 Milwaukee Police Officer Peter Jerving (Courtesy: Mary Lynn Ellis)
Now, the community is doing just that after the crisis of Jerving's death.
"A plan for his community from the grave. And it was really inspiring," Gould said.
FREE DOWNLOAD: Get breaking news alerts in the FOX6 News app for iOS or Android.
Jerving's plan continued: 
"A community that is willing to come together to restore their neighborhood is going to be a successful community. Helping the community can consist of even just the small things like starting a neighborhood watch program, or a neighborhood garden.
"When the community is willing to show that they care about their community then others that may not be as interested in participating will possibly start showing interest…
"Also, when a community comes together, it shows that the community is strong and the residents will not allow bad things to happen without some sort of resistance, calling the police, reporting problems to your alderman, and so on."
"Officer Jerving was somebody who had a heart for it. He really wanted to make this community a better place, and we were blessed to have that time with him," Gould said.
That time was cut too short. While he was unable to finish his coursework, at the end of the day, what Jerving showed in that last lesson of his life was what it took.
Gould said Jerving will get his graduation – something he earned in the line of duty. Marian University said it will also plan a memorial Mass, but that will come later. 
For now, the Milwaukee Police Honor Guard keeps watch over Jerving's body – 24 hours a day – until he is buried. Funeral services will be held Monday, Feb. 13.