Milwaukee drainage tunnel search; men still missing
MILWAUKEE - The search continued Wednesday, June 15 for two men who were swept away in a Milwaukee drainage tunnel near 27th and Loomis Monday evening, June 13. 
With so much debris beneath the water's surface, Milwaukee Fire Chief Aaron Lipski said it is possible another round of heavy rain, and thus pressure through the drainage system, could help crews find those two men.
Under different circumstance, a boat ride along the Kinnickinnic River would be a peaceful trip. Instead, firefighters Wednesday continued to scan the route from 31st and Kinnickinnic all the way to Lake Michigan.
SIGN UP TODAY: Get daily headlines, breaking news emails from FOX6 News
"We are doing everything we can, using every resource available to us," said Lipski.
Milwaukee's fire chief said his team traveled the route four times Wednesday – walking and using boats, drones and sonar technology. Each time, he said perceptions changed due to water levels.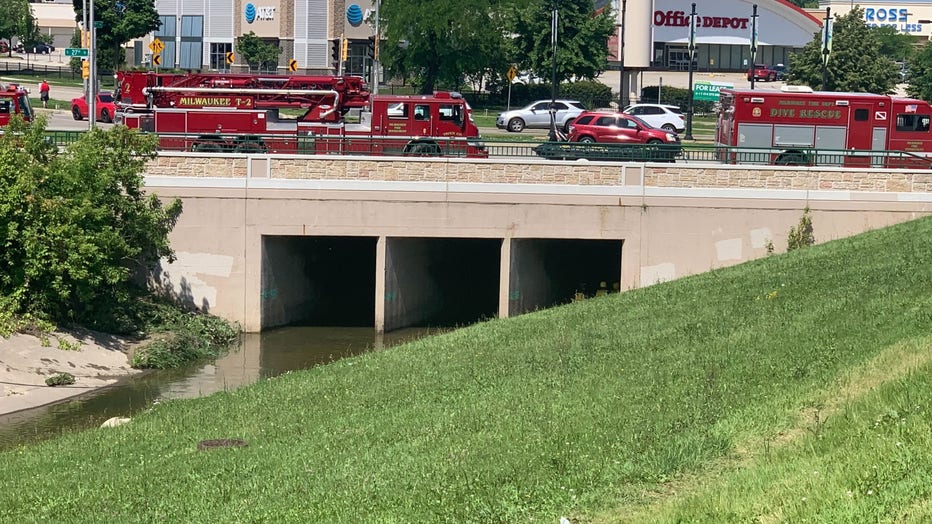 "The bottom of the river is very irregular, and there's a lot of snag points. Rushing water, tremendous amount of pressure with it, puts speed on objects," he said. "Something that was in one spot yesterday could easily have dislodged and moved to a different spot."
What has stayed in one spot is the incident command post near 1st and Becher. Right next to it, Milwaukee Fire Bell Club answered the call, providing refuge for firefighters.
FREE DOWNLOAD: Get breaking news alerts in the FOX6 News app for iOS or Android.
"When they came back from their tour on the search, they're pretty well-exhausted," said the club's Bob Domrois.
A mobile home turned rescue unit has air conditioning, fans and fridges with cold drinks and snacks. The nonprofit aims to protect those two protect us, just as it has for 75 years.
"I think it's very important. I think it shows that Milwaukee is a very welcoming city and willing to help out people when they need help," Domrois said.
Lipski said firefighters would be out until dusk Wednesday or until rain arrived. He said they plan to be back again Thursday as conditions allow.
The missing men dove into a drainage ditch trying to save a 10-year-old boy Monday night. The boy, Mohammad Arman, was found dead Tuesday.