Memphis police seek persons of interest in shooting that left 1 dead, 10 others wounded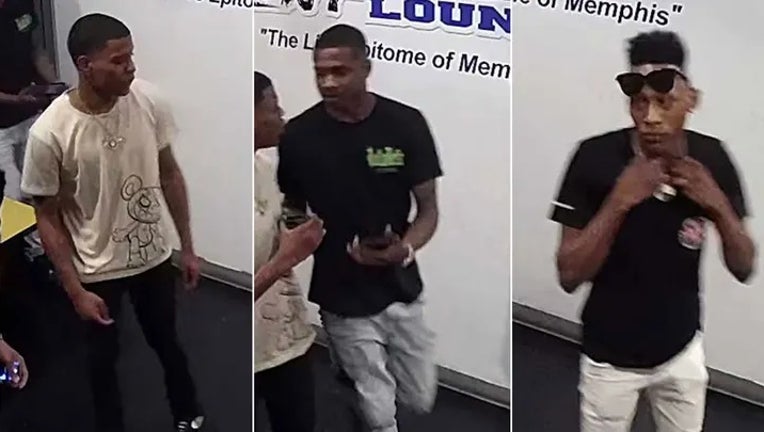 article
Memphis police said one person was found shot to death and 10 others were wounded after gunfire erupted at and around a nightclub early Sunday. 
The department later released images of three persons of interest wanted for questioning. One of them, according to police, might need medical attention. 
Five of the wounded surviving victims remained in critical conditions by midday Sunday, while the other five have been released from the hospital, police said.  
The gunfire stretched to two separate but nearby scenes, which investigators believe to be connected. 
THREE MEMPHIS FIRE EMTS APPEAL TERMINATIONS AFTER TYRE NICHOLS DEATH, 2 SHELBY COUNTY DEPUTIES SUSPENDED 
"There are 3 persons of interest that investigators would like to speak w/ concerning this incident," the Memphis Police Department tweeted. "If anyone can identify these individuals, call Crime Stoppers @ 901-528-CASH. The individual in the blk t-shirt w/ green writing may have been injured and needs medical attention."
At 12:43 a.m., officers responded to a shooting at 1482 East Shelby Drive, the address of Live Lounge. 
Upon arrival, two shooting victims were found and taken to Regional One Hospital in critical condition, the Memphis Police Department said in a preliminary update on Twitter. 
Five additional shooting victims left the scene and arrived by private vehicle in "non-critical condition" at local area hospitals, police said. 
While on scene at 1492 East Shelby Drive, officers received information concerning additional shooting victims who were at Shelby Drive and Boeingshire Drive. 
When they got to the second scene, police say they found another male victim dead. 
Three additional victims were taken in critical condition to Regional One Hospital.