Jefferson County tornado reports; EF1, EF0 confirmed by NWS
JEFFERSON COUNTY, Wis. - Strong to severe storms pushed through southeastern Wisconsin late Wednesday, July 28 into early Thursday morning, July 29 – prompting tornado warnings.
The National Weather Service has since confirmed two tornadoes touched down in Jefferson County early Thursday. 
An EF0 tornado was reported southwest of Watertown along Hilltop Road just north of Highway A around 1:05 a.m. Path length and other details are under investigation.
"These nighttime tornadoes, damaging winds are our least-favorite scenario," said Tim Halbach of the National Weather Service (NWS).
Around 1:15 a.m., an EF1 tornado – with speeds upwards of 100 mph – touched down near the town of Concord. NWS surveyors are still determining path length.
FREE DOWNLOAD: Get breaking news alerts in the FOX6 News app for iOS or Android.
Governor views damage
Gov. Tony Evers stopped by to survey the damage in Concord, along with the town chair and state and local emergency management officials.
"The blessing here is no one's hurt," Gov. Evers said. 
The governor asked for patience from those affected by the storms across the state as state and county teams assess the damage.
"I know it's very difficult to be patient under these circumstances. But we want to make sure we get the resources to the people who need it," he said.
The American Red Cross has also been on the ground and has additional team members assisting families across the state.
Residents take stock
Remarkably, no one was hurt, considering the amount of damage.
"We had no idea the house looked like that," said Emily Corazzini. "And then we saw it – we were just like, 'Oh my gosh!'"
Corazzini happened to be staying with her parents Wednesday night and at her urging, they went into the basement as alerts and warnings were going off on their phones.
"I think our adrenaline is still running. We have not slept at all," Corazzini said Thursday afternoon.
At the Zastrow family homestead in Concord, cars were still tucked inside the garage – which is now minus two walls with a teetering second story. A barn that stood for more than a century was flattened.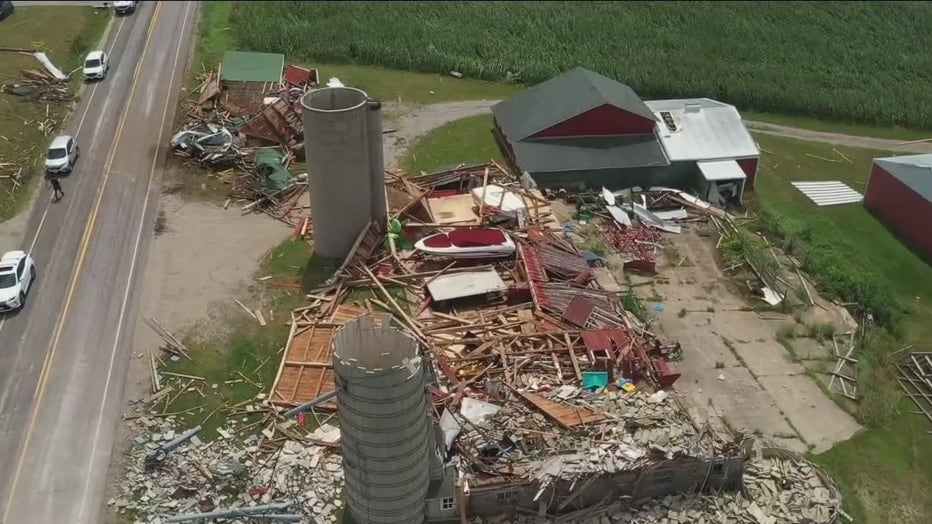 When the sun rose, residents could see the type of damage the storms wrought as they moved from the northwest to southeast.
"It's very emotional, but we're just so glad that everyone's okay. And no one got hurt," said Corazzini.
"We can replace this stuff, you can't replace a person. We are very fortunate," said Lloyd Zastrow.
On Thursday, family, friends – and even strangers – lent a helping hand.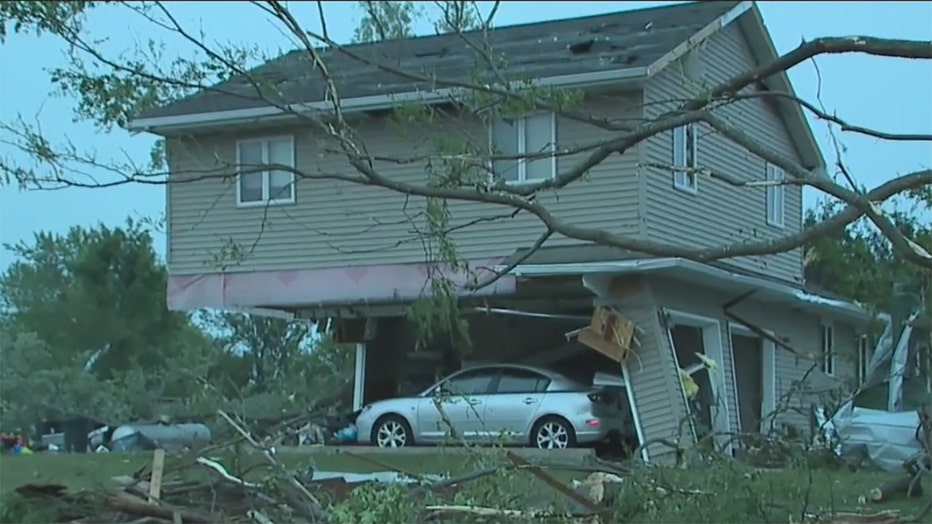 Garage teetering on two walls after Jefferson County storms
Dousman destruction (Waukesha County)
Not far from the Zastrow's, another family woke up to quite the surprise, too. On Willow Springs Drive in Dousman (Waukesha County) Lori and Greg Thielen noticed more sun than usual in their front yard Thursday.
"You know, we were always short on firewood, but I'll tell you this, we're not short on firewood anymore," said Greg Thielen.
Lori Thielen, who had taken shelter in the basement, looked up and saw – not her towering Chinese elm tree, but instead – Greg's truck.
"I caught out of the corner of my eye – the big white truck up in the air," she said.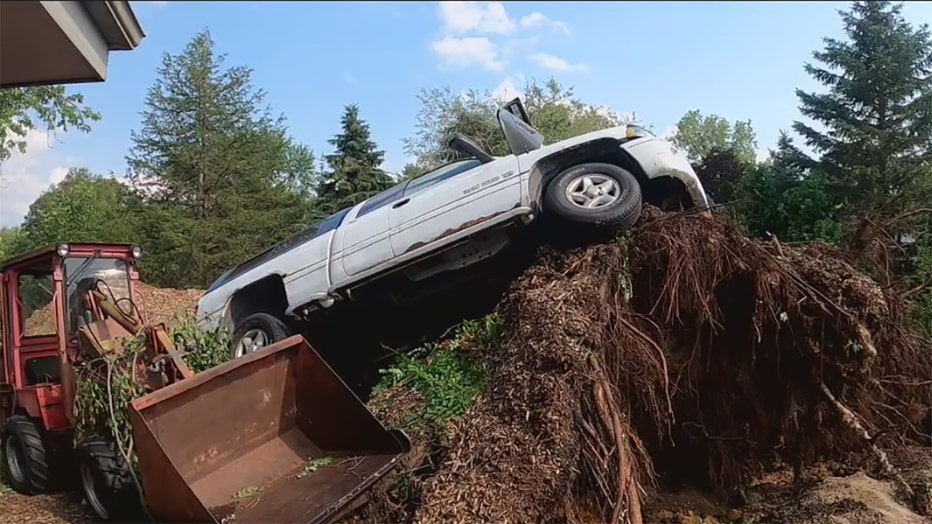 Thielens' truck lifted by uprooted tree in Dousman after storms
The truck had been parked in the perfect position to be uprooted, along with the decades-old tree.
"The time it's going to take to clean up this mess, is going to be days and days," said Greg Thielen. 
The husband and wife are now grateful that Mother Nature didn't send the tree in a different direction.
"I can't be thankful enough, the house is okay, my wife is okay, that's the most important thing," Greg Thielen said. 
Even finding humor in an unfortunate situation: "If somebody wants a truck, I got one right there. I'll sell it cheap," he said.