"I'm asking for your vote:" Gov. Walker makes first campaign stop since launching bid for White House


LAS VEGAS -- Less than 24 hours after making his bid for the White House official, Governor Scott Walker made his first official campaign stop at the Red Rock Harley-Davidson dealership in Las Vegas.

"I'm running for president and I'm asking for your vote," Walker said.

Nevada is one of the first of the western states to have a primary election.

"I'm for transferring power from Washington and sending it to the hardworking taxpayers across America. That's reform. I'm for a better economy. That is part of the American dream. That's pro growth. And I'm for protecting children and grandchildren from the threats of radical Islamic terrorism," Walker said.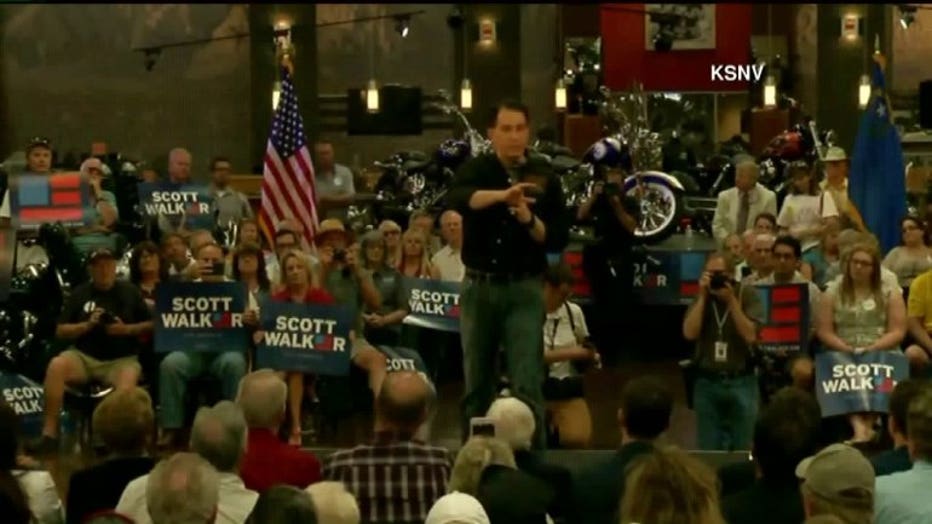 Governor Scott Walker in Vegas


UWM Professor Mordecai Lee says Walker is hitting his presidential campaign with something similar to President Barack Obama's hope and change slogan.

"So (Monday) what we heard is the Republican Party's slogan -- fight and win. It's going to win him the Republican nomination and he also gave the slogan of what he'll be using in the general election -- a non-ideological slogan, reform, growth and safety," Lee said.

Walker will head to South Carolina on Wednesday, July 15th, New Hampshire on Thursday, July 16th and Friday he begins a weekend tour through Iowa.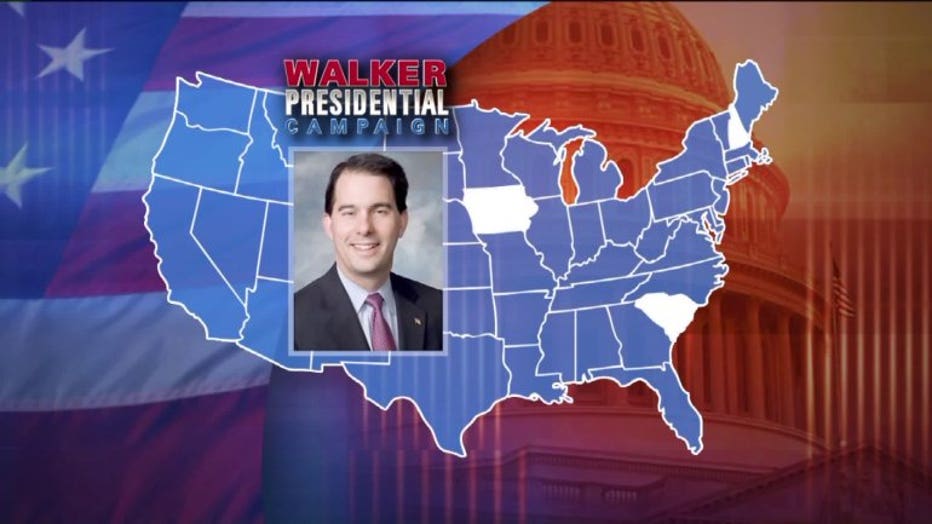 Governor Walker campaign stops


Lee says Walker is selling himself as a conservative that can appeal to the masses -- but that can have its downfalls.

"He's trying to talk to the different constituencies of the Republican Party, and hopefully not be everybody's second choice," Lee said.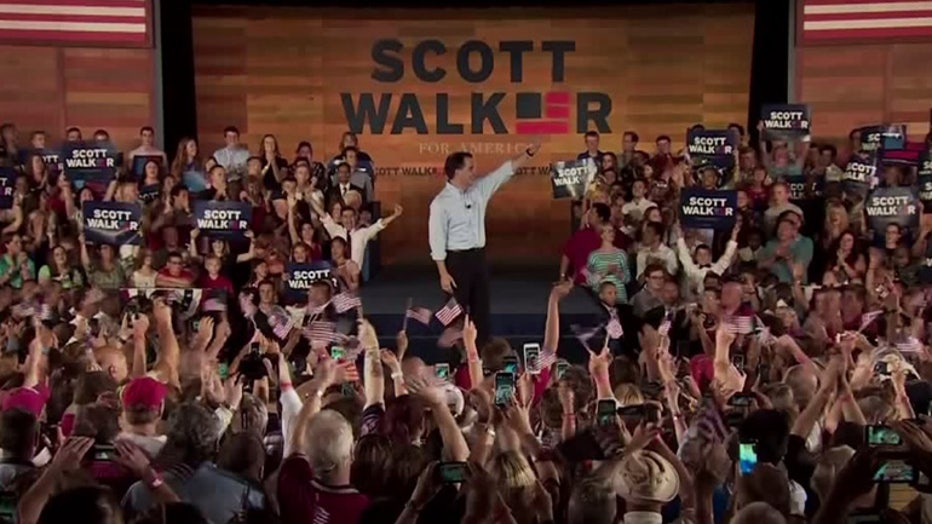 Scott Walker at presidential campaign launch


Governor Walker's office released the following details on Walker's mid-July plans:

WEDNESDAY, JULY 15

Coffee and Donuts with Gov. Scott Walker

Time:
Event begins at 7:30 AM EDT
Remarks approximately 8:00 AM EDT

Location:
Low Country Harley-Davidson
4707 Dorchester Road
North Charleston, SC 29405

Gov. Scott Walker Meet and Greet

Time:
Event begins at 10:45 AM EDT
Remarks approximately 11:20 AM EDT

Location:
Hudson's Smokehouse & Saloon
4952 Sunset Boulevard
Lexington, SC 29072

Gov. Scott Walker Meet and Greet

Time:
Event begins at 1:45 PM EDT
Remarks approximately 2:15 PM EDT

Location:
Mutt's BBQ
214 E. Butler Road
Mauldin, SC 29662

Gov. Scott Walker Fundraiser Remarks

Time:
Remarks 7:15 PM EDT

Location:
Buckhead Club
Ballroom
3344 Peachtree Road #2600
Atlanta, GA 30326

THURSDAY, JULY 16

Location: Merrimack, New Hampshire
Time: Mid-day EDT

Location: Portsmouth, New Hampshire
Time: Afternoon EDT

FRIDAY, JULY 17

Event: Governor Scott Walker Winnebago tour of Iowa

Location: Davenport, Iowa
Time: Mid-day CDT

Location: Cedar Rapids, Iowa
Time: Afternoon CDT

Location: Des Moines, Iowa
Time: Evening CDT

SATURDAY, JULY 18

Event: Governor Scott Walker Winnebago tour of Iowa

Location: Council Bluffs, Iowa
Time: Morning CDT

Location: Sioux City, Iowa
Time: Mid-day CDT

Location: Carroll, Iowa
Time: Afternoon CDT

Location: Ames, Iowa – Family Leader event
Time: Early evening CDT

Location: Marshalltown, Iowa
Time: Evening CDT

SUNDAY, JULY 19

Event: Governor Scott Walker Winnebago tour of Iowa

Location: Cedar Falls, Iowa
Time: Early afternoon CDT

Location: Plainfield, Iowa
Time: Afternoon CDT

Location: Dubuque, Iowa
Time: Evening CDT