'I heard, 'Police:'' Jordan Fricke's girlfriend testifies in trial for man accused of killing Officer Rittner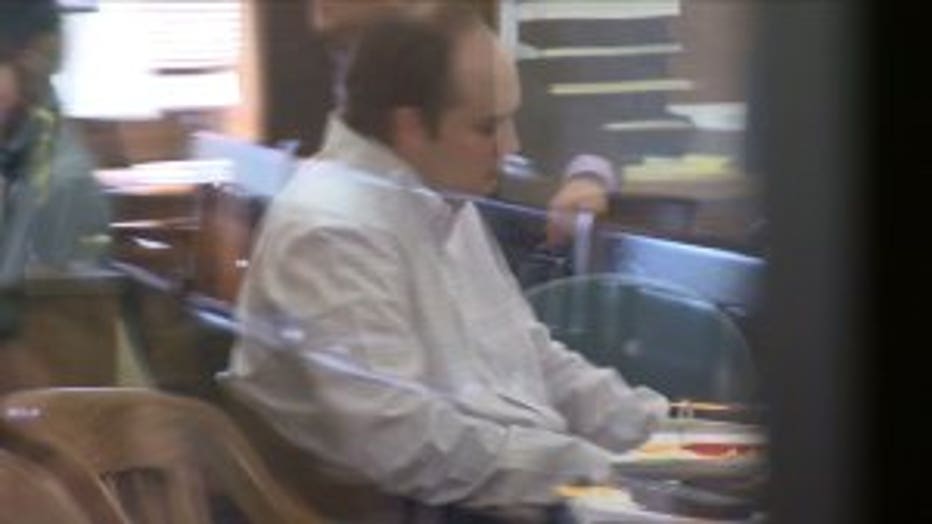 MILWAUKEE -- There were tears on the witness stand as the jury trial continued in the shooting death of Milwaukee Police Officer Matthew Rittner on Wednesday, July 10. Several officers were emotional as they recounted the moment Rittner was shot in front of them. The jury also heard from Jordan Fricke's girlfriend, who was next to him when Rittner was shot.

Fricke, 27, is charged with first degree intentional homicide, use of a dangerous weapon, first degree recklessly endangering safety, use of a dangerous weapon (two counts), and maintaining a drug trafficking place.

More body camera footage from Feb. 6 shown in court Wednesday showed officers ascending a narrow stairwell to Fricke's apartment near 12th and Manitoba. Officer Rittner was shot while he and other officers executed a search warrant in a drugs and firearms investigation.

"It was difficult for Officer Grady or myself to provide any type of coverage for Officer Rittner," said Officer Trevor Deboer, Milwaukee Police Department.

At the top landing, Officer Rittner used a battering ram to try to break down the door, striking three times.

"Creating a larger hole in the door, approximately two feet," said Officer Deboer.




Officer Deboer recounted that Rittner turned back toward him and fell as four shots rang out from inside the apartment.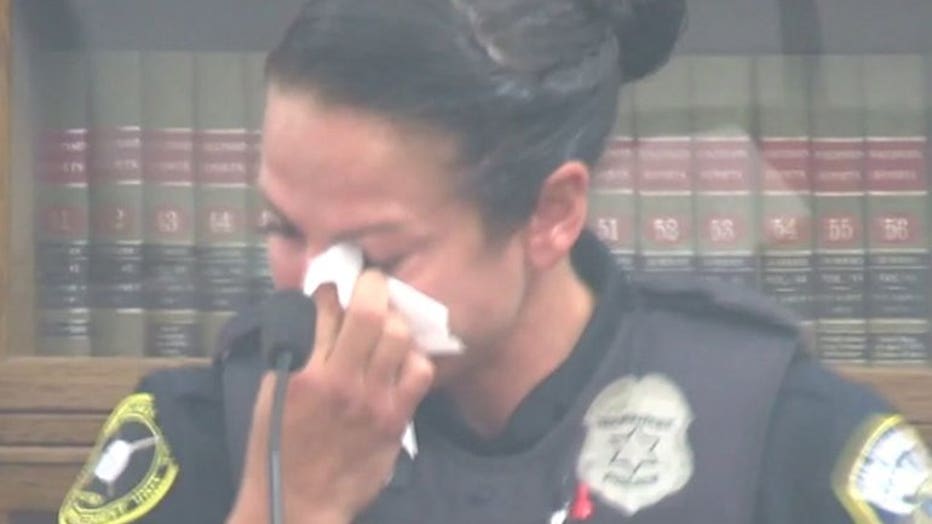 Milwaukee Police Officer Erin Tischer


The voice of Milwaukee Police Officer Erin Tischer could be heard in the video. She said, "Are you alright, Rittner?"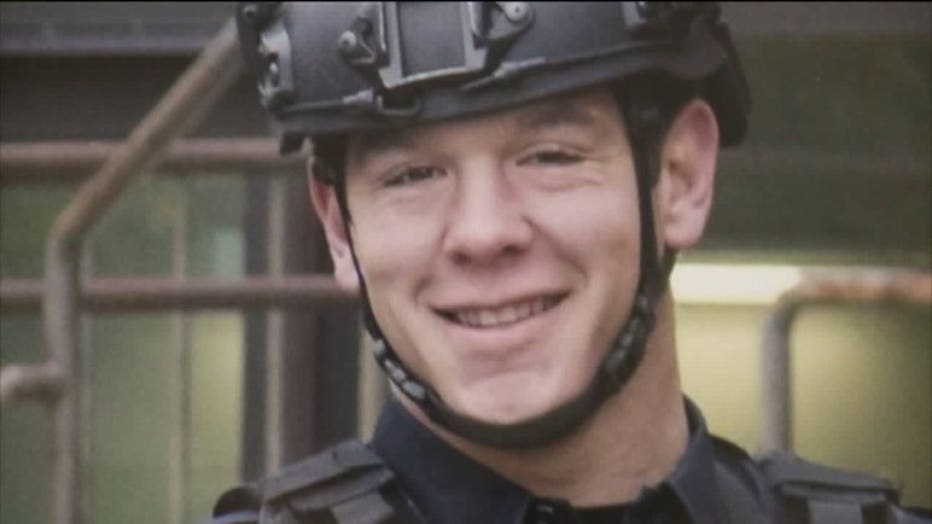 Officer Tischer became emotional as she testified that she assumed Rittner had initially tripped.

"He's slumped over limp," said Tischer. "And I see blood pouring out of his nose and his ears."

Fricke's girlfriend testified she could make out what officers were saying in the stairwell while she was inside Fricke's apartment.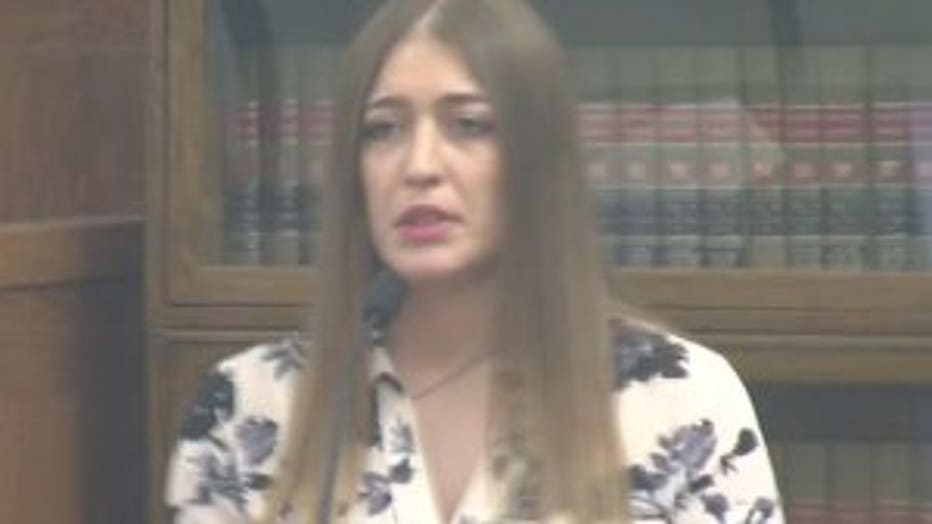 "I know I heard, 'Police,' and I know I heard, 'Search warrant,'" said Kylie Powell, indicating she heard those words before shots were fired.

Fricke's defense team has argued Fricke fired his weapon in self defense, unaware that police were outside until it was too late.

Powell testified she and Fricke woke up to loud noises the morning of Feb. 6.

"Just like banging. It sounded like just yelling," said Powell.

Powell said they ran out of the bedroom toward the kitchen. Despite hearing "police," Powell said she was in disbelief at what was unfolding.

"I wouldn't expect the police to be breaking down Jordan's door for any reason," said Powell. "It was very scary. The gun was fired and ram came through and broke the door."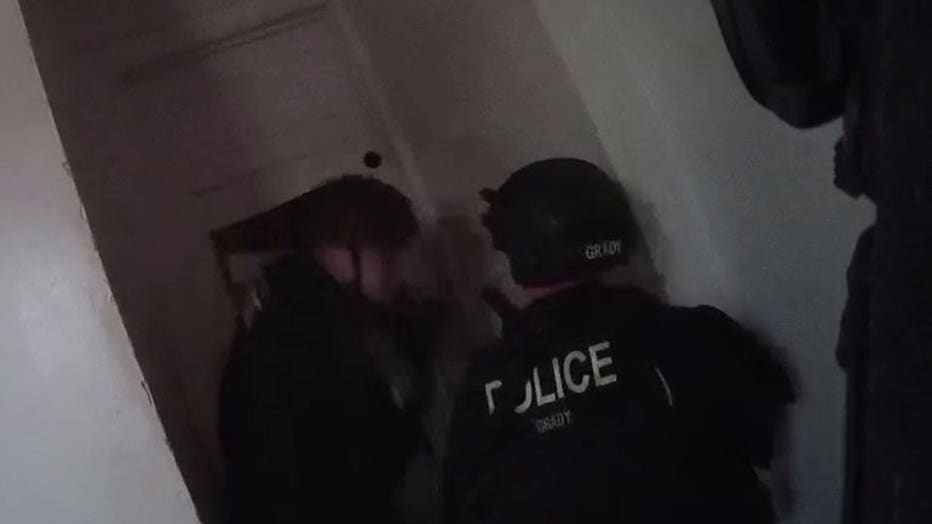 Shooting of MPD Officer Matthew Rittner


She said Fricke seemed shocked and near tears after he put down the gun.

"He thought somebody was breaking into his house. He did not believe it was the police," she said.

The Milwaukee County medical examiner said a single bullet punctured both of Rittner's lungs and his heart.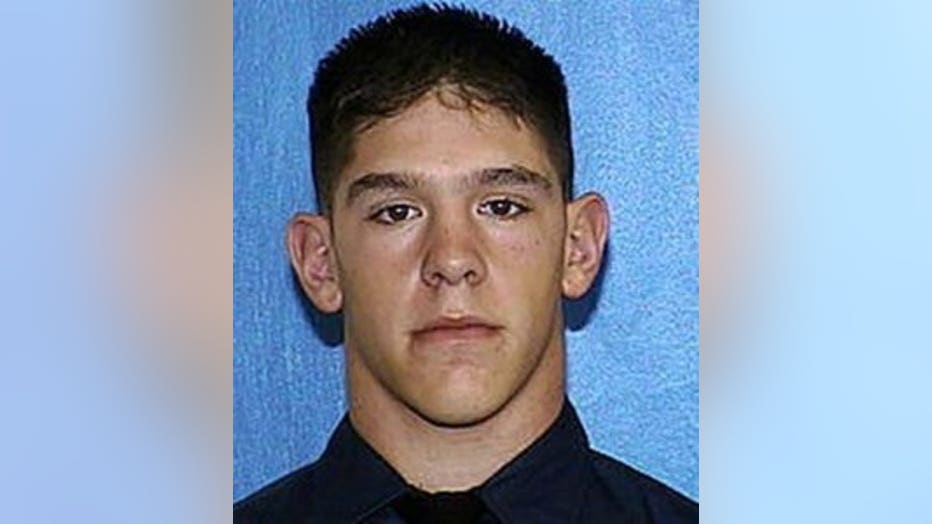 As officers rushed to get him medical attention, Fricke came out of his apartment with his hands up.

Fricke's attorney criticized the department's safety measures to protect their own, noting that Rittner didn't have a protective shield while he was banging the door, unable to get it open.

"Did anyone attempt to abort this mission? No," the defense said.

Rittner was a 17-year veteran of the force and a Marine. He was the third MPD officer killed in the line of duty in less than a year.

Despite the extensive news coverage of this incident, the judge denied the defense's request in June to sequester the jury.