Thanksgiving travel: TSA in Milwaukee says pack your patience
MILWAUKEE - On "Thanksgiving Eve," Wednesday, Nov. 24, many Wisconsinites were already traveling to their holiday destination. The TSA is reporting a massive increase in travelers in 2021, close to pre-pandemic numbers, reminding travelers to be patient and plan ahead. 
Milwaukee Mitchell Airport was bustling with travelers Wednesday, with more than 50 million Americans expected to head out of town for the holiday.
"We're really seeing an increase, a huge increase of course over last year," said Jessica Mayle, TSA. "We're probably going to near pre-pandemic levels."
The TSA is reminding flyers to wear a mask, and if you're feeling sick, don't travel. Also, officials are reminding passengers about prohibited items, especially food.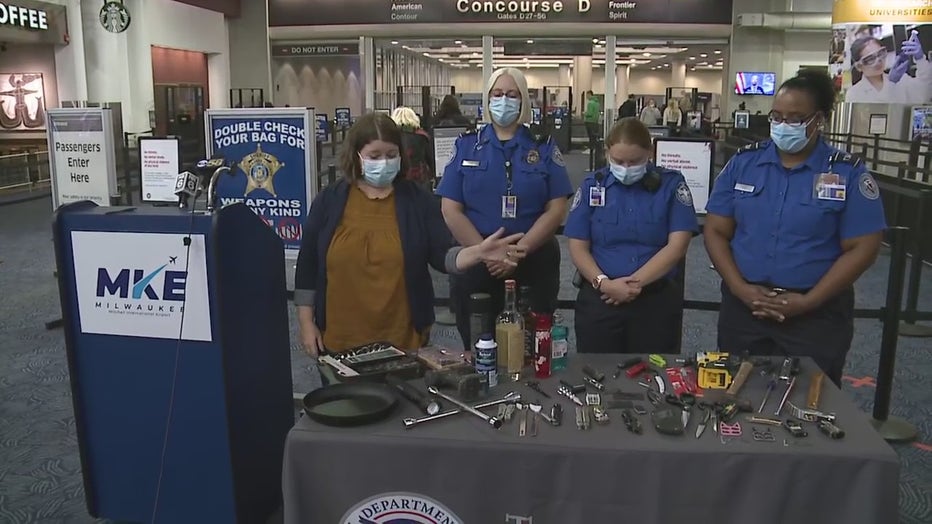 "Anything solid, like baked goods or cookies, those are fine in your carry-on," said Mayle.
Liquids should go in your checked luggage.
SIGN UP TODAY: Get daily headlines, breaking news emails from FOX6 News
FOX6 News found plenty boarding Amtrak trains Wednesday.
"This, ordinarily, is our second busiest day of the year," said Marc Magliari, Amtrak.
Many of their trains were sold out since the weekend before Thanksgiving, so it's important to get a ticket ASAP.
"They're off to thanksgiving meals," said Magliari. "A lot of people have been bottled up for so long that they've been getting out traveling, and it's really really attractive."
Still others hit the road for the holiday, with AAA expecting nearly 48.3 million people nationwide driving as part of their holiday plans. 
"The travel was smoother than I thought," said Donna Berry, traveling from Illinois. "As a matter of fact, I left a little earlier, and I am early."
"Maybe a little extra early, now that I know it's going to be busy," said Samantha Zielinski, traveling to Slinger. "Give an extra 15, 20 minutes to it, but the turkey has time to rest."
Wednesday, the day before Thanksgiving, and Sunday, Nov. 28, when travelers return from the holiday, are expected to be the busiest travel days. Officials say the best thing to do is be patient, and give yourself plenty of time to get to your destination.