Milwaukee woman's French bulldog, stolen weeks ago, home safe
MILWAUKEE - A Milwaukee woman is celebrating a New Year's wish come true after the second of her two French bulldogs – stolen six weeks ago – has been found safe and returned home. 
Jenna Hayes' dogs, Frankie and Stella, were taken from her home near 20th and Layton the day before Thanksgiving. 
"I think relief is an understatement," Hayes said. "It didn't feel real, honestly, I think I'm still trying to soak it in."
SIGN UP TODAY: Get daily headlines, breaking news emails from FOX6 News
Hayes said nothing else was taken – just her dogs – and believed she was targeted at the time. Police investigated it as a burglary. While Frankie was returned shortly after, Stella had been missing for weeks.
"The last couple weeks I was like, 'I'm not going to see her ever again,'" said Hayes.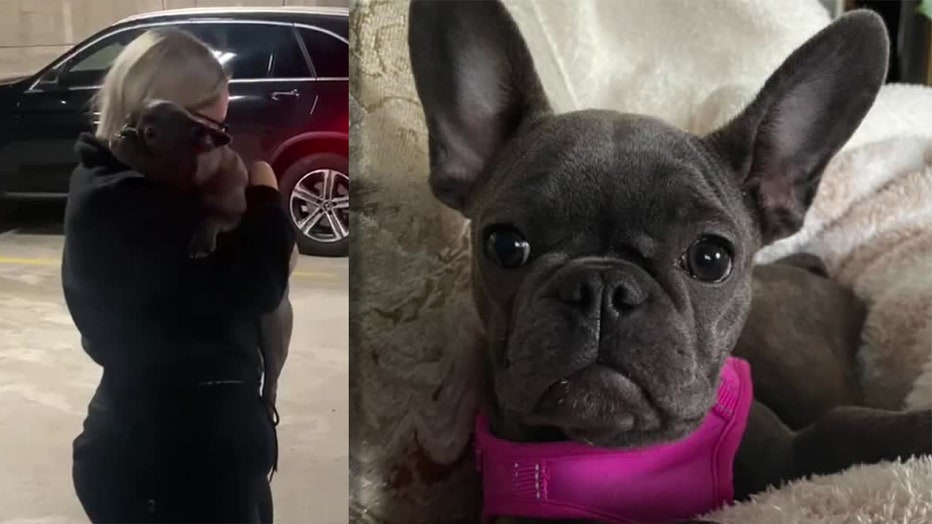 Jenna Hayes reunited with French bulldog Stella
Police ware led to a Hartland home Wednesday, Jan. 4 where they found Stella. They are not saying how or why the dog ended up there.
"I saw her turn around and her tail is, like, crooked, so I was like, 'I think that's her,'" Hayes said.
FREE DOWNLOAD: Get breaking news alerts in the FOX6 News app for iOS or Android.
Hayes said Stella seems healthy and cared for. The pup is adjusting to being back with her sisters. It's unknown who took the dogs, but, for now, all that matters is that they're back. 
"I'm just glad my family is back together, and she's safe," said Hayes.
Police said they are not referring charges to the district attorney's office at this time for the person who had Stella because investigators do not believe there was any malicious intent on their part.