Milwaukee's Fiserv Forum early voting site for 2022 general election
MILWAUKEE - Milwaukee voters will have the chance to vote inside the home of the 2021 NBA champion Milwaukee Bucks. On six select dates from Oct. 25 through Nov. 5, eligible voters living in the City of Milwaukee may cast their ballots in-person at Fiserv Forum in advance of the Nov. 8 General Election. 
As the countdown clock to election day hits six weeks, you will soon be deciding your starting lineup for American and Wisconsin government.
"This will be, we think, one of the nicest voting sites in the country," said Peter Feigin, Bucks and Fiserv Forum President. 
"This is one of those giant steps. We are one of 30 NBA teams and I think the majority have started to look at and leverage arenas as centralized places to promote voting," Feigin said. "It's new and it's change, so again, the more we can promote citizenship, in a non-partisan way. How do we get people to engage and voting is the kind of the platform that our team and league really thinks is important."
The NBA recently announced that no games will be held on the Nov. 8 Election Day, and all teams would be playing the night before. The league encourages teams to promote voting.
SIGN UP TODAY: Get daily headlines, breaking news emails from FOX6 News
Milwaukee voters should know if they choose Fiserv Forum for early voting, they will not see much other than the lobby. 
Milwaukee Mayor Cavalier Johnson plans to exercise his right to vote at Fiserv Forum – and he hopes the opens doors there inspire others to do the same.
"I want every eligible person to vote in the upcoming election. I want Milwaukee's voice to be heard, at the ballot box. I want voter participation because that strengthens our democracy," Johnson said.
Milwaukee's Election Director Claire Woodall-Vogg said she hopes the closeness to Marquette University and MATC will encourage students to vote early. She said often students wait until election day to update their registration – and that can cause election traffic jams.
Back in 2020, the city scrapped plans to host early voting at Fiserv Forum and what was then called Miller Park. The city had not included the two on a list of early voting sites in June of 2020, when state law required municipalities officially notice early voting sites. 
Also in 2020, the Wisconsin Republican Party warned it would be illegal electioneering for any Milwaukee Bucks or Brewers players or mascots to join in early voting events, as it could give something of value to voters: the chance to meet a "beloved" mascot or athlete.
FOX6 asked Milwaukee's election director if that was a concern this year.
"No, there's no concern about electioneering. No one is paying for any votes, having a mascot who might be present, which I don't know if we have Bango scheduled for all of the days of early voting, but it's not incentivizing anyone to vote. He would be here to great everyone," Woodall-Vogg said. "There's no event going on where you're getting in, where we would need to be selling a ticket. You are coming in to their location, voting in a hallway, and circling out of the concessions and then back out the door."
This year, Wisconsin Republicans are less critical of the stadium voting. 
"We're glad to see the City of Milwaukee appears to be following election laws this time with regards to utilizing Fiserv Forum. We will be watching closely to ensure the site is run as prescribed by state statute and there are no attempts to circumvent election practices to illegally solicit people to Fiserv Forum," said Republican Party of Wisconsin Executive Director Mark Jefferson.
The first voting at Fiserv Forum tips off in one month. 
FREE DOWNLOAD: Get breaking news alerts in the FOX6 News app for iOS or Android
Voting will take place in the lobby of the stadium's Johnson Controls Entrance at 6th St. and Juneau Ave. Curbside voting is available for voters with disabilities who are unable to enter the arena. Free parking will be available on Juneau between 6th and 5th streets.
For more information and to find all 14 early voting sites, check out this site: Milwaukee.gov/earlyvoting.
Fiserv Forum Early Voting Schedule
Tuesday, October 25: 9 a.m. – 6 p.m.

Thursday, October 27: 9 a.m. – 6 p.m.

Saturday, October 29: 10 a.m. – 3 p.m.

Thursday, November 3: 9 a.m. – 6 p.m.

Friday, November 4: 9 a.m. – 6 p.m.

Saturday, November 5: 10 a.m. – 3 p.m.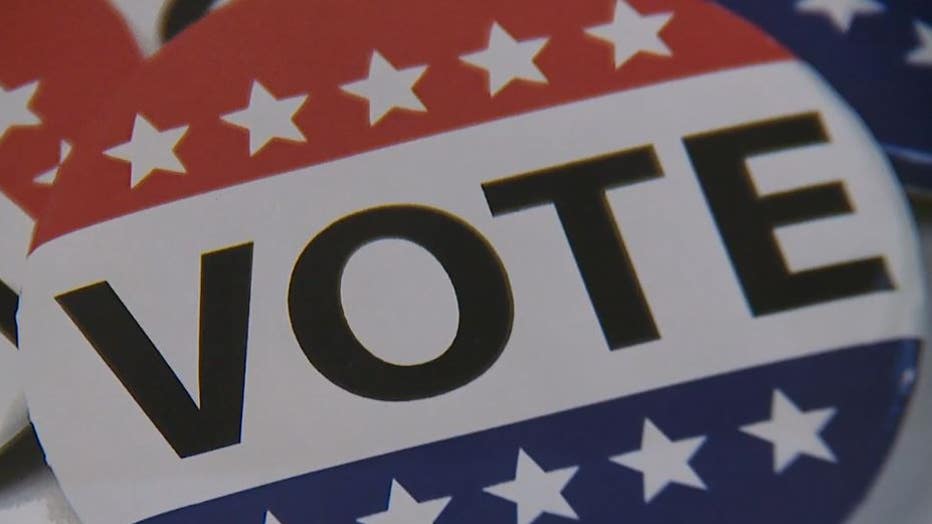 For the full list of early voting locations and voting information, visit Milwaukee.gov/earlyvoting.