Fire extinguisher scam; Caledonia, Kenosha businesses targeted
CALEDONIA, Wis. - Multiple fire departments in southeastern Wisconsin are looking for a woman who they say is going to businesses and asking to inspect fire extinguishers.
Two of those businesses told FOX6 News it was also a scam.
"Soon as she walked in, the entire room just felt different," said Taylor Kowalski, a hair stylist at Klip Joynt in Caledonia.
SIGN UP TODAY: Get daily headlines, breaking news emails from FOX6 News
The Caledonia Fire Department posted a picture of the woman. She had a clipboard with her and was dressed in regular street clothes.
"She came in pretty demanding and yelling. She was projecting her voice very loud for no reason," Kowalski said. "Then she came straight up to the fire extinguisher, and she asked my colleague, Betty, 'Can I check your fire extinguisher? The fire department sent me.'"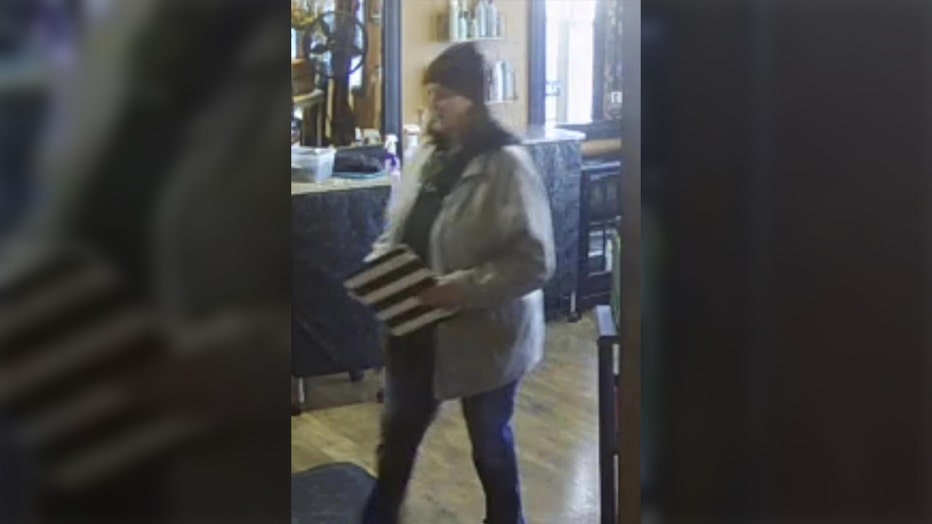 Person posing as fire extinguisher inspector (Courtesy: CPD)
Kowalski said the fire extinguisher wasn't expired. Things didn't add up.
"After she figured out Betty and I weren't going to fall for anything, no credentials, no nothing – like she didn't even show us a badge," said Kowalski.
Kenosha and Caledonia fire departments said the woman does not work for them. Kenosha's Deputy Fire Chief Dan Tilton said the woman was looking to be paid for services like changing the tags on fire extinguishers.
FREE DOWNLOAD: Get breaking news alerts in the FOX6 News app for iOS or Android.
"We will never ask for cash payment, we would never ask someone for upfront payment of any kind," Tilton said.
Police said the same woman went to two barbershops in Caledonia on Tuesday, Jan. 31. She was at a Kenosha nail salon Wednesday.
"She said she needed to check the fire extinguisher, and I said, 'Oh, I'm sorry mine is expired and I forgot to change," said the nail salon owner, who did not want to go on camera because she is a victim of a crime. "I paid her. She walked out. I felt weird, I'm like, 'Why did I give her money?'"
The owner had red flags. The biggest one was that the paper the woman provided was from a fake company in Chicago. That's when she called police.
"We want people to be aware this scam is happening," said Kowalski. "You can't trust anybody nowadays."
The Kenosha Fire Department said it does inspect fire extinguishers twice per year, and personnel always have credentials on them. 
Police said the woman is still out there, and she is facing felony charges for impersonating a firefighter.