Wisconsin budget surplus, Evers' $150 rebate killed in legislature
MILWAUKEE - Democrats and Republicans can agree on one thing: There's a lot more money in Wisconsin's coffers than they planned. It's how to spend that $3.8 billion that gets tricky.
Democratic Gov. Tony Evers wants to give residents $150 in the form of a surplus rebate. He says under his plan, a family of four would get $600.
"This is a political gimmick," State Rep. Tyler August (R-Lake Geneva) said.
"I think it's a mechanism that people can use right now with gasoline prices going up so high," said State Sen. Tim Carpenter (D-Milwaukee).
The plan for those checks comes as Wisconsin gas prices average $3.94 per gallon. Inflation is the highest it has been in four decades, driving up costs on utilities and food. 
"The increase in prices is very evident – grocery stores, restaurants, now that we can get into restaurants again," Tom, who works in Madison, told FOX6 News. "Deep down I don't think it's a bad idea. I would support it."
SIGN UP TODAY: Get daily headlines, breaking news emails from FOX6 News
"No, I don't want it. He can save it. It's only $150. I'm not interested," Sun Prairie resident Carol told FOX6.
Evers called a special session, asking the state legislature to pass his surplus plan. He has the power to do that, but he can't force a vote or a debate. The Republican-led Senate and Assembly technically held the sessions, but if you blinked you might have missed it – there were neither votes nor debates, just a gaveling in and then adjourning.
"I was actually just outside the room, and by the time I could get inside the room it was over with," said Carpenter.
While Assembly Democrats shouted as Republicans quickly gaveled in their chamber's special session.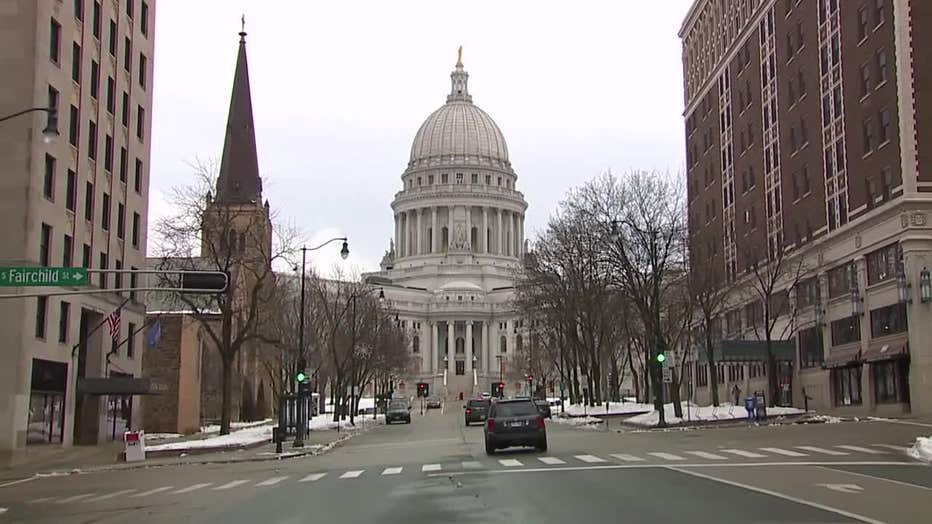 Wisconsin Capitol in Madison
It is a change from 2018, when Gov. Scott Walker and the Republican legislature approved an election-year tax credit – which Evers opposed.
With past budget surpluses, Republicans have moved to give the money, in the form of tax cuts, back to taxpayers. FOX6 News asked the Republican leading the Assembly session why he didn't support giving the money out this time, as proposed by the Democratic governor.
"If he's interested in doing long-term tax reform, that's what we want to do. We want to take this surplus and turn it into long term tax reform," August said. "We don't want an election-year gimmick, which this is all this is."
Republicans want to wait until next year to approve a plan to use the budget surplus, when they hope the governor is a Republican.
Evers' proposal for the surplus also includes child care credits and $750 million for education, including special education, and lead testing and remediation in schools.
The non-partisan Legislative Fiscal Bureau said the surplus came from higher-than-expected tax collection; people are back to work, and more people are spending money. Federal stimulus money also surged into the state.